News > Spokane
Dennis Wheeler, former Coeur d'Alene Mines chairman, dies at 76
UPDATED: Fri., March 1, 2019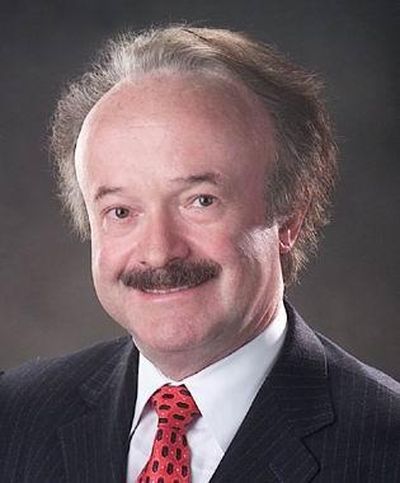 Dennis E. Wheeler, former chairman of Coeur d'Alene Mines Corp., died Tuesday at MD Anderson Cancer Center in Houston where he had been receiving treatment for leukemia. He was 76.
Wheeler had "an uncompromising drive" to build Coeur d'Alene Mines into a major silver producer, said Tony Ebersole, who worked with Wheeler for 20 years as the company's director of corporate communication.
Wheeler took a company that started in his grandparents' bakery and built it into a $2 billion international silver and gold mining enterprise, Ebersole said.
Wheeler was born in 1942 in Wallace. His grandparents, Harlow and Anna Rice, had in the 1920s started Rice Bakery on Main Street in the town of 2,500. The bakery became a hub in Idaho's Silver Valley, where prospectors met to exchange deeds for mining claims.
It was at the bakery, where he rose at 3 a.m. to help bake the day's bread, that young Wheeler developed a strong work ethic and interpersonal skills that would later serve him well in the mining business, according to Ebersole.
Harlow Rice helped shepherd Coeur d'Alene Mines from a penny mining stock into a going concern during the 1950s and '60s. His son Justin Rice, Wheeler's uncle, later became president of the company. The Coeur and Galena silver mines near Wallace opened through a joint venture between Coeur d'Alene Mines and Asarco Inc. and were sold to another mining company in 2006.
Wheeler earned undergraduate and law degrees from the University of Idaho, and joined Justin Rice at Coeur d'Alene Mines. The company acquired the Rochester gold and silver mine in Nevada, a prolific producer. Wheeler assumed leadership of Coeur d'Alene Mines in the late 1980s.
Over the next 20 years, the company purchased and developed mines on three continents, in Chile, Argentina, Bolivia and Mexico in South America; in Australia and New Zealand; and in Alaska at the Kensington gold mine outside Juneau.
The Kensington Mine was fought by environmental groups for many years. The mine's plan to dump mine tailings into a natural lake on the Tongass National Forest was challenged and went all the way to the U.S. Supreme Court. Coeur d'Alene Mines and the state of Alaska prevailed, and the Kensington Mine opened in 2010.
Wheeler logged millions of miles flying all over the world developing mines; to Europe on investor roadshows; and to Washington to lobby for the mining industry.
His 40-year tenure in the industry led to close friendships with many prominent politicans, including U.S. Rep. Don Young of Alaska; U.S. Sens. Ted Stevens of Alaska and James McClure of Idaho; and former Idaho governor and Interior Secretery Cecil Andrus. After retiring from public service, McClure and Andrus both served on Coeur d'Alene Mines' board of directors.
Wheeler was sensitive to the reputation mining had developed from its early, frontier days, according to Ebersole. He became an advocate for environmentally responsible mining. Coeur d'Alene Mines won awards for remediation work at its properties.
Wheeler resigned from Coeur d'Alene Mines in 2011, and his successor moved the company's headquarters from Coeur d'Alene to Chicago a couple of years later.
Wheeler loved the Inland Northwest, as well as fishing in Alaska and Gonzaga University basketball, Ebersole said. He also had many professional associations: a former Silver Institute president; a director of the National Mining Association; and a board member of the World Gold Council.
He was a recipient of the 2005 Kootenai County Civil Rights Award for his work on human rights, and received the first environmental conservation award given by the American Institute of Mining, Metallurgical and Petroleum Engineers.
Wheeler's roots at Rice Bakery never left him, according to Ebersole. Before he retired, Wheeler was in Zurich, Switzerland, walking past a bakery when he stopped to look at the pastries in the window. He said to a colleague, "Oh, I wish Grandpa Harlow could see this," Ebersole said.
Wheeler is survived by his wife, Jackie; daughters Michelle and Wendi Wheeler and Maura Schmidt; son, Bradley; and granddaughters Taryn, Trista and Tori Wheeler and Sara Carley.
Local journalism is essential.
Give directly to The Spokesman-Review's Northwest Passages community forums series -- which helps to offset the costs of several reporter and editor positions at the newspaper -- by using the easy options below. Gifts processed in this system are not tax deductible, but are predominately used to help meet the local financial requirements needed to receive national matching-grant funds.
Subscribe to the Coronavirus newsletter
Get the day's latest Coronavirus news delivered to your inbox by subscribing to our newsletter.
---