Sports
Grip on Sports: The newsboys on the corners may be gone, but the S-R sports section just keeps churning out the coverage
Fri., March 1, 2019, 8:54 a.m. A GRIP ON SPORTS • If you think newspapers are an extinct form of information delivery, think again. Today's S-R sports page is proof they are still alive and typing. We have links to 31 locally produced stories that appeared in today's Spokesman-Review. I wish I could find one more. Then I could have mentioned Bill Walton and Jim Brown and Magic Johnson and Sandy Koufax and their shared uniform number. Read on.
••••••••••
• Many of the stories today, of course, come from the prep basketball tournaments. After all, there are six classifications in Washington, with two genders in each. That's 12 stories right there. And then there are the accompanying photo stories and, today at least, a John Blanchette column.
So if you are a high school basketball junkie, today is for you.
If not, then there are always the typical four pieces from the Gonzaga men's game. Or coverage of the latest losses slapped on the Palouse squads. Or news from here and there.
In other words, if you are interested in something, it's here today.
Which brings us to an unsung group of folks who work in anonymity within the Review tower: the sports desk folks.
I was once one of those nameless few, and now one of my sons is carrying on the tradition. They are part of a group of editors and part-timers who don't get recognized enough for their contributions to the newspaper and its website.
For some reason writers and photographers out in the field have always had their names attached to their work. The folks in the office, who double-check that work, or put together stories from snippets of submitted information, or design pages in print and on the web, they work without any recognition.
Always have. Maybe always will.
They work their fingers off, too, especially in a week like this. Thirty-one locally produced stories don't magically make it from the S-R's computers to yours (or your doorstep) without someone sweating over it.
So if you like a story this morning, whether it has a name attached or not, think of those folks. No, they don't wear eyeshades and have ink-stained hands anymore, but they work just as hard as the folks portrayed in old movies. And are still unrecognized.
•••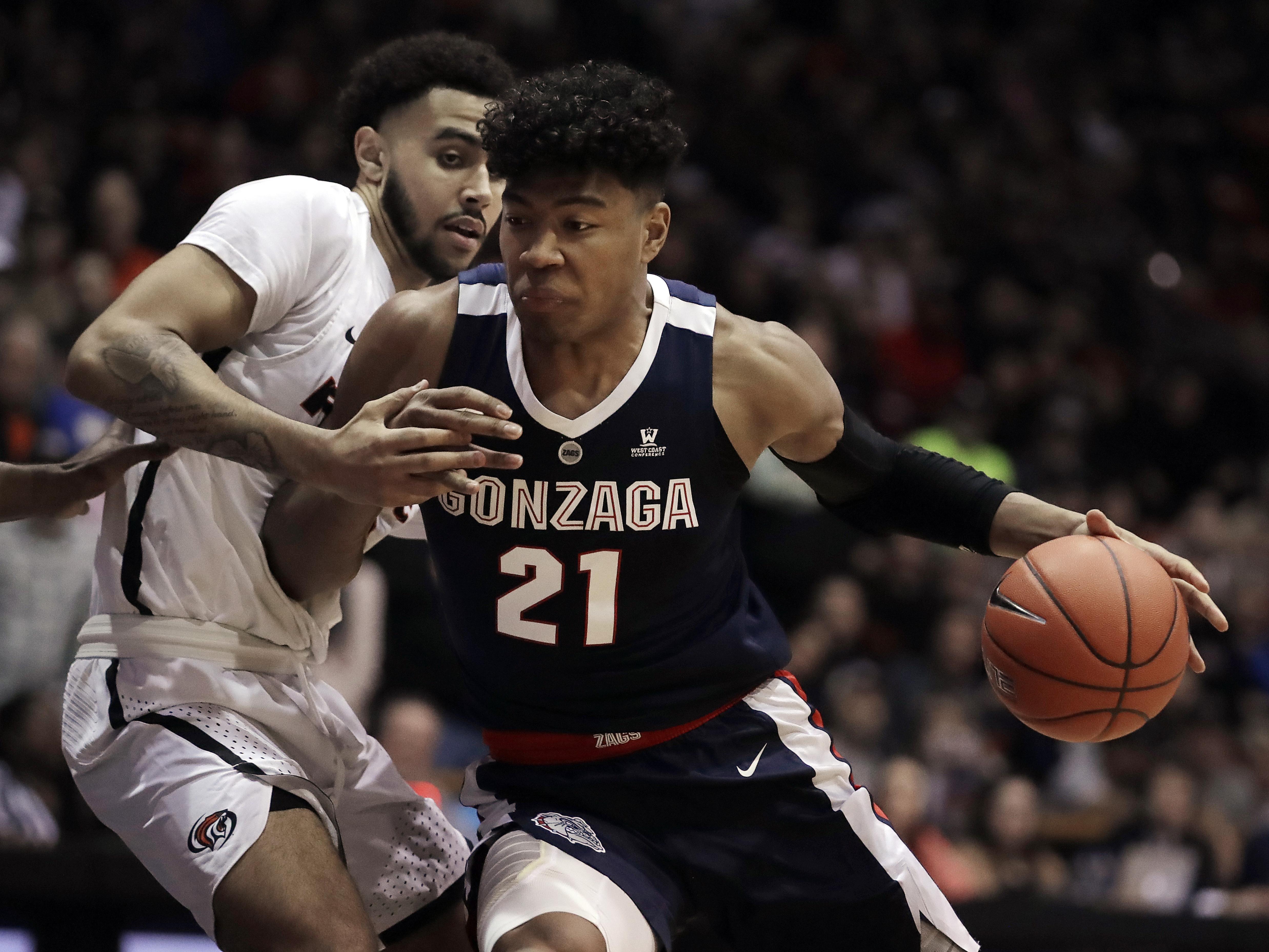 Gonzaga: In a postgame interview on ESPN, Brandon Clarke mentioned the word "focus." I'm pretty sure he did because he probably heard it used 1.34 million times last week about the Pacific game. And yet, at times, it didn't seem as if had registered with the Zags. Still, they won by 20. On the road. In conference. Jim Meehan was in Stockton – sorry – and has this game analysis and the keys to the win. … The office folks have the usual recap with highlights. … I watched at home and wrote a TV Take. … I missed the women's game live – the link to TV Take above explains that – but they won anyway. Jim Allen and Colin Mulvany were in the Kennel and have the game story and photo report, respectively. … Around the WCC, Saint Mary's, which hosts the Zags on Saturday, clinched the second seed in the conference tournament with a 65-48 win over Portland. … San Diego picked up a big come-from-behind win at San Francisco.
WSU: It's not often a Pac-12 basketball team heads into a game with just three substitutes available. But that was the case last night for the Cougars at Stanford. And it didn't work out too well. Theo Lawson was there and has this game story. … Theo also spent some time examining the NFL prospects of the three Cougars at the NFL Combine. It's worth your time. … The baseball team opened a three-game series in Reno with a win over Nevada. … Boobie Williams is talking to folks before the Combine. … Around the Pac-12, there may be worst ways to clinch a regular season title, but I can't think of them right now. Washington did that last night despite losing to California, a team that many consider the worst Power 6 school in the nation. The Bears were winless in conference play until last night. … The reason Washington clinched? Oregon State lost to Arizona in Corvallis on a putback at the buzzer. And Arizona State lost to Oregon in Eugene by a whole bunch. What is going on in this conference anyway? … It took overtime but UCLA, which at times looked like a lunchtime team at the local Y, was able to overcome USC. … Colorado has just one game this week. … In football, Oregon has a new defensive coordinator. He has a lot of folks in his corner. … Arizona State ended spring practice with an ugly scrimmage. … Oregon State is about ready to start.
EWU: Eastern was on a roll at home. Until last night, when the Eagles couldn't put the ball in the basket with any regularity. Ryan Collingwood was in Cheney and has the story of their 59-56 loss to Sacramento State. … Ryan also has the news Eastern has hired a new receivers coach. … Around the Big Sky, Northern Colorado is the hottest conference team right now, and the Bears added another win, this one by 24 over reeling Weber State.
Idaho: The losing streak has reached 14 after last night's two-point home loss to Portland State. Peter Harriman has the coverage. … Mikayla Ferenz is the Big Sky Conference's all-time leading scorer.
Preps: Before we get to all the Washington basketball coverage, we want to pass along the Idaho boys' tournament. Post Falls ended Rocky Mountain's two-year run as 5A champions. … As we mentioned above, John has a column from the State 1B Tournament, focusing on Oakesdale coach Carl Crider. … The latest Larry Weir Press Box pod contains a conversation with Justin Reed. … OK, on to the Washington stories. Dave Nichols has the coverage from Tacoma, with stories on the 4A boys, two from the 4A girls including Lewis and Clark's win and Central Valley's loss, as well as 3A boys and 3A girls coverage. … We have stories from Yakima to pass along on the 2A action and the 1A games. … From the Arena, there are stories from 2B boys and 2B girls, 1B girls and 1B boys. … We also pass along photo galleries by Libby Kamrowski and Tyler Tjomsland from the 1B boys, 1B girls, 2B girls and 2B boys.
Mariners: It's a new look Mariner team this year. So how do they look? … Shed Long has caught the eye of management. … The M's won yesterday.
Seahawks: It was Pete Carroll's turn to talk at the Combine yesterday and he is still positive about the Hawks in 2019.
Sounders: It's time for Seattle to win. The Sounders rebuilt a year before their counterparts in the West.
•••
• A quick heads up. This feature won't be here tomorrow morning. We have a busy Saturday planned and, honestly, I need a day off. So there you go. See you Sunday. (Or, if you stay up late Saturday, with the Gonzaga TV Take tomorrow night.) Until then …
Subscribe to the sports newsletter
Get the day's top sports headlines and breaking news delivered to your inbox by subscribing here.
You have been successfully subscribed!
There was a problem subscribing you to the newsletter. Double check your email and try again, or email
webteam@spokesman.com
---