News > Spokane
The music will go on: Jury sides with Rocket Market on free outdoor concerts
UPDATED: Fri., March 1, 2019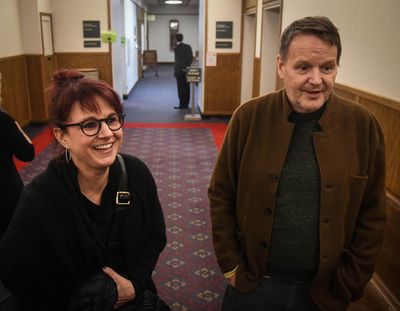 Attorney Jed Barden showed jurors a photo of Rocket Market co-owner Alan Shepherd standing next to Spokane Mayor David Condon.
The two appeared to be having a jovial conversation.
But to Barden, who represented a small group of upper South Hill neighbors suing Rocket Market over noise complaints from free outdoor concerts, the picture showed something sinister: collusion.
"The owners are powerful, well-connected people," he said, motioning toward the photo. "They know the city will have their back, so Rocket Market does what it pleases."
The market's attorney, George Mix, saw the photo differently.
"He shows a screenshot of the mayor and Mr. Shepherd (taken from KREM-TV footage), when he was out there saying, 'Hey, thanks for being patient, allowing us to work on the street,' " Mix said, referring to construction that closed much of High Drive in front of Rocket Market for several months in 2015. "Where's the grand conspiracy? Where's the evidence? There is none."
After two hours of deliberating, jurors unanimously agreed – the plaintiffs did not provide enough evidence that Rocket Market "substantially interfered" with their "enjoyment of their properties."
"We're glad it's over," said Shepherd after the verdict. "We'll continue to do concerts, but in the same respectful manner as we always have been. We'll continue to have noise monitors, continue to monitor the lines for people who have drinks. We will change nothing about what we do, because we have honed it down over 20 years of doing it."
The back and forth between attorneys was typical Thursday, as a pool of 12 jurors – nine men and three women – heard closing arguments in the civil trial two years in the making. The neighbors who sued the Shepherds on Feb. 16, 2017 – Russell Neff, Lisa Gardner, Bonnie Avery, Kelli Weaver, Eileen Pilant, Kerry Edwards-Peters and Robert Peters – all lived within a block and a half of the market at one point.
The lawsuit alleged Rocket Market created an exorbitant amount of noise in the summer months beginning in 2015 (and even before that; since 2009, according to testimony), due to their small, outdoor jazz and folk music concerts. The plaintiffs further alleged noise from revving motorcycle engines, paired with the music, was so loud that it kept them up at night. They said the noise was so loud they couldn't hear their televisions or read a book.
At least three plaintiffs said they moved because of the noise. Others claimed to have replaced windows, or paid for expensive landscaping to try and shield the music from their homes.
The attorneys described very different scenarios.
On the side of the plaintiffs, Barden called the Shepherds profit-hungry, careless owners with little regard for the personal property of neighbors or the cleanliness of the area. The neighbors complained of empty beer cans and cigarette butts littering their lawns after the concerts.
And the free concert series – intended as fundraisers for different organizations – were a sham, they said, with perhaps 10 percent of proceeds going to charity.
"With this situation, Rocket Market had an entitlement attitude," said Barden. "None of the witnesses put up on the stand by Rocket Market showed any remorse, showed a complete lack of responsibility of what they've done, and showed absolutely zero compassion for the affected neighbors."
Mix, representing the market, said the plaintiffs offered no evidence.
"He got up and argued allegations. That's it," Mix said of Barden. "But that's not what lawsuits are founded on."
Mix said Barden and the plaintiffs hadn't met the burden of proof that the nuisance needed to be unreasonable and substantial.
As for the claims, Mix had a rebuttal for many. Regarding the allegation that one plaintiff was forced to move due to noise, he noted the couple were getting divorced.
Concerning the 10 percent of money raised going to charity, Mix said evidence showed 100 percent of beer and alcohol sales went to charity, on top of 10 percent from other sources.
"Only cared about profits. Really?" he asked. "Where's that evidence? Where's the evidence that they're profiting off of this?"
Mix also asked for receipts of the property improvements neighbors said they were forced to make to drown out noise.
"Zero evidence," he said. "That's not that hard to produce, right?"
One of the most time-consuming arguments centered on measuring the noise.
A defense-hired witness attended several Rocket Market concerts after the lawsuit was filed, always unannounced, and what they found was that the decibel level of the concert was about on par with the amount of noise generated from nearby traffic. At about 55 decibels, it was also what could be expected from a "normal conversation."

"If a normal conversation is substantial and unreasonable, again, we are in big trouble as a society," said Mix.
The plaintiffs hired Dr. Matthias Basner, an associate professor at the University of Pennsylvania School of Medicine, to testify about the long-term effects of excessive noise.
Barden asked the jury to award each plaintiff $398,250, for total of about $2.8 million.
Mix declared that the neighbors viewed the Rocket Market as their lottery ticket.
"The case is about money to them," he said. "That's what it's all about. You can see it right there."
After the verdict, co-owner Shanda Shepard revealed what's next for Rocket Market.
"Concerts."
Spokesman-Review reporter Will Campbell contributed to this report.
Local journalism is essential.
Give directly to The Spokesman-Review's Northwest Passages community forums series -- which helps to offset the costs of several reporter and editor positions at the newspaper -- by using the easy options below. Gifts processed in this system are not tax deductible, but are predominately used to help meet the local financial requirements needed to receive national matching-grant funds.
Subscribe to the Coronavirus newsletter
Get the day's latest Coronavirus news delivered to your inbox by subscribing to our newsletter.
---