Sports > Gonzaga women
Gonzaga women clinch outright conference title with hard-fought win over Loyola Marymount
March 2, 2019 Updated Sat., March 2, 2019 at 11:55 p.m.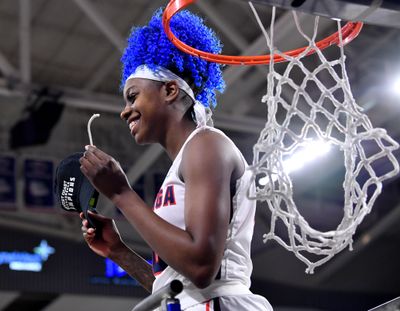 It was a great day to be a Zag, that was undisputed.
So was the West Coast Conference championship, which the Gonzaga earned the hard way on Senior Day at the Kennel.
The Zags wouldn't have wanted it any other way – really, insisted senior Laura Stockton.
"I would rather play a rough game like that than in a blowout," Stockton said after a 68-58 win over Loyola Marymount.
"A couple of elbow bruises never hurt anybody," Stockton said.
On the contrary, it felt so good – for all the Zags, but especially for seniors Chandler Smith, Zykera Rice and Stockton, who thanked practically all 6,000 folks in attendance.
As her teammates formed a tight ring, Stockton greeted the crowd after the game.
"You've made Gonzaga so special for all of us," Stockton said, sharing the feelings of four years of playing at the Kennel.
Senior Day was all about sharing – except for the WCC trophy. Even as she thanked the fans "for the best four years of my life," Rice clutched the trophy tight.
"They finally took it away from me," Rice said.
There were other takeaways in a season that keeps on giving. A third straight title secure, the Zags are 27-3 overall, 16-2 in the conference and heading to the WCC Tournament in Las Vegas for a semifinal game on March 11.
"We aren't done yet," Rice told the crowd to a big cheer.
SWX
And perhaps they aren't finished playing this year at the McCarthey Athletic Center.
At No. 13 in RPI and with a No. 16 national ranking by the Associated Press, the Zags have a solid chance to host first- and second-round NCAA Tournament games in three weeks.
That will sort itself out during the next two weeks; the subject was too abstract amid the joy of the moment.
"I'm just really happy for our seniors," coach Lisa Fortier said. "I'm just glad that we took care of business."
It wasn't easy.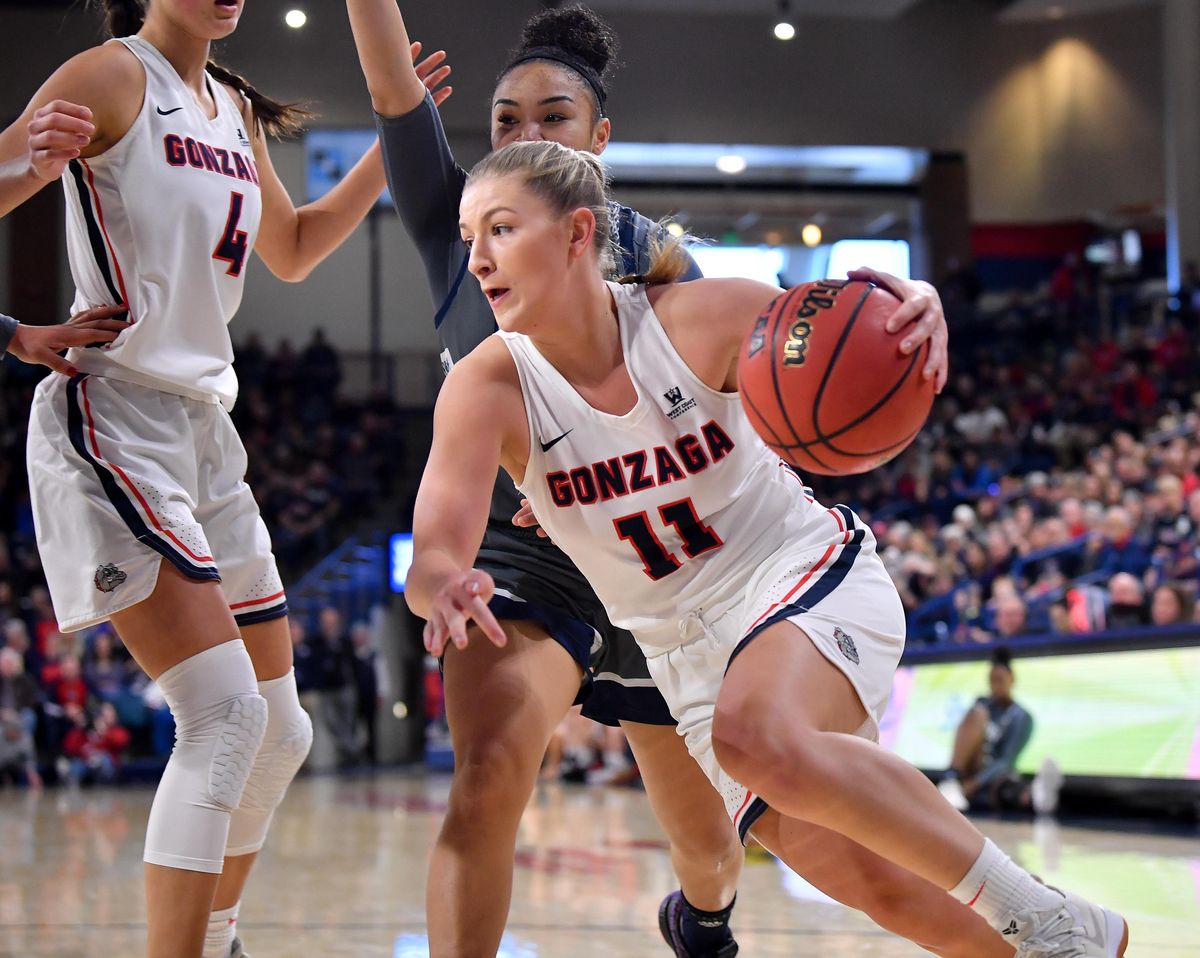 Gonzaga Bulldogs guard Laura Stockton (11) drives the ball against the Loyola Marymount Lions during the first half of a college basketball game on Saturday, March 2, 2019, at McCarthey Athletic Center in Spokane, Wash. (Tyler Tjomsland / The Spokesman-Review)
Against a physical Lions frontcourt, the Zags had one of their worst offensive first halves of the season: 25 points on 33 percent shooting from the field and 5 for 19 from inside the arc.
"A lot of that was emotions, but it wasn't a smooth half to say the least," Fortier said.
It was their lowest first-half scoring output since scoring 21 against Rutgers on Nov. 23, but they came back to win that game, too.
They also were being dominated 20-10 by LMU on the boards, with LeeAnne Wirth accounting for seven and no other Zag snaring more than one.
Loyola Marymount led 32-25 at halftime. Meanwhile, second-place BYU took care of business against Santa Clara, forcing the Zags to rally or share the title.
"I didn't know that BYU had won – I was just mad that we were playing so badly," Fortier said. "We let them drive with their strong hand. … We're supposed to dictate what other teams do on offense, and we let them pass it here and pass it there."
During the halftime pep talk, Fortier and her assistants "got into them a little bit and they responded very well."
Stockton opened the half with back-to-back layins and Smith made her first field goal of the afternoon, a 3-pointer that gave GU a 36-35 lead.
The biggest spark came from Jessie Loera. With GU trailing 38-36, she called her teammates together before an inbounds play, then hit an open Rice for an easy layup.
Rice also made the resulting foul shot, and the Zags never trailed again.
"I'm just glad I was in the right place to help my team," Rice said.
The Lions (17-13 overall, 10-8 and fifth in the WCC) twice got to within a point in the fourth quarter, but the Zags asserted themselves on the offensive paint.
Jenn Wirth made a nice spin move to make it 55-52, then Rice drove hard for the layin and a foul, doubling the lead with 6 minutes left.
"They all contributed, so the freshmen and the sophomores and the juniors should also feel like they contributed," Fortier said.
None brought more than sophomore LeeAnne Wirth, who put up a double-double with 13 points and as many rebounds.
"I know we all wanted to go out and play our hardest for our seniors," Wirth said. "It was our chance to give back to them."
The game was still undecided with barely 2 minutes left, but Stockton – who finished with a game-high 16 points – hit a layup and two foul shots, making it 67-58 with 30 seconds left.
That's when Fortier called her seniors off the floor to a standing ovation.
"It was kind of funny," Smith said. "Lisa was subbing us out and I wondered what was going on."
Then Smith looked at the clock: It was time to take a bow.
"What a great feeling," she said.
Local journalism is essential.
Give directly to The Spokesman-Review's Northwest Passages community forums series -- which helps to offset the costs of several reporter and editor positions at the newspaper -- by using the easy options below. Gifts processed in this system are not tax deductible, but are predominately used to help meet the local financial requirements needed to receive national matching-grant funds.
Subscribe to the sports newsletter
Get the day's top sports headlines and breaking news delivered to your inbox by subscribing here.
---