State 4A boys: Anton Watson powers Gonzaga Prep to championship repeat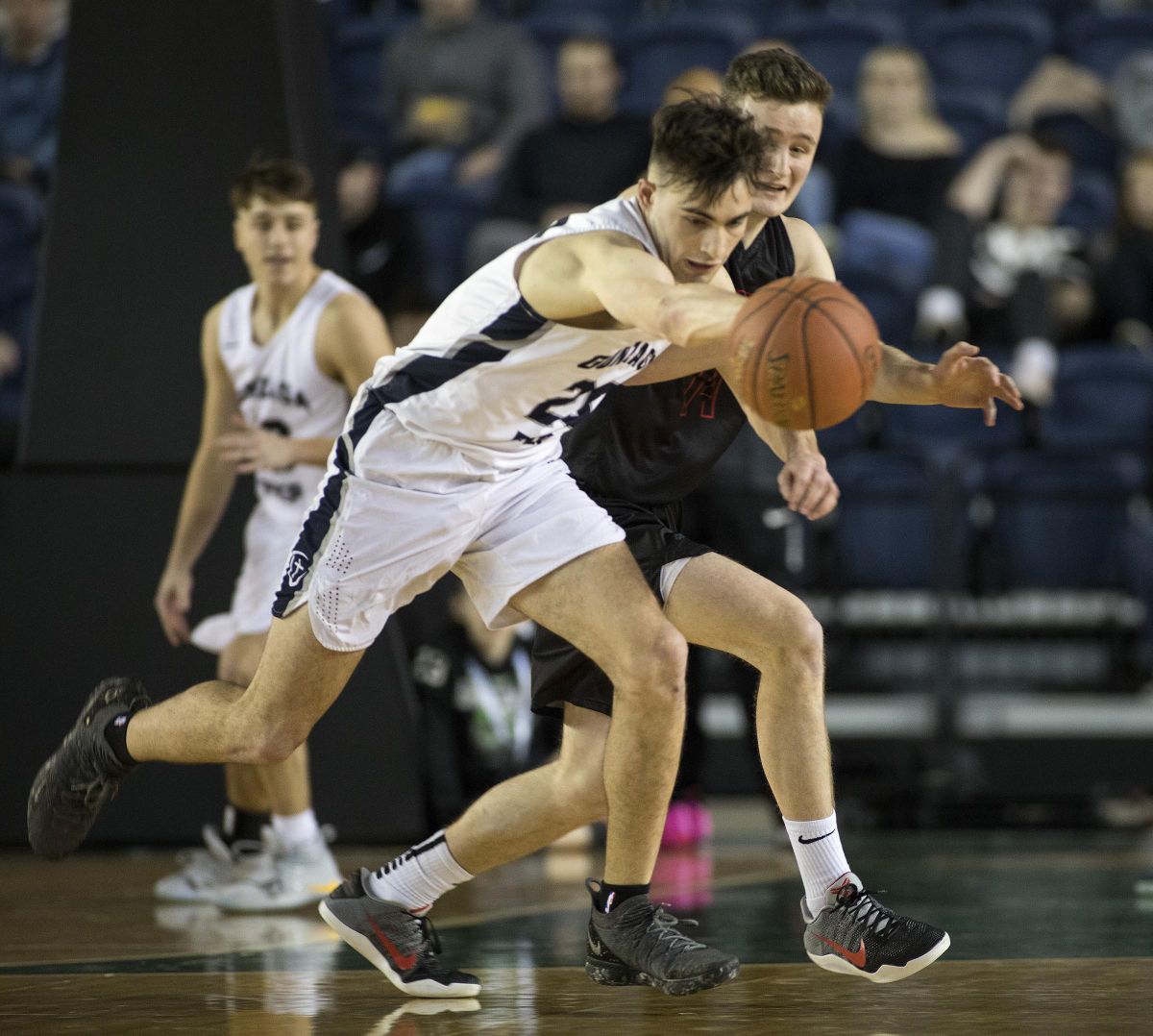 Still in a close game at halftime, Gonzaga Prep returned to what got them there in the first place: defense … and Anton Watson.
After a 20-6 third quarter, when Watson flexed his muscles for three inside baskets, the rout was on.
Watson finished with 33 points on 16-of-19 shooting, with eight rebounds and four assists, and second-seeded Gonzaga Prep (24-2) pulled away from fourth-seeded Mount Si, cementing their legacy with a 69-43 victory in the State 4A championship game at the Tacoma Dome on Saturday night.
Mount Si (26-3) was the KingCo League champion, making its first trip to a state final since 1977.
Sheadon Byrd added 11 points for the Bullpups, who shot 63.3 percent from the field.
It was G-Prep's second consecutive state title.
"Best feeling in the world, to go back-to-back," Watson said. "Not many teams can say that."
It was also the 100th victory in Watson's high school career.
"I didn't even know that," Watson said. "That's pretty cool."
"That's props to (coach Matty McIntyre), too," Watson said. "He's been a great coach throughout my career."
Watson won two state titles and two third-place games.
"I'm so happy for the kids, they've worked so hard," McIntyre said. "They left behind quite a legacy."
"I think my legacy is with my teammates," Watson said. "These are things I'll never forget."
The Greater Spokane League went 0-3 in the earlier three title games. McIntryre said that weighed on his team.
"Any time you can represent Spokane playing in a state championship, it's a great honor," he said.
Watson said they talked in the locker room at halftime about imposing their will on Mount Si. As he kept picking up baskets after intermission, he said the game plan worked.
"I could tell they were getting tired in the second half," he said. "That's when I had to start being assertive and being more aggressive.
"We stayed focused. We stayed as a team together. It was definitely worth it."
"I knew it was going to take a while for us to figure out their continuity offense,' McIntyre said. "We got fouled up a couple of times.
"We talked about it at halftime. It's just one of those things you have to find a rhythm with defensively. And we didn't crash."
Watson said the team focused on not letting down after the emotional semifinal win over Federal Way on Friday.
"I think we were ready to play," he said. "We had to fight through it. We forgot about last night's game. That game's over. This was the championship and we had to finish it."
Just as in the Bullpups' second-round win over Kentridge on Thursday, Watson won the tip to Lloyd, and he went the distance for an easy layup. Watson scored a couple of inside baskets, and Jacob Parola drove the lane for a pair of contested layins. On the other side, freshman Bennett O'Connor and Tyler Patterson drained 3s. G-Prep led 10-8 at the media timeout.
Brett Williams nailed a 3 for Mount Si. Next time down, Parola came up with a steal at the top of the key and went the distance. Watson's layup put G-Prep up 16-15 after one.
Jabe Mullins slammed one down over Lloyd, putting Mount Si up three. Watson scored twice inside to retake the lead, then stroked one from 3, making it 22-19.
Carter Sonneborn scored inside, Watson added another bucket and Noah Drynan's 3 just before half made it 31-23 at the half.
Watson got the crowd up at the start of the second half as he took the ball on the wing, eluded a defender and threw down a thundering dunk.
On the next possession, Byrd took a feed from Watson for a layup and Mount Si coach Jason Griffith asked for a timeout with G-Prep up 37-26.
Mount Si missed 3s on consecutive possessions, then O'Connor was called for a charge.
Sonneborn buried a 3 and the lead went to 20. He found Watson on a backdoor cut just before the horn for another loud dunk, and the Bullpups led 51-29 after three.
In the fourth quarter, Byrd made a scooping layup and Watson buried one from the elbow. G-Prep led 62-36 with 3:18 left.
Watson converted a three-point play with 1:45 left and McIntyre pulled his starters, to hugs all around, with a 30-point lead.
---