Sports > High school sports
State basketball: Gonzaga Prep's Anton Watson unanimous selection as State 4A boys tournament MVP
UPDATED: Sun., March 3, 2019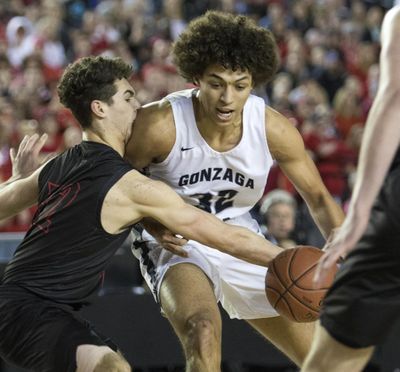 Gonzaga Prep's Anton Watson was selected by state high school print media as the unanimous selection for State 4A boys tournament MVP, announced early Sunday morning.
Watson led the Bullpups to a second consecutive State 4A title with a 59-43 win over Mount Si. The Gonzaga University-bound senior scored 65 points in three games (21.7 ppg).
G-Prep junior wing Liam Lloyd was a second-team selection.
Mt. Spokane sophomore Tyson Degenhart was a first-team selection for the 3A boys tournament. The Wildcats fell to O'Dea 70-39 in the state title game. Senior JT Smith was a second-team selection.
In 4A girls, Lewis and Clark senior Jacinta Buckley was selected for the first team. The Tigers lost to Eastlake 53-47 in the championship game. LC senior Baylee Bishop was a second-team pick, as was Central Valley senior forward Tomekia Whitman.
Mt. Spokane senior guard Aspyn Adams and junior forward Jayda Noble were named to the girls 3A first team. The Wildcats were edged by Prairie 37-35 for the title.
CLASS 4A BOYS
FIRST TEAM
MVP: Anton Watson, Gonzaga Prep, sr.
Jaden McDaniels, Federal Way, sr.
Tari Eason, Federal Way, jr.
Zack Paulsen, Curtis, sr.
Colten Northrop, Richland, sr.
SECOND TEAM
Liam Lloyd, Gonzaga Prep, jr.
Jabe Mullins, Mount Si, jr.
Bennett O'Connor, Mount Si, fr.
Kendall Munson, Puyallup, jr.
Garrett Streufert, Richland, sr.
CLASS 3A BOYS
FIRST TEAM
MVP: Paolo Banchero, O'Dea, soph.
Shaw Anderson, Kelso, sr.
RaeQuan Battle, Marysville-Pilchuck, sr.
Marjon Beauchamp, Rainier Beach, jr.
Tyson Degenhart, Mt. Spokane, soph.
SECOND TEAM
J.T. Smith, Mount Spokane, sr.
Noah Williams, O'Dea, sr.
Chris Penner, Capital, sr.
Shane Nowell, Eastside Catholic, soph.
Mitchell Saxon, Ingraham, jr.
CLASS 4A GIRLS
FIRST TEAM
MVP: Keeli Burton, Eastlake, jr.
Jacinta Buckley, Lewis and Clark, sr.
Jordyn Jenkins, Kentridge, jr.
Mia Hughes, Woodinville, soph.
Callie Stevens, Bellarmine Prep, jr.
SECOND TEAM
JaQuaya Miller, Kentridge, sr.
Aaliyah Collins, Glacier Peak, soph.
Mae Bryant, Eastlake, sr.
Tomekia Whitman, Central Valley, sr.
Kaylee Bishop, Lewis and Clark, sr.
CLASS 3A GIRLS
FIRST TEAM
MVP: Brooke Walling, Prairie, sr.
Aspyn Adams, Mount Spokane, sr.
Jayda Noble, Mount Spokane, jr.
Oumou Toure, Kamiakin, sr.
Kendyl Carson, Prairie, jr.
SECOND TEAM
Jasmine Gayles, West Seattle, sr.
Dalayah Daniels, Garfield, jr.
Alexa Hazel, Kamiakin, sr.
Faith Brantley, Garfield, sr.
Cassidy Gardner, Prairie, sr.
Local journalism is essential.
Give directly to The Spokesman-Review's Northwest Passages community forums series -- which helps to offset the costs of several reporter and editor positions at the newspaper -- by using the easy options below. Gifts processed in this system are not tax deductible, but are predominately used to help meet the local financial requirements needed to receive national matching-grant funds.
Subscribe to the sports newsletter
Get the day's top sports headlines and breaking news delivered to your inbox by subscribing here.
---