Sports > Outdoors
From adrenaline filled alpine descents to meditative Nordic trips, western Montana offers everything a skier could want
Thu., March 7, 2019 BIG SKY, Mont. – The immaculately groomed Nordic trails stretch out like corduroy ribbons on the glistening hillsides around Lone Mountain Ranch.
Nearby, 11,166-foot Lone Peak stands majestically over one of North America's biggest and best alpine ski resorts, where winter storms dump more than 400 inches of fresh Rocky Mountain powder every year.
If that's not enough, Yellowstone National Park is just down the road for epic backcountry skiing and snowshoeing adventures.
Is this a winter paradise? Add Lone Mountain Ranch's 27 historic cabins, sleigh rides, heaping plates of prime rib and Montana trout and yes, you've found paradise. Since the 1930s, this friendly destination resort has offered guests an authentic yet comfortable way to enjoy the wonders of the wild Montana winter.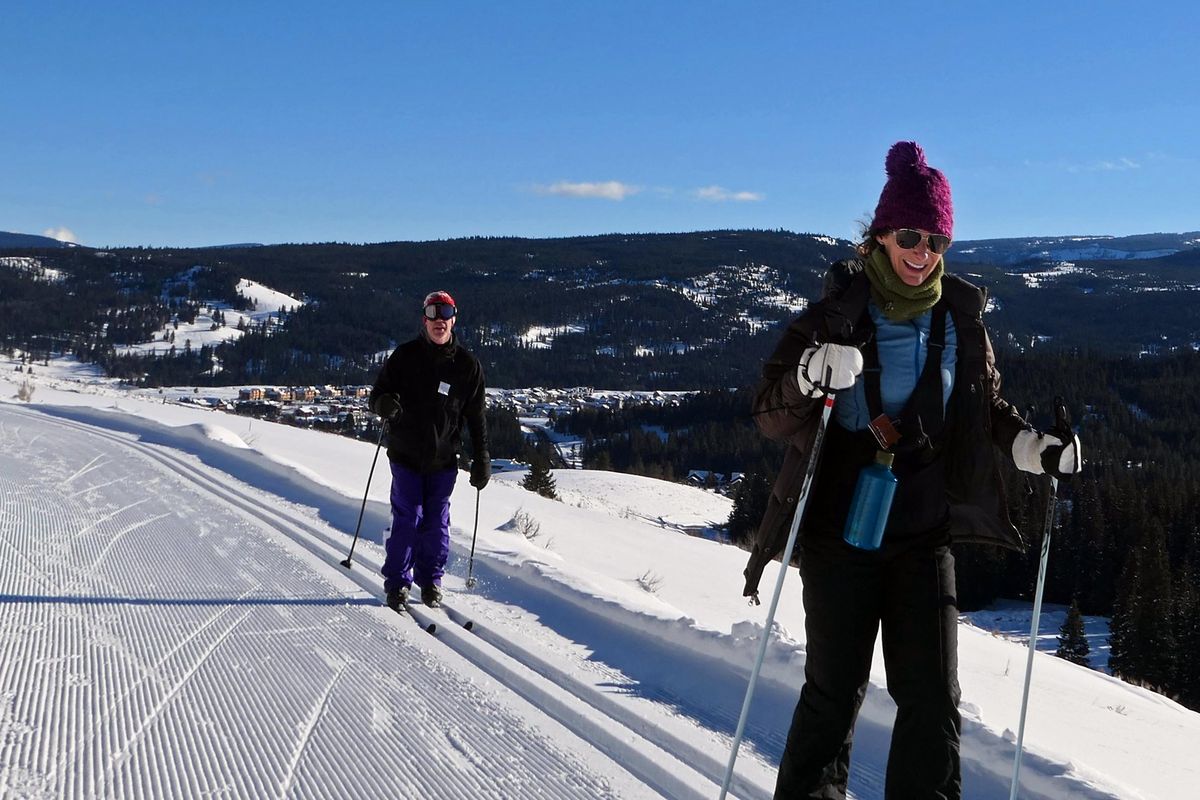 Nordic skiers explore the network trails around Lone Mountain Ranch. The ranch offers 85K of groomed skiing. (John Nelson / The Spokesman-Review)
Nordic adventures
On a crisp afternoon in January, I found myself climbing along North Fork Creek on Walkin' Jim's Way, one of dozens of trails snaking high and low from Lone Mountain Ranch.
Kick, glide, kick, glide – the Zen meditation of Nordic skiing could not have been more perfect as the trail stretched along the icy creek, not a soul in sight.
With 85 kilometers of groomed Nordic trails, the ranch is ranked as the "No. 1 Nordic skiing destination in North America" by Cross Country Skier Magazine. No argument here.
"Once you get out on the trails a bit, you usually won't see anyone," said Laurie Spence, Nordic manager at Lone Mountain Ranch.
The day before, I had arrived from Bozeman to 6 inches of new snow and skied the upper trails. The tracks were soft, offering plenty of grip for my classic skis.
"Our snow is very dry and it grooms up nicely," Spence said. Besides snow quality, the lodge's friendly staff and amenities attract a faithful following of skiers and snowshoe enthusiasts.
In addition to the excellent groomed skiing, Lone Mountain Ranch offers guided tours into the backcountry of Yellowstone National Park. The park boundary is just 18 miles away.
"Yellowstone in winter is an amazing experience," said Ali Lukitsch, a ranch naturalist and guide, as we climbed along Specimen Creek just inside the park boundary. You might see moose, elk or wolves on a typical outing into the park.
The blue-ribbon trout stream was gorgeous amid all the new snow. Besides skiing and snowshoeing, the ranch offers snow coach tours to Old Faithful and other steaming attractions in America's first national park.
"Seeing the thermal features in all that snow is just so beautiful. And nobody is there," Lukitsch said.
Alpine adventures
Lone Mountain is surely one of the Rocky Mountains' most iconic peaks. As its name suggests, the pyramid-shaped mountain stands in dramatic isolation in the Madison Range, inviting expert skiers to descend its many chutes served by a 15-person tram.
It is home to Big Couloir, one of North America's most famous extreme-skiing drops.
While Big Sky is known for Lone Mountain's famous pitches, the resort also offers an enormous array of intermediate and beginning terrain, said Stacie Mesuda, public relations manager for the resort.
"You don't have to be an advanced skier to have a good time here," she said as we skied an intermediate run off the resort's Shedhorn lift, below the south face of Lone Mountain. "What a lot of people don't know is that we have 2,300 acres of beginning and intermediate terrain. That's a lot of skiing."
Big Sky offers 5,850 skiable acres, prompting the marketing slogan "The Biggest Skiing America."
I spent two days exploring the vast resort and didn't come close to seeing all of it. Mesuda recommends hiring a guide to show you around on your first visit.
"This mountain is way too big to explore on your own," she said. "There's a real science to skiing here."
You can spend entire days skiing off the Challenger lift, for instance, or the Moonlight area in the northern portion of the resort.
Skiing the Lone Peak Tram is something every advanced skier should try. Because the tram cabins hold only 15 skiers, stepping off on top the wind-whipped peak of Lone Mountain feels wild and remote.
"It's the closest thing to heli-skiing you can get from a resort lift," Mesuda said.
We hit Liberty Bowl, a wide-open alpine drop on the south face of Lone Mountain that you won't forget once you've done it.
Explosion in popularity
In recent years, tourism numbers have set records in the Big Sky area. The new Town Center development has sprung up and continues to blossom, with a variety of shops and restaurants opening all the time.
"We're building Town Center block by block," said Candace Carr Strauss, CEO of Visit Big Sky, as we drove through the new city.
Celebrities have discovered Big Sky through the nearby Yellowstone Club, an enclave for the uber-rich that ski legend Warren Miller helped start. Justin Timberlake, Tom Brady and Matt Damon, among others, have homes there.
The new restaurants and shops are nice, but old-school places like Lone Mountain Ranch are what keep people coming to this scenic area. The ranch is included in National Geographic's "Unique Lodges of the World" guidebook for its "hospitality (that) reflects the laid-back, friendly spirit of Montana."
The best example of this is found in the ranch's sleigh-ride dinner, where guests take a horse-drawn trip to the cozy, lantern-lit North Fork Cabin.
"We've been doing this dinner for 40 years – it's that popular," said Randy Hall, a naturalist and guide at the resort, as we chowed down on the prime rib.
At the ranch's Horn & Cantle, visitors come for the high-end cuisine of chef Eric Gruber and craft cocktails in the lively saloon next door.
After a few days of Nordic and alpine skiing, it was the perfect place to end up on my last day. I ordered the coffee-rubbed elk chop and sipped on the Lone Mountain, a Montana-version of a Manhattan made with regional whiskeys. Yes, I could get used to this.
Local journalism is essential.
Give directly to The Spokesman-Review's Northwest Passages community forums series -- which helps to offset the costs of several reporter and editor positions at the newspaper -- by using the easy options below. Gifts processed in this system are not tax deductible, but are predominately used to help meet the local financial requirements needed to receive national matching-grant funds.
Subscribe to the sports newsletter
Get the day's top sports headlines and breaking news delivered to your inbox by subscribing here.
---