News > Spokane
Liberty Lake Rotary group plans water project in southern Honduras
Thu., March 7, 2019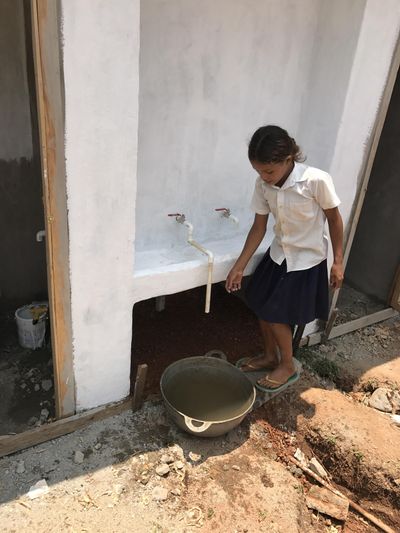 A group from the Liberty Lake Rotary Club will journey to a remote village in Honduras to bring clean water and sanitation to the residents next month, a trip that organizer Chris Choate said he believes will save lives.
San Antonio de Yamales in southern Honduras is like many other isolated rural villages. It lacks basic sanitation and clean water. People use rivers and streams for drinking, cooking and bathing, Choate said.
"They share water with their animals," he said. "We're not even supposed to touch the water while we're there. It's that bad."
Part of the trip will include the installation of concrete latrines, much like outhouses.
The Rotarians are partnering with Pure Water for the World to install water filtration systems. Over 90 percent of the water in rural Honduras is unsafe to drink and many people die from diseases caused by contaminated water and lack of sanitation, Choate said.
"You've literally given these people a new life," he said. "We can do so little and make such a big impact down there."
Choate said he went on a similar trip two years ago.
"It was so moving and empowering to me," he said. "When I got back home, I decided to make this a mission for me. That trip changed my life."
Choate said he's been able to travel a lot, but nothing prepared him for what he found in Honduras.
"I thought I knew poverty," he said. "I didn't understand the level of poverty there."
He got a grant for nearly $11,000 from Rotary International to purchase supplies and equipment for the trip. The Liberty Lake group will focus its attention on San Antonio de Yamales, installing about 20 water filters in the village of 160, while more people from across the country visit two more villages to install filters.
The village is a two-day journey by bus and pickup truck from the capital city. The group will go there from April 6 to April 12.
The rural communities apply for the program to receive the water filters and latrines. They're educated about the importance of clean water and basic hygiene. San Antonio de Yamales residents have seen the improvements in other villages and know that people don't get sick as much, Choate said. They're eager to see changes come to their own community.
"This particular community has been waiting three years," he said.
Many students leave school at age 8 or 9 because they have to help the family or because they are too sick, Choate said. That's one of the reasons every school gets a double latrine with a hand-washing station and gets a water filtration system.
"You keep the kids healthy they can stay in school a little bit longer," he said.
The small villages typically don't have much in the way of school supplies either, he said. "If they have a pencil and a notebook, that's probably all they have," he said.
Each of the villages' 60 students will get a backpack that includes 10 pens, 10 pencils, 10 colored pencils, crayons, workbooks and flashcards. Each school gets soccer equipment as well, and the teachers will also get supplies.
"They'll be as well supplied as any local elementary school here, maybe even better," he said.
The group is also bringing anti-parasite medication for everyone in the village as well as hygiene kits that include shampoo, hand sanitizer, soap, toothpaste and toothbrushes. "We have enough for that community," he said. "We spent nine, 10 months collecting this stuff."
He estimates the group will make the trip with 800 pounds of supplies. That doesn't include the building supplies for the latrines, which have already been delivered to the village.
Choate said he'd like to make a similar trip to Honduras every year, though he wants to explore doing fundraisers to reduce the estimated $2,500 each person making the trip will have to pay. "It's a big commitment to go on this trip," he said.
Despite the costs, others are getting as excited as Choate about keeping the trips going.
"I already have six to eight people who are ready to go next year," he said.
Local journalism is essential.
Give directly to The Spokesman-Review's Northwest Passages community forums series -- which helps to offset the costs of several reporter and editor positions at the newspaper -- by using the easy options below. Gifts processed in this system are not tax deductible, but are predominately used to help meet the local financial requirements needed to receive national matching-grant funds.
Subscribe to the Coronavirus newsletter
Get the day's latest Coronavirus news delivered to your inbox by subscribing to our newsletter.
---