News > Spokane
Former TV news anchor Nadine Woodward considering run for Spokane mayor
March 7, 2019 Updated Thu., March 7, 2019 at 10:16 p.m.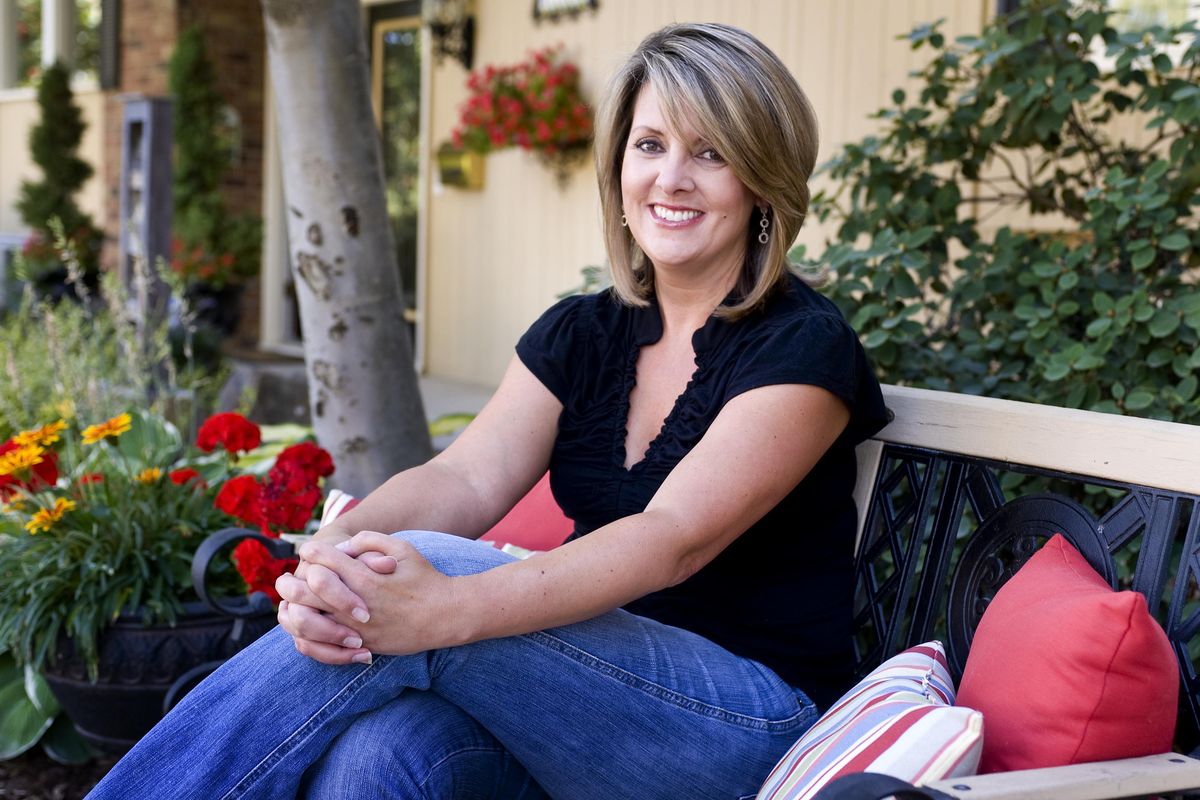 Nadine Woodward, who retired as KXLY's main anchor last month, said Thursday that she is considering running for Spokane mayor this year. Woodward is shown in this photo from 2009. (Colin Mulvany / The Spokesman-Review)
A week after retiring from KXLY, longtime anchor Nadine Woodward said she may run for Spokane mayor.
"There are plenty of things I'll be thinking about before I make a decision," she said in a text Thursday to a reporter. "Some are very personal, I really can't talk about what I don't know right now."
Woodward is vacationing in Hawaii with her family. While on her flight she tweeted a photo of a champagne glass.
"What a surprise! A champagne toast to my TV News retirement from everyone onboard my @AlaskaAir flight to Kauai," she wrote.
Under her champagne glass on her tray were city documents about Spokane's annual survey on homelessness.
Woodward has been rumored to be interested in running for city office at various times in the past decade and previously said she planned to focus on her family's business and finishing her contract at KXLY. Woodward's last day on air was Feb. 28.
She would be the third KXLY journalist to run for Spokane mayor. Ron Bair, a former anchor, was elected mayor in 1977 and served one term. Tom Grant, a reporter, ran for mayor in 2003, losing to Jim West.
Michael Cathcart, executive director of Better Spokane, an organization that tends to back conservative-leaning candidates, said he talked with Woodward about her political prospects and hopes she'll run.
"She'll have a great shot at winning if she does get into the race," he said.
A few months remain before the filing deadline, he said, and his organization still is looking for candidates to run in local elections.
"I think there's plenty of time," he said.
When Mayor David Condon ran for the first time, he didn't publicly announce his intentions until Bloomsday, when he and supporters wore "Elect David Condon" T-shirts.
Cathcart said the other six candidates who already have filed for office likely don't have the name recognition to beat City Council President Ben Stuckart.
Stuckart, who held his first official campaign event Thursday night at The McGinnity Room event hall in downtown Spokane, briefly acknowledged Woodward's potential candidacy when asking for campaign volunteers and donations at the end of his campaign kickoff speech.
"I heard there was a big name that earlier today said she was going to run," he said. "She has been on people's TV sets for 20 years. She has more name recognition than me, and if you choose to have me as someone you want to represent you, I need your time, talent … and whatever you can give."
During his campaign kickoff, Stuckart laid out a progressive agenda and highlighted what the City Council's liberal majority has accomplished during his time as council president.
He encouraged the crowd of supporters to elect him and a progressive City Council that would make climate change and sustainability a priority citywide.
Stuckart, who has had several high-profile clashes with Condon's administration over sustainability, emergency services and immigration enforcement, said he hopes to use a variety of solutions to address homelessness and the lack of affordable housing.
He also promised to create an office for civil rights within the city, and to enforce the city's human rights code and a law the council passed barring the Border Patrol from the city's Intermodal Center.
"We need a mayor who will show the same courage that activists from our immigrant and refugee community have shown and protest against these injustices," he said.
Stuckart, the highest profile candidate of seven men who already have announced they will run for mayor, already has raised about $24,000. He is also the only candidate who has experience serving in an elected office.
Other candidates who plan to run for mayor are:
Andrew Rathbun, an Air Force and National Guard veteran who said he planned to use $30,000 of his own money to run for his campaign. Rathbun said he has a combined 30 years of active duty between his time as a navigator with the Air Force and National Guard as well as experience on the board of the West Central Community Center and West Central Neighborhood Council. He said he retired from the National Guard in October but still owns multiple rental properties, including two Airbnb units.
Shawn Poole, a Spokane Fire Department lieutenant and retired U.S. Army colonel, has gained the support of several local Republicans, including Spokane County Sheriff Ozzie Knezovich, state Sen. Jeff Holy and Rep. Jenny Graham. Poole, who has raised about $10,600, has said previously he hopes to eliminate "fraud, waste and abuse" in government and place requirements on people experiencing homelessness who are using city services.
Kelly Cruz, a longtime member of the West Central Neighborhood Council, has run unsuccessfully for City Council in the past. Cruz is a lifelong Spokane resident and worked as a carpenter before winning the $1,000 a week for life lottery. He said he also is a member of the Spokane COPS board. If elected, he said he would work to educate the public on property crime prevention and create a youth advocate position in the mayor's administration.
Chris Schroll, a marketing coordinator at a local auto body shop, Flash's Auto Body & Paint, is a progressive candidate and Eastern Washington University graduate. He said he was involved in athlete student government while in college and unsuccessfully ran for Spokane County Democrats chair. He said he and his wife have been the victims of property crime and he hopes to make the issue a focus if he's elected.
Jonathan Bingle is the owner of local event and entertainment business Bent Events and is a former pastor. He said his parents were missionaries while he was growing up and he was pastor at Destiny Church, which is now Genesis Church. Bingle said he hopes to bring in outside experts to help the city reduce property crime and find new strategies to address homelessness.
Jason Dixon, who owned the now-defunct medical marijuana dispensary Herb Nerds and now owns the Liberty Smoke and Vapor shop, said he hopes to change bicycle helmet laws and institute 24-hour pothole repair team. Dixon also graduated from the Western College of Auctioneering with a degree in auctioneering.
Local journalism is essential.
Give directly to The Spokesman-Review's Northwest Passages community forums series -- which helps to offset the costs of several reporter and editor positions at the newspaper -- by using the easy options below. Gifts processed in this system are not tax deductible, but are predominately used to help meet the local financial requirements needed to receive national matching-grant funds.
Subscribe now to get breaking news alerts in your email inbox
Get breaking news delivered to your inbox as it happens.
---