News > Spokane
South Hill homeowners want racist covenant removed from deed, but auditor says it's a request she can't fill
Sun., March 10, 2019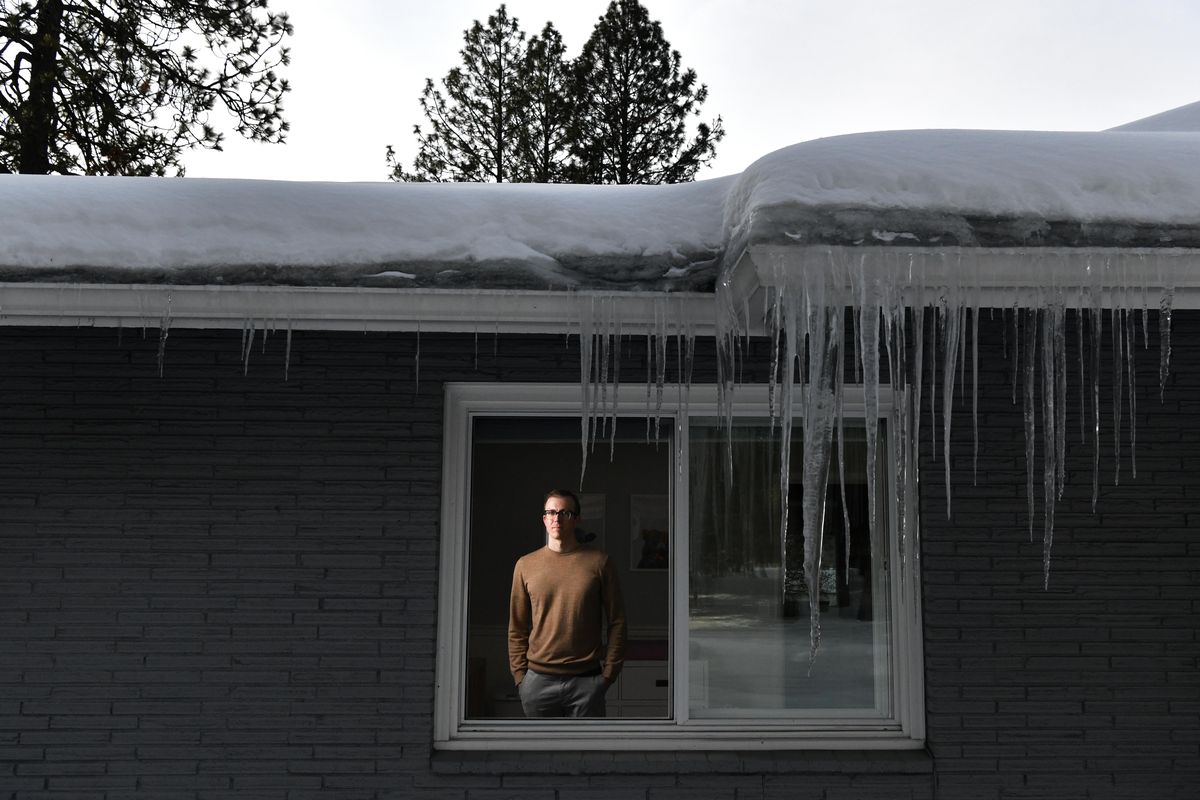 Alex May poses for a photo in his South Hill home on March 1 in Spokane. May is trying to clear the home's deed of a racial covenant barring anybody who isn't white from purchasing the house. The covenant is no longer legally enforceable, but May still wants it cleared. (Tyler Tjomsland / The Spokesman-Review)
Historic covenants that prevented people of color from buying or living in Spokane homes must remain part of the public record, according to Spokane County Auditor Vicky Dalton.
"They're offensive. Those clauses are absolutely offensive, but the reality is they are our history and they need to remain part of the public record," she said. "That is what happened. People were hurt. People were damaged. People were restrained from where they had to live. And people really had to fight to nullify those clauses."
Dalton said she is "specifically prohibited" from altering records, but a couple on Spokane's South Hill disagree, and have asked a local judge to rule that Dalton and the county are wrong in their interpretation of the law. Alex and Sasha May want their home's deed to be stripped of its racially restrictive covenant, a document that bars anyone who isn't white from buying or living in the home that was made invalid by state and federal law decades ago.
Regardless, the covenants remain part of the legal paperwork for property underlying thousands of homes in Spokane.
Alex May, who grew up in Spokane and left for college before returning in his mid-30s, said the offensive words have no place in a document that is still used today, which they found in the home's legal documents when they were finalizing the sale of their Comstock neighborhood home in September 2017.
"I'm not trying to erase the history of it. That's not my motivation. But if you're buying a house and that language is there – 'Oh yeah, that's just in there don't worry about it' – that doesn't really square with me," May said. "If it's a document we're using currently, we should remove it."
Hundreds of Comstock homes
The practice of preventing people of color from buying or renting homes was not unique to Spokane. Deeds in Brookline, Massachusetts, in the 19th century didn't allow property to be sold to "any negro or native of Ireland."
While most restrictive covenants to this day include mundane rules about what type of structures can be placed on a piece of property, or where, provisions that barred sales based on race began to spread around the nation in the 1920s. As was the case in Spokane. It became common for racial covenants to take "the form of contract among all owners in a neighborhood," according to Richard Rothstein in his 2017 book, "The Color of Law."
Though the U.S. Supreme Court ruled in 1948 that the racist covenants could not be enforced, many home builders continued to insert them into home deeds, as was the case in Spokane. In 1968, Congress passed the Fair Housing Act, which outlawed housing discrimination based on "race, color, religion, or national origin." In 1969, a Washington state law basically reaffirmed the federal law, making the covenants void.
These covenants, put on the books in the midcentury and invalidated soon thereafter, remain tied to the underlying land on many homes. Most homeowners probably don't know about their homes' racist history.
But it's there, and it must stay there, Dalton said.
"The purpose of the recording office is to provide public access to property records. My office has the chain of title for property records," she said. "That's what this office is all about. We don't determine who owns property. We just hold the documents. We are custodians of the records."
Dalton said numerous state laws define what authority she has, and what actions she can and can't take.
"One of them is we cannot alter a record. I am specifically prohibited from going in and deleting records or text from those records," she said. "My job is ensure that those records are maintained in history. We are guaranteeing the preservation of these records."
Other laws, both federal and state, are designed to leave the racially restrictive covenant sitting in the historic record while preventing it from becoming part of the modern record, Dalton said. In other words, it will stay attached to the home, but shouldn't be part of a title report that home buyers see when purchasing a house.
In that sense, Dalton said, the chance was "fairly remote" that a home buyer would see the covenant.
"The title report won't have the covenant in it, and that's what most people see," she said.
May, however, said his wife saw the covenant while she was finishing up the paperwork for the sale. She acted as their real estate agent, with some help from her father, who is also a real estate agent.
"He emailed her to say, 'Hey, this language is in there. It's not legally applicable anymore.' He knew it was unenforceable," May said of his father-in-law. "I was surprised it was in there, not strictly because I was unaware of racist housing policies, but it's different seeing it manifest in 2017 in a document."
May began researching ways to strip the offensive language from his home's deed, and came across the research of Logan Camporeale, a local historian and historic preservationist who began researching and compiling Spokane's racist covenants while a graduate student at Eastern Washington University.
---
Overall, he identified 40 subdivisions in Spokane County that had racist covenants. He suspects there are a dozen more out there he didn't find.
"I feel very confident that there are other subdivisions that have these covenants in Spokane County," he said, noting the arduous process of sifting through scanned, archival documents.
As Camporeale's research found, the covenant has been part of the Mays' home's deed since it was built in 1954 as part of a new housing development near Comstock Park. The underlying property that carries the covenant currently has 37 homes on it – all of which still carry the invalid and unenforceable racist restrictions.
Badge of discrimination
The developer of Comstock Park Second Addition, as it was called, was William Cowles Jr.
On Aug. 12, 1953, Cowles signed the three-page "Declaration of Protective Covenants" document, which said that "no race or nationality other than the white race shall use or occupy any building on any lot." At the time of his signature, he was publisher of The Spokesman-Review and the Spokane Daily Chronicle.
His signature was put to paper five years after the Supreme Court said such covenants could not be enforced, and at a time the nation was lurching toward a recognition of how ugly things really were around the country. Within a year – May 17, 1954 – the Supreme Court would decide Brown v. Board of Education, outlawing segregation in public schools and laying a cornerstone of the civil rights movement.
The nation would be changed by the movement. In 1955, Rosa Parks refused to give up her seat on a Montgomery, Alabama, bus, which led to bus boycotts led by Martin Luther King Jr. and the toppling of the South's Jim Crow laws. In 1964, the first contemporary Civil Rights Act was passed, followed by the Voting Rights Act and Fair Housing Act.
Cowles developed four other subdivisions with racist covenants in the Comstock neighborhood. In all, 156 homes are still in these developments and all still carry these covenants.
Cowles, who died in 1970, is the grandfather of Betsy Cowles, the chairman of the Cowles Co., and Stacey Cowles, publisher of The Spokesman-Review. The family has distanced itself from the covenants, noting that "such racial segregation is offensive and in no way represents our company or family values."
Cowles wasn't alone in his racist housing policies in the Comstock neighborhood. In all, according to Camporeale's research, the neighborhood has eight historic subdivisions with similar restrictions, which contain 474 homes that still have the racial covenants attached to their deeds.
They were all built after the Supreme Court decision.
"The intent of these developers didn't change. They still intended to build communities only for white people," Camporeale said. "They knew it was unenforceable. But they kept doing it to let prospective white buyers know that that was the intent of the developer."
It's for this reason that Camporeale believes homeowners should have the ability to fully remove the covenants from their deeds. The intent of the original home builder lives on on paper, he said, which could diminish someone's ability to "freely enjoy their property."
"That to me is a right you should have. To freely enjoy your property," Camporeale said. "If these views were truly dead, I wouldn't be concerned about it. From my perspective, these views are not departed. It's hard to look at this like a history book when we're still living it."
After May contacted him, Camporeale, who wants homeowners to have a way to remove the covenants from the deeds, suggested he contact Rick Eichstaedt, an adjunct professor at Gonzaga University School of Law. Eichstaedt assigned Brad Lyman, a second-year law student, to the case earlier this academic year.
Lyman says state law allows Dalton to "strike" the racist language from home deeds, citing an older state law that gave courts the power to order a county auditor to remove the language from the deeds and make "all of these discriminatory provisions void."
"Her position is tasked with handling these records. She does have this authority," he said.
Lyman plans to file a motion for summary judgment soon, and asked Spokane County Superior Court Judge Michael Price to rule in the Mays' favor.
"It's a badge of past discrimination that doesn't need to be there," Lyman said. "We want to make sure the county gets it right."
Ugly, uncomfortable and liberating truth
Kurtis Robinson, president of the Spokane chapter of the NAACP, said he agrees with Dalton: The racist covenants should stay part of the historical record.
"We have to embrace that uncomfortable, ugly and yet, at the same time, liberating truth," he said. "Instead of covering it up, when we take ownership of what we've done and where we've been, it gives us a platform to own where we've been."
Robinson said remembering and explaining the injustices in American history is an important part of the "moving forward process."
By stripping home deeds of their "historical truth," the racism of America is buried and ignored. But leaving the covenants in the record and having a community discussion about them will help the U.S. move beyond the injustices people of color have experienced since the country's founding, Robinson said.
"This is where we are, this how we got here and this is what we do from here," he said, acknowledging that neither he nor anyone else has a prescription to fix what ails the nation. "That's what we have to figure out. What does this look like? The historic evidence and realities to be evident. How do we embrace this historical truth? That's the big conversation we're having locally and nationally."
May, the homeowner, said he too isn't sure what he wants out of this process, other than a way to educate and remind people of the ugly truth underlying his and other homes.
"If I were a person of color, I mostly would know the history already. You'd learn that history more than maybe white people are going to. I don't think you need to see it manifest in everyday things that are happening around you," May said, explaining why he believed a home deed isn't the right place to learn about the history of racist housing policies. "We could have an exhibit in the museum that talks about the history of it. Or a newspaper article. I think it would be great if there were ways to educate the population more. There are more productive ways to educating and reminding people."
Dalton won't back down. Even if the judge rules against the county, it will appeal. There will be motions and responses and cross-motions, all of which will take months.
She added that the state Legislature gave her new power to help rectify the past. Instead of a lengthy and costly court process, she said, homeowners can now fill out a form that adds to the title report a document that says the home carries an invalid and unenforceable racially restrictive covenant, without repeating the racist language from the covenant.
In fact, Dalton worked with the Legislature and James Gregory, a historian at the University of Washington who directs its Seattle Civil Rights and Labor History Project, to figure out "how to make it work. We were really focused on not bringing the language back into the modern record."
Now, homeowners can file a request with their county auditor's office to legally strike the language from the record, free of charge.
Dalton likened the discussion of racist covenants to statues honoring the Confederates of the U.S. Civil War, which some people have demanded be pulled down and destroyed.
"You can pull down Confederate statues but you can't change that the Battle of Bull Run occurred. In this case, this is our Battle of Bull Run," she said. "Now we can identify that a particular document does have an invalid and enforceable racially restrictive covenant without pulling it into the modern record. It doesn't repeat the language. It actually is a really clean way of pulling down the statue."
Local journalism is essential.
Give directly to The Spokesman-Review's Northwest Passages community forums series -- which helps to offset the costs of several reporter and editor positions at the newspaper -- by using the easy options below. Gifts processed in this system are not tax deductible, but are predominately used to help meet the local financial requirements needed to receive national matching-grant funds.
Subscribe now to get breaking news alerts in your email inbox
Get breaking news delivered to your inbox as it happens.
---