A&E > Books
The Book of Mel: Doug and Sherry Clark, two of Mel McCuddin's many fans, publish the coffee table book 'McCuddin: The Inner Eye'
Sun., March 10, 2019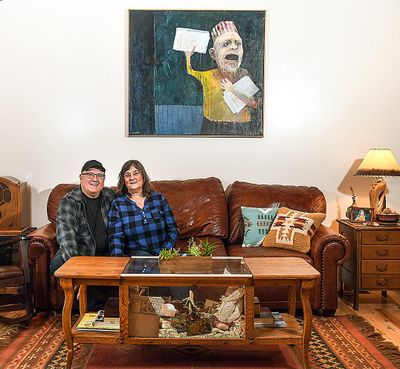 He's one of Spokane's most popular and prolific painters. His instantly recognizable paintings hang in private homes across the country, in restaurants in his hometown, at the Spokane Arena, and in the courtroom of a Superior Court judge.
His annual exhibits at the Art Spirit Gallery in Coeur d'Alene draw crowds, as do his shows at the Mango Tango Gallery in the U.S. Virigin Islands. Last summer, "Ideas From the Paint," an exhibit of new works, was mounted at the Northwest Museum of Arts and Culture.
If you wanted to read a book about Mel McCuddin, you couldn't. Until now, thanks to two fans of his work and their particular set of skills.
Doug Clark, who retired in 2017 from The Spokesman-Review after 43 years in journalism, and his wife, Sherry, a retired educator and former yearbook adviser, wrote, edited and designed "McCuddin: The Inner Eye," a limited-edition coffee table book devoted to the artist. It's being celebrated with a book launch and art show on Friday at the Art Spirit.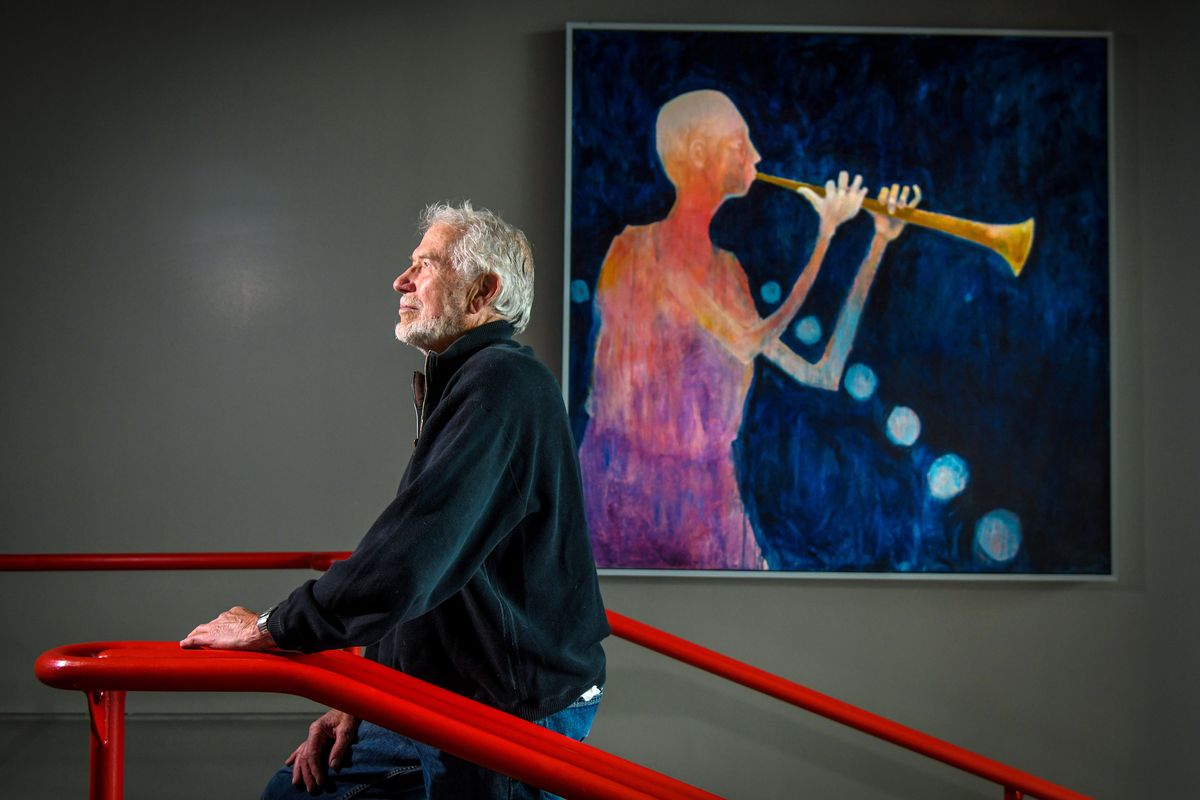 Artist Mel McCuddin poses in front of one of his untitled works at the Spokane Veterans Memorial Arena on Oct. 29. (Dan Pelle / The Spokesman-Review)
They're releasing it through their own imprint, Clarksville Publishing, in a limited-edition run of 500. It comes with a suitable-for-framing print of the cover image, a 2016 painting by McCuddin called "Confusion at the Gate." The book will sell for $125.
The Clarks now own seven McCuddins. The first they bought after they downsized and sold their South Hill home. "The Last Paperboy," which hangs in their living room, fittingly enough was added to the collection after Doug Clark retired.
Blair Williams, who runs the Art Spirit, had liked a story Doug Clark wrote about McCuddin in 2016 and called just before he retired and suggested he write a book.
A year later, after Sherry Clark retired, they looked about for something to do together.
"We were just starting out on this way of life," Sherry Clark said. "We thought it would be a fun project to do together."
Besides, her husband said, "We thought Mel deserved a book."
Sherry Clark reached out to some of her contacts in the yearbook world, and found a printer, with one big catch: The book would have to be turned in by the end of January, before yearbook production begins.
That would mean either doing the project in five months, or waiting another year.
The pair got to work.
They called on friends such as Spokesman-Review photographer Dan Pelle, who took the photos in the book. Williams at the Art Spirit let them access their digital archive of McCuddin works. They interviewed McCuddin and his wife, Gloria, at their Millwood home and in his paint-strewn studio.
The stars aligned, as they say, and Sherry Clark sent the completed book to the publisher on Jan. 21 – McCuddin's 86th birthday.
"It felt like something we had to do, as if it was meant to be," Doug Clark said.
The book is 192 pages. It features about 250 McCuddin works, including paintings he created very early in his career. The text covers his development as an artist, how the former milkman learned to find the images in the paint and create works that are whimsical and unsettling, sometimes simultaneously. The last chapter features interviews with some of the proud owners of McCuddin paintings, including Myles Kennedy and his wife, Selena, and Andy and Kris Dinnison, who gave McCuddin some of his earliest public exposure when they displayed his works at their shop, Boo Radley's.
For Doug Clark, the project offered him a chance to once again write about an artist, and a man, he admired. As he writes in the introduction, "This is not intended to be a stuffy art book. Our aim is to reflect the whimsy and unorthodox tone found in so many of McCuddin's timeless creations: The tiny cowpoke riding a huge hog like a rodeo bull. A large blue nude woman bathing in a birdbath. A man playing tennis amid a lighting storm …
"So, come now as we take a journey into an offbeat realm,the inner eye found in the bizarre imagination of the artist known to fans as simply 'McCuddin.' "
Local journalism is essential.
Give directly to The Spokesman-Review's Northwest Passages community forums series -- which helps to offset the costs of several reporter and editor positions at the newspaper -- by using the easy options below. Gifts processed in this system are not tax deductible, but are predominately used to help meet the local financial requirements needed to receive national matching-grant funds.
Subscribe to the Spokane7 email newsletter
Get the day's top entertainment headlines delivered to your inbox every morning.
---