News > Spokane
100 Years Ago in Spokane: Paper warns of revolutionaries' gathering hall
Mon., March 11, 2019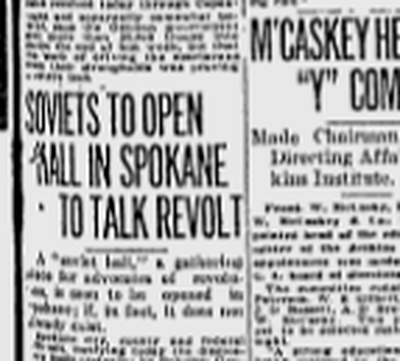 The Spokane Daily Chronicle warned that a "soviet"-style gathering hall was planned in Spokane – unless it already existed.
The paper reported that federal and local officials confirmed that local revolutionaries were planning to open a headquarters in Spokane as part of a "nationwide plot for the establishment of the soviet (form of) government in the United States." The solicitor general of the U.S. Post Office department had seized letters that indicated that such plans were underway and that possibly "a small office" was already in existence in Spokane.
The local League for Democracy was "credited with being the local bolshevik organization" and they were bringing in two speakers to Spokane from Portland, believed to be "emissaries from the revolutionary agitators."
The Chronicle also made note of a "meeting of foreigners" held the week before at Spokane's Socialist Hall. "The assemblage was made up of a large percent of Scandinavians, with large representations of Bulgarians, Germans, Austrians, Russians and Finns," and the crowd totaled about 500.
The group passed a resolution decrying the "propaganda in the daily press" against the foreign working men of Spokane – referring, probably, to the increasingly alarmist Chronicle. The resolution said that "if our presence in this country is not desired we wish a clear statement to that effect from the United States government." Yet what they really wanted was for the government to investigate the origin and purpose of antiforeigner propaganda.
Local journalism is essential.
Give directly to The Spokesman-Review's Northwest Passages community forums series -- which helps to offset the costs of several reporter and editor positions at the newspaper -- by using the easy options below. Gifts processed in this system are not tax deductible, but are predominately used to help meet the local financial requirements needed to receive national matching-grant funds.
Subscribe to the Coronavirus newsletter
Get the day's latest Coronavirus news delivered to your inbox by subscribing to our newsletter.
---