Sports > Gonzaga women
Gonzaga keeps its focus after injuries to guards Laura Stockton, Jill Townsend
March 11, 2019 Updated Mon., March 11, 2019 at 8:30 p.m.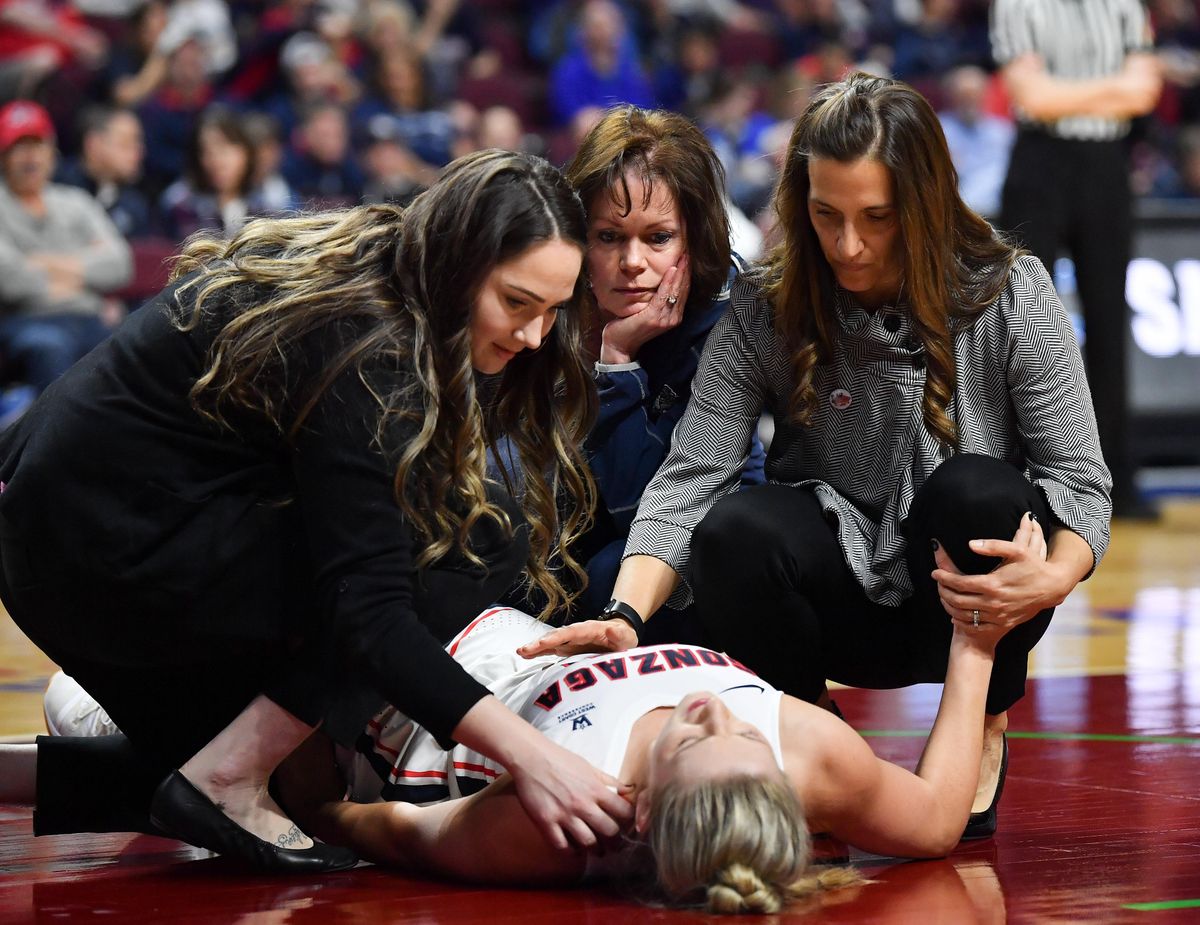 Gonzaga Bulldogs guard Laura Stockton (11) is comforted by Gonzaga Bulldogs head coach Lisa Fortier and staff after she took a fall and left the game with an injury during a WCC women's semifinal basketball game on Monday, March 11, 2019, at The Orleans Arena in Las Vegas, Nev. Gonzaga won the game 78-77 in double overtime. (Tyler Tjomsland / The Spokesman-Review)
LAS VEGAS – The only type of nightmare that could rival losing a meaningful game in March played out for the top-seeded Gonzaga women Monday afternoon at the Orleans Arena.
Twice.
The Bulldogs had started to rally against fourth-seeded Saint Mary's in the third quarter of the WCC Tournament semifinal when Laura Stockton fell to the floor driving to the hoop between two defenders.
GU's starting point guard writhed on the ground before being assisted off the court, unable to put pressure on her left leg. Stockton's father John, the GU and Utah Jazz legend, and mother Nada followed her to the training room. She returned to the Bulldogs' bench late in the fourth quarter on crutches, with a black brace wrapped around her left leg.
The most accomplished backcourt in the WCC then took another hit early in the first overtime period. With the Zags leading 71-69, Saint Mary's guard Carly Turner collided with GU's Jill Townsend, who appeared to twist a right ankle before sprawling to the floor and grasping the bottom of her leg.
Townsend, who'd been GU's top scorer with 19 points, didn't return to the game or the bench and didn't see her teammates and coaches again until they visited her as a group after outlasting the Gaels 78-77 in two overtimes.
"She was happy we won, seeing the smile on her face. I guess she did finish watching the game while she was in the locker room," said Jessie Loera, a reserve guard who saw her minutes, and her role, expand after two backcourt mates left the game. "She knows it's hard, but she was happy and she was proud and supportive of us of how we finished the game and she knows that we have support for her, too."
Fortier couldn't provide any concrete information on the injuries to Stockton and Townsend, but didn't seem optimistic that either would be available when Gonzaga plays second-seeded BYU in Tuesday's championship game.
"They're getting checked out by the doctors here, but we won't know much until we get them back to Spokane and have them fully evaluated," Fortier. "I know that neither of them look too happy right now and that they're in a lot of pain."
GU players said they drew energy and motivation from seeing two teammates leave Monday's game injured – and the game's trajectory backed that up.
The Bulldogs were trailing 36-30 when Stockton left. A 3-pointer then pushed the Gaels' lead to nine points, but GU responded with a spirited rally over the next three minutes, reeling off an 11-0 run to grab a 41-39 lead with 4:09 to play in the third quarter.
"I think our coaches did a great job of keeping us focused, kind of focusing on the next play and remind us we're playing for them and we're playing for a goal," senior guard Chandler Smith said. "So it was a little bit tough when you're watching your teammate laying on the court like that, but I think we did a good job of staying focused."
Loera replaced Stockton and came out just once the rest of the game. She finished with four points, four rebounds and five assists.
"Seeing her walk off, it was hard," Loera said, "But we all came together keeping in mind the game's still going. We've still got to focus up with great energy, finish off strong and fight until the end."
Local journalism is essential.
Give directly to The Spokesman-Review's Northwest Passages community forums series -- which helps to offset the costs of several reporter and editor positions at the newspaper -- by using the easy options below. Gifts processed in this system are not tax deductible, but are predominately used to help meet the local financial requirements needed to receive national matching-grant funds.
Subscribe to the sports newsletter
Get the day's top sports headlines and breaking news delivered to your inbox by subscribing here.
---