Sports > Gonzaga women
John Blanchette: Gonzaga down, but never out in gutsy victory over Saint Mary's
March 11, 2019 Updated Mon., March 11, 2019 at 7:26 p.m. LAS VEGAS – By the time Zykera Rice elevated and pulled the ball off her right hip, everything was moving in slow motion.
The leaning, improvisational scoop release. The ball rubbing over the rim and curling onto the flange, where it waited for a crosstown bus apparently stuck in traffic. With 0.8 seconds on the clock it finally began rolling into the net, and that fraction disappeared by the time Saint Mary's Madeline Holland could collect the ball below. Only then came the scramble to shape the moment in a word.
Clutch? Implausible? Heroic?
Or just merciful?
Actually, there was going to be an end to it right then whether Rice made her magical shot or not. But with all deference to the sorrow of the determined Gaels, this wouldn't have been the story it was without Gonzaga winning.
Story? Saga? Epic?
"How long have we been here?" Rice's Gonzaga teammate, Chandler Smith, remembered thinking. "How many quarters have we played?"
Oh, just the four regulation ones. Plus a couple of overtimes.
Plus the dire, devastating pauses to allow Laura Stockton and Jill Townsend to be ferried to relative safety – both of them an emotional eternity.
Their gruesome falls to the court and the injuries that forced them to hobble out of Orleans Arena on crutches after the Monday afternoon women's semifinals of the West Coast Conference basketball tournament defined both the day and the soul of the Zags in their 78-77 victory.
And define the day after, too.
Tuesday will pit the Bulldogs against nemesis Brigham Young in the 1 p.m. title game, and while Gonzaga will surely play in the NCAA Tournament regardless of the outcome, there's still a championship to be won, to say nothing of a little get-back.
But the challenge to summon the same kind of resilience that was required against the Gaels is all too real – and it's not just replacing the dynamics of Stockton and Townsend in the lineup.
"Sometimes teams rally immediately in the short term," acknowledged Gonzaga coach Lisa Fortier, "and they can figure it out based on momentum and adrenaline."
And sometimes, momentum and adrenaline don't survive an anxious night's sleep.
Still, the short-term solutions the Zags summoned on Monday make for a persuasive argument.
It was just a minute and a half into the third quarter when Stockton crashed to the floor on a drive to the baseline. That it was more than just a shake-it-off fall was obvious immediately. Just behind the Gonzaga bench, her Hall of Fame father John – always the most stoic of spectators – bowed his head into his hands. Soon after she was helped off, the Bulldogs found themselves nine points down.
And two minutes later, the score was tied – and remained so when Stockton returned to the sideline on crutches, her left leg in a hip-to-ankle splint.
Thirty seconds into the second overtime, it was Townsend going down, mowed over by the Gaels' Carly Turner. This time the splint came out to the court, and she was carried off by teammates.
"It's hard and it's scary," said guard Jessica Loera, "but my thoughts were just let's play for them and let's play for us and just keep going."
The Zags fell behind three times in that second overtime. If they didn't always get stops they needed, they got buckets – by Katie Campbell, Loera and finally Rice, whose winning bucket had Stockton hopping up and down on one foot before she remembered she was supposed to be on crutches.
And they got something else.
"You can't discount the fans – they're amazing," said Smith, noting a crowd of 5,511 whose makeup had to be 95 percent Zag. "It's almost hard because you can't hear the play calls, right? But you love it, and you feed off the energy."
They needed every drop.
"When I came off the floor, I was kind of standing by myself while they were handshaking and I was flooded with emotions," Fortier said. "And I couldn't tell if it was sadness or happiness or if I was just tired."
Now she must concoct a plan for BYU without her starting point guard of 91 games and her biggest game-changer off the bench.
But that crowd will be back for more. And the Zags now have a resolve maybe they didn't even know they possessed.
"From here on out when people ask me what my proudest moment at Gonzaga was, I have lots of them," Fortier said. "But this might be my favorite."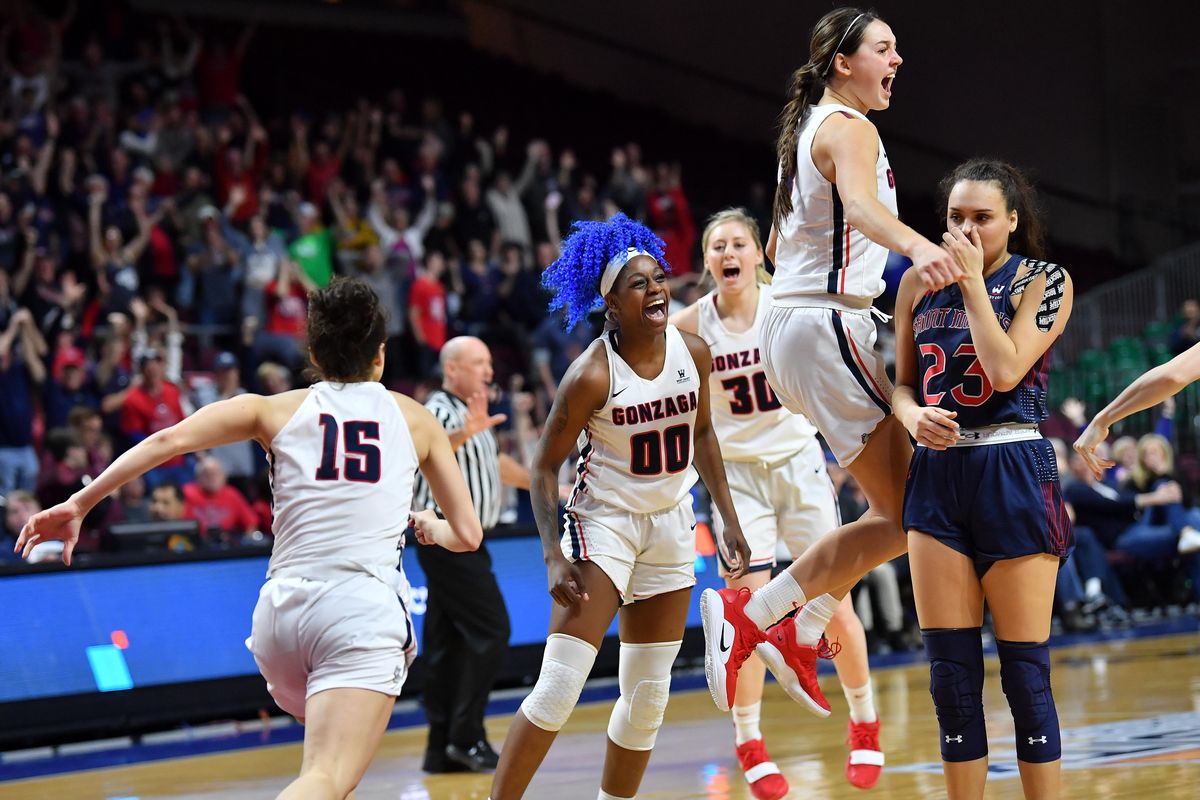 Gonzaga Bulldogs forward Zykera Rice (00) reacts with guard Jessie Loera (15), guard Chandler Smith (30) and forward Jenn Wirth (3), after she hit a shot in the final seconds of a second overtime period to defeat the Saint Mary's Gaels during a WCC women's semifinal basketball game on Monday, March 11, 2019, at The Orleans Arena in Las Vegas, Nev. Gonzaga won the game 78-77 in double overtime. (Tyler Tjomsland / The Spokesman-Review)
Local journalism is essential.
Give directly to The Spokesman-Review's Northwest Passages community forums series -- which helps to offset the costs of several reporter and editor positions at the newspaper -- by using the easy options below. Gifts processed in this system are not tax deductible, but are predominately used to help meet the local financial requirements needed to receive national matching-grant funds.
Subscribe to the sports newsletter
Get the day's top sports headlines and breaking news delivered to your inbox by subscribing here.
---