Sports > Gonzaga women
Analysis: Gonzaga women overcome pair of injuries, rally for double-overtime victory against Saint Mary's in WCC semifinals
March 11, 2019 Updated Mon., March 11, 2019 at 7:17 p.m. LAS VEGAS – The winning play was a thing of beauty, all the more so because of what transpired before.
With 13 seconds left in the second overtime of Monday's West Coast Conference semifinal game, the Gonzaga women were down by a point to Saint Mary's.
They were also down two starters, Laura Stockton and Jill Townsend, who were lost to injury in another rough game against the Gaels.
But this team always seems to have options. With 3 seconds left, it found the best one.
Guard Katie Campbell whipped the ball near the top of the circle to Zykera Rice, who drove past three defenders and laid the ball off the glass and into the net as the buzzer sounded.
Gonzaga 78, Saint Mary's 77.
As the pro-Zag crowd at the Orleans Arena roared, Rice fell into the arms of grateful teammates.
"Our coaches set up an amazing play, and it was cool that my teammates put me in a position to make a shot like that," Rice said.
"I've never made a game-winner before," Rice said. "But I really don't know how to feel right now."
Neither did anyone else.
As the Zags celebrated, Stockton hobbled onto the court on crutches, her college career apparently over after a knee injury suffered early in the third quarter. Townsend wasn't even on the court; she heard the cheers from the training room.
Survive and advance, they call it, an expression that's trite at best.
On Monday it was downright cruel.
But the Zags will go on, Tuesday at 1 p.m. in the title game against BYU, which defeated Pepperdine 68-63 in the second game.
"It was a little bit tough when you're watching your teammate lying on the court like that," senior Chandler Smith said. "But I think we did a good job of staying focused."
Gonzaga (28-3) will play for a third straight tournament title because it persevered against a team that absolutely had to win the WCC in order to reach next week's NCAA Tournament.
The Gaels were coming off a 32-point blowout of Loyola Marymount two days earlier, while GU was back from a nine-day layoff since Senior Day.
Early in the game, a double-bye into the semis didn't seem like much of a reward for winning the regular-season title. Saint Mary's scored the first seven points of the game against a GU team that seemed a step slow in the first quarter.
However, Rice found her groove late in the quarter en route to a game-high 21 points. The Zags were down just 18-14 after the first period.
Things got worse early in the second. Saint Mary's led 27-16 at one point as the Zags shot 7 for 25 from the field.
GU dealt another blow early in the third quarter as Stockton crumpled to the floor with an apparent knee injury and was helped to the locker room, returning later on crutches.
Backup forward Jenn Wirth, who had 10 points and four rebounds, helped the Zags forge a 48-all tie after the third quarter.
Both teams had a chance to win in regulation after Townsend's layup tied the game at 61 with 41 seconds left. Chandler Smith rebounded a Gaels miss with 33 seconds left, but her bad pass 3 seconds later set up the final Saint Mary's possession.
Sydney Raggio, the Gaels' top scorer this year, went up for a short jumper, but LeeAnne Wirth blocked the shot to set up overtime.
"Every game with Saint Mary's is a battle," Smith said.
GU was down three late in the first overtime, but Smith stole the ball and found Townsend for a three-point play and a 69-all tie with 1:10 left.
GU got the ball back on Townsend's rebound with 41 seconds left, but Jenn Wirth missed a layup to set up another golden chance for the Gaels. However, Madeline Holland missed a jumper and Megan McKay couldn't get up another shot before the buzzer.
Thirty-one seconds into the second overtime, Townsend went down after a strong game that included 19 points and six rebounds.
As she did with Stockton, coach Lisa Fortier joined Townsend on the court.
"I don't usually walk out there, but I felt like both of them needed a little bit of love for a moment," Fortier said. "And then I had to come back and be the leader of the group. If I look frazzled or concerned, or if I don't think that we can do it, then they're going to see that on my face."
GU had the better of it for most of the second overtime and took a 76-73 lead on Jessie Loera's jumper with 1:33 left. However, Saint Mary's answered with layups by Carly Turner and Sam Simons, the latter with 14 seconds left.
Fortier called timeout with 13 seconds left.
"We wanted to give ourselves options, because (Rice) has been getting a lot of attention, and in this game in particular," Fortier said.
"We had Jess coming off the ball screen, we had Jenn around the basket and we had Katie on the backside. But that was kind of what we were hoping for," Fortier said.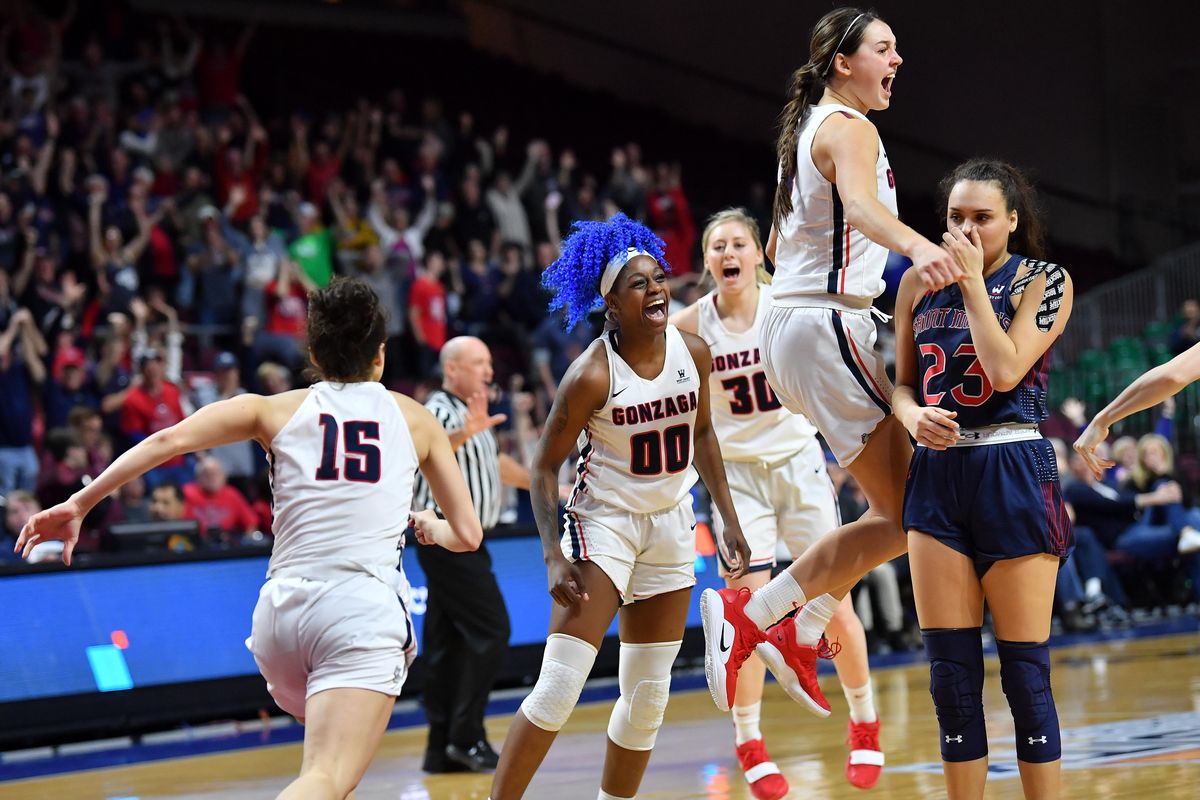 Gonzaga Bulldogs forward Zykera Rice (00) reacts with guard Jessie Loera (15), guard Chandler Smith (30) and forward Jenn Wirth (3), after she hit a shot in the final seconds of a second overtime period to defeat the Saint Mary's Gaels during a WCC women's semifinal basketball game on Monday, March 11, 2019, at The Orleans Arena in Las Vegas, Nev. Gonzaga won the game 78-77 in double overtime. (Tyler Tjomsland / The Spokesman-Review)
Local journalism is essential.
Give directly to The Spokesman-Review's Northwest Passages community forums series -- which helps to offset the costs of several reporter and editor positions at the newspaper -- by using the easy options below. Gifts processed in this system are not tax deductible, but are predominately used to help meet the local financial requirements needed to receive national matching-grant funds.
Subscribe to the sports newsletter
Get the day's top sports headlines and breaking news delivered to your inbox by subscribing here.
---