Sports > Gonzaga women
Gonzaga laments second-quarter troubles in title-game loss to BYU
March 12, 2019 Updated Tue., March 12, 2019 at 7:17 p.m. LAS VEGAS – It wasn't so much a tale of two halves, more a story of four quarters Tuesday afternoon between No. 1 Gonzaga and No. 2 BYU in the championship game of the women's West Coast Conference Tournament.
The Zags left Orleans Arena feeling as though they'd done their part in three of those quarters, but playing well 75 percent of the time didn't suffice against a Cougars team that relied on a monster second quarter to win 82-68 and snatch the WCC's automatic bid to the NCAA Tournament.
Gonzaga was strong in the first quarter, outscoring BYU 23-19. The Bulldogs won the third 26-23 and they were competitive enough in the fourth, which the Cougars won 17-12.
The column between the first and the third is the one GU's players and coaches had a hard time looking at after missing out on a chance to win back-to-back WCC Tournament titles.
It read: Cougars 23, Zags 7.
BYU took a 25-23 lead after Paisley Johnson and Shaylee Gonzales made 3-pointers, then went on a run of nearly 7 minutes that saw the Cougars score 16 points before Zykera Rice finally broke the Zags out of the slump with a pair of free throws.
"We had some mental lapses," Rice said. "I thought we learned our lesson the first few times with not letting them get off as many 3s as they did. It's hard to beat a team when you allow them to shoot the way they did, when they have shooters that they have. So I think that played a big part in that."
On a day in which they shot 3-pointers at a 52 percent clip (13 for 25), the Cougars hit four 3-pointers during their scoring run and made 5 of 8 in the quarter. Brenna Chase swished two of her seven 3s as BYU transformed a four-point first-quarter deficit into a 12-point halftime lead.
"I guess when it's going in, it's going in. You kind of just know," said Chase, who matched Rice with a game-high 25 points. "It's not something that happens too often, so we like when it does."
BYU's timely 3-point shooting was only one part of the equation. The Cougars played stifling defense against the WCC's second-best offense – one that averaged 76 points per game in conference play.
While BYU shot 9 of 16 from the field in the second quarter, Gonzaga was held to 1 for 11 and 0 for 3 on 3-pointers. The Bulldogs went 7:28 before making their first and only field goal of the quarter – LeeAnne's Wirth's two-point jumper.
"We had a whole bunch of energy, I think," said BYU's Johnson, who was named the tournament's Most Valuable Player. "We were all really excited to be here, and that was the first time for a lot of us. I think we saw, not the fear in their eye, but they were definitely a little freaked out. I think we saw that, took advantage, and just kept running it down their throats. Brenna was hitting. No one could stop her. She was coming off the arc and just hitting.
"All of us were playing pretty good defense, and Sara (Hamson) was a huge presence there in the second quarter to totally disrupt their offense, and I think those were some keys for us."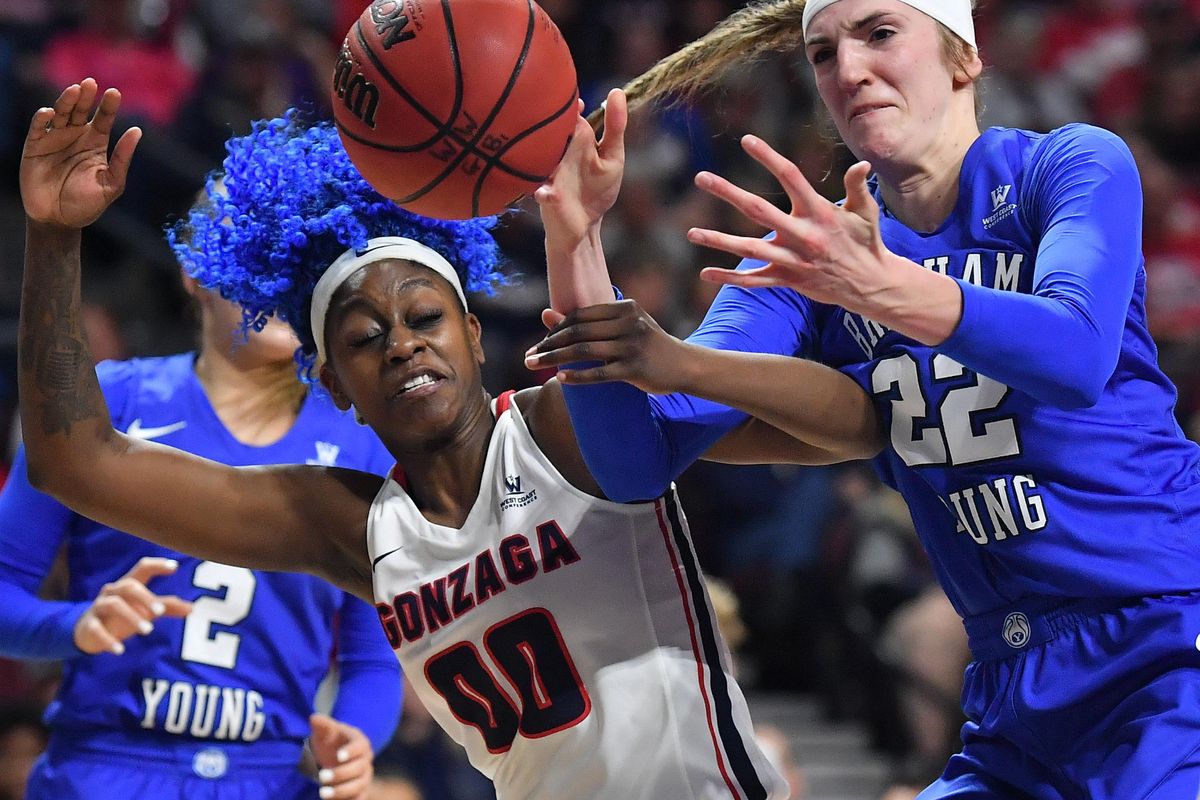 Gonzaga Bulldogs forward Zykera Rice (00) strains for a rebound against BYU Cougars center Sara Hamson (22) during the second half of a WCC women's final basketball game on Tuesday, March 12, 2019, at The Orleans Arena in Las Vegas, Nev. (Tyler Tjomsland / The Spokesman-Review)
Local journalism is essential.
Give directly to The Spokesman-Review's Northwest Passages community forums series -- which helps to offset the costs of several reporter and editor positions at the newspaper -- by using the easy options below. Gifts processed in this system are not tax deductible, but are predominately used to help meet the local financial requirements needed to receive national matching-grant funds.
Subscribe to the sports newsletter
Get the day's top sports headlines and breaking news delivered to your inbox by subscribing here.
---