News > Spokane
Investigation of attack on attorney intern in Public Safety Building continues; victim calls for better surveillance
UPDATED: Wed., March 13, 2019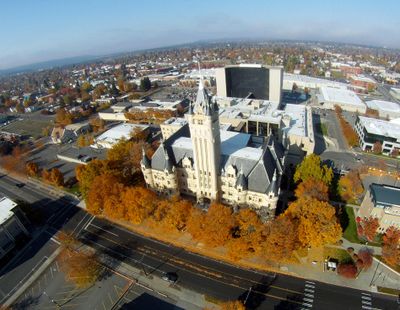 Police are still investigating the assault of a city prosecutor's office intern in the Public Safety Building last week but have not made any arrests.
"We are still reviewing video and pictures," said Sgt. Terry Preuninger, a Spokane Police Department spokesman.
Police interviewed a suspect but haven't found enough evidence to develop a probable cause, he said, and they are now looking at footage from outdoor cameras in the area.
Detectives ran into difficulty with the video footage because the cameras in the lobby weren't on, Preuninger said.
"The county's video didn't work for a while, and we didn't know that," he said. "This happened 20 feet from the front desk."
The attack happened March 5, when the victim, Jenna Bock, was attacked in the restroom.
"I vaguely remember someone entering the restroom after me and going into the stall beside me," she wrote in a statement. "As I was washing my hands, I explicitly remember being punched."
She has swelling around her eye, and her head showed signs of trauma. She was taken to the hospital and returned to work the next day, she said.
In her statement, Bock said the county needs to have working cameras in the Public Safety Building, which is between the Spokane County Courthouse and the downtown jail.
"I do not feel safe at work and I know that I am not the only person who feels that way," she wrote.
Recently, the county received grant money for new security cameras, but the money went to outdoor security cameras. The county intends to install new indoor cameras when funding becomes available, said Spokane County spokesman Jared Webley.
The cameras "are from an antiquated system that was from VHS," Webley said.
The assailant would be charged with third-degree assault, Preuninger said.
Reporter Jonathan Glover contributed to this report.
Local journalism is essential.
Give directly to The Spokesman-Review's Northwest Passages community forums series -- which helps to offset the costs of several reporter and editor positions at the newspaper -- by using the easy options below. Gifts processed in this system are not tax deductible, but are predominately used to help meet the local financial requirements needed to receive national matching-grant funds.
Subscribe now to get breaking news alerts in your email inbox
Get breaking news delivered to your inbox as it happens.
---