Sports > Gonzaga women
John Blanchette: Basketball aside, a heartbreaking day for the GU family
March 12, 2019 Updated Tue., March 12, 2019 at 7:28 p.m. LAS VEGAS – The warm-up shirts are ubiquitous around Orleans Arena this week, supplied by a shoe giant to the various teams and worn proudly, if casually.
And not so casually.
Not by the Gonzaga Bulldogs. Not on Tuesday.
"FAMILY," the shirts say in big block letters.
You hear it a lot in sports to describe how close teams are, maybe too much – almost to the point that eyes automatically roll when the sentiment is trotted out.
But not this day. And not if you heard it uttered by any of the Gonzaga Bulldogs.
There is family and there is FAMILY, and now they know both the distinction and how it gets blurred together when life issues impose their way into the world of games.
Gonzaga's game had reached the fourth quarter Tuesday in already somber circumstances. The Bulldogs were playing for another West Coast Conference Tournament championship with the contributions of two of their heart-and-soul regulars, Laura Stockton and Jill Townsend, reduced to cheering, urging and a little coaching – both players having suffered major leg injuries in Monday's semifinal ordeal against Saint Mary's.
In part because of that and some uncanny 3-point shooting by Brigham Young, the Zags found themselves down a dozen points with just 4 1/2 minutes to play, with no particular momentum or suggestion that a comeback was in store.
One more championship, it was clear, would have to wait another year, at least.
BYU coach Jeff Judkins took a timeout and down on the other end of the floor, Gonzaga athletic director Mike Roth inched his way into the Bulldogs huddle – a giveaway that something extraordinary was happening.
Within a few seconds, Roth had Gonzaga head coach Lisa Fortier aside – and a few seconds later, Fortier had shed her heeled shoes and was sprinting out the back tunnel under Section 11 in her bare feet, toward a car waiting in the Orleans Hotel parking lot.
What Roth called a "family emergency" had come to a head and required Fortier's departure for a Las Vegas hospital. Her husband Craig, a GU assistant coach, remained behind, as did the couple's three children in their seats behind the Bulldogs bench.
There are things you don't want to play out in public, and things you can't help.
Roth said GU athletic officials had been made aware of the medical situation even before the game started, but in consultation with family members, the decision was made not to tell Fortier.
"We kept in touch with Lisa's mom throughout the process (and) we hoped to get to the end of the game and then tell her," Roth said.
"Then we got the call that circumstances changed."
Gonzaga did not specify the family member involved or provide further details. But in his postgame remarks, Judkins – who until being met by Craig Fortier in the traditional handshake line was not aware that Lisa had left the building – revealed it was her brother.
"I just heard about her brother and I didn't know that in the game," he said, "but Lisa is one of the best coaches in the country. She runs the team, and I hope that her brother's all right and their family's all right."
The Gonzaga family is obviously rocked.
The injuries to Stockton and Townsend on Monday were staggering and serious, gruesome falls in a taut, high-stakes spectacle. The excitement of winning didn't stanch a single tear among the players and coaches afterward.
"We mean a lot to each other," said senior Zykera Rice after Tuesday's game. "It just really brings into perspective how much we care about each other, and how much we want to be here for each other."
But Tuesday's turn was something else altogether. A coach is pulled away from her team in midgame only in the gravest of circumstances.
"We care deeply for their family – that's the biggest thing," assistant coach Jordan Green said.
Though they missed claiming the WCC's automatic NCAA Tournament bid, the Bulldogs are destined to be an at-large team. There was going to be a measure of emotional recovery required in the wake of a disappointing loss and the injuries to two integral teammates.
Now there's more recovery involved.
"It's been a tough two days for our women's basketball program," Roth acknowledged. "But this is what Gonzaga is about – doing the right thing for the right people in the right ways.
"We're going to go to the NCAA Tournament and we'll play, and see if Laura can play and Jill can play. Lisa will be back. But it shows that life goes on. Basketball is not the beginning and the end of everything. It put it in perspective for all of us."
And this: Family is always more than a slogan on a shirt.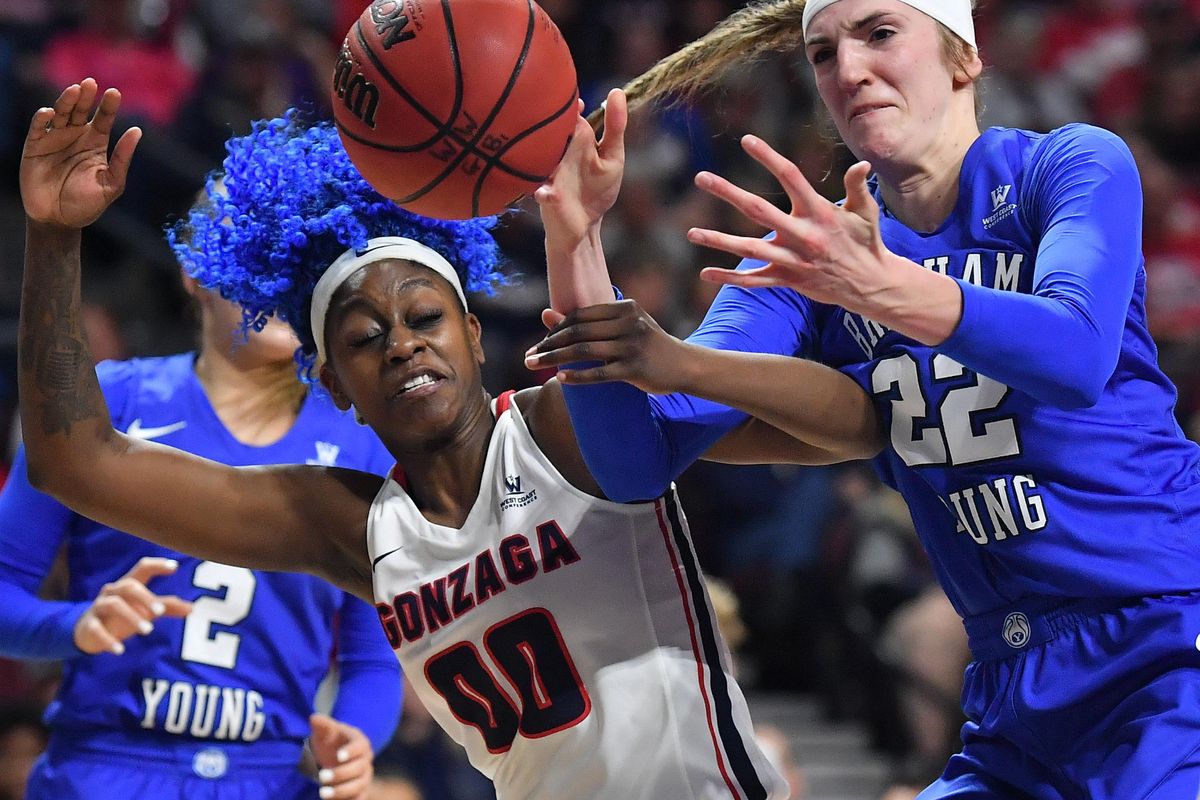 Gonzaga Bulldogs forward Zykera Rice (00) strains for a rebound against BYU Cougars center Sara Hamson (22) during the second half of a WCC women's final basketball game on Tuesday, March 12, 2019, at The Orleans Arena in Las Vegas, Nev. (Tyler Tjomsland / The Spokesman-Review)
Local journalism is essential.
Give directly to The Spokesman-Review's Northwest Passages community forums series -- which helps to offset the costs of several reporter and editor positions at the newspaper -- by using the easy options below. Gifts processed in this system are not tax deductible, but are predominately used to help meet the local financial requirements needed to receive national matching-grant funds.
Subscribe to the sports newsletter
Get the day's top sports headlines and breaking news delivered to your inbox by subscribing here.
---