Sports > Gonzaga basketball
John Blanchette: Gonzaga's faceplant in WCC Tournament may be most painful come Selection Sunday
March 12, 2019 Updated Tue., March 12, 2019 at 11:11 p.m. LAS VEGAS – Have you heard about the new March Madness Savings Time?
If you're the Gonzaga Bulldogs, you set your clocks back to a No. 2 seed.
Sorry. Figured a little gallows humor was in order, since everyone in Gonzaga laundry left Orleans Arena on Tuesday night as if they'd just crossed paths with the hanging judge.
And, hey, it may not come to that – the seeding business, that is. Maybe the Zags can still cling to one of those four No. 1s, given all the reversals and get-backs that have been happening on the 1-2 cusp. Maybe that 30-3 record and their gaudy NET rating are truly durable.
And maybe the NCAA seeders forgot to pay their cable bill and got disconnected before tipoff of the Bulldogs' Horrible, No Good, Very Bad Tuesday Night.
But frankly, this was a faceplant that could be heard all the way back to headquarters in Indianapolis.
For this night – and maybe only this night – the Zags were the Splat Brothers.
Now, that doesn't give proper credit to the Saint Mary's Gaels, whose 60-47 takedown of the nation's top-ranked team in the West Coast Conference Tournament final was the maddest moment of March so far. Fifteen point underdogs, they pushed every right button – shading Gonzaga's drink-stirrer, Rui Hachimura, until he was nearly invisible, bullying the Zags on the boards, measuring out the tempo on a metronome.
Giving themselves a chance.
"We were being told we had to pull off a miracle by people who don't know us," said Gaels center Jordan Hunter, the tournament's most unlikely MVP since somewhere between Gonzaga's Marquise Carter in 2010 and, well, forever.
"We didn't just pull off a miracle. We knew we were going to win that game going in. Everyone was counting us out."
Guilty. With an explanation.
Gonzaga 94, Gaels 46, Feb. 9, 2019.
"I have no problem saying this: I thought we kind of quit in that game," Gaels coach Randy Bennett said. "We gave into them and they can get up by 20, and you screw around and let up, it turns into 40. I knew we couldn't move forward until we hash that out."
This time, they made hash of the Zags.
And, perhaps, exposed the six-time defending champs in a way even those high-profile games in November and December didn't.
Or not.
"We'll be straight," senior guard Josh Perkins insisted.
They certainly picked a strange time to go all pretzel. All season long, the Zags have been college basketball's best in offensive efficiency.
This was a clinic in offensive deficiency.
Frantic in transition ("some really poor decisions," coach Mark Few said). Season lows in shooting both in and outside the arc ("didn't get much of anything done"). And, mystifyingly, unable to get Hachimura more than a single field-goal attempt in the second half.
"I think pride kind of got in our way," Few said, "and we attempted a lot of tougher shots."
And one other thing.
"They just bullied us around a little bit," forward Corey Kispert said. "We got bullied on the glass. That's one of our weakness, a chink in our armor: rebounding."
Don't think NCAA opponents won't go to school on it.
Don't think the Zags won't go back to school, either.
"Coach Few came in here," Kispert reported, "and the first words out of his mouth were, 'We've got to find a way to make this a positive for us. Learn and correct the things that make us beatable. And correct it fast – we don't have much time.' "
For the WCC members who had to do some bowing and scraping to keep the Bulldogs in the league last spring, Tuesday's sweep of the men and women was no doubt toasted more than a few times into the wee hours. It's only the fifth time in 21 years that someone else has won the tournament – and the worst defeat other than the Gaels' 81-62 romp in 2010.
But GU had won the league by only a game that year. This year, the Zags were five games clear – and by 27 points an outing. And while the Gaels have a fine NET rating of 35, they're in no way comparable to the 30-win team that was snubbed in 2018 – yet another indictment of the maligned bubble.
But then, the 2017 Zags were 29-0 when they did their pratfall – and cited that slap in the face in the refocus that led it to the Final Four.
So in Zag corners, it'll be difficult to reconcile how unnerved anyone should get heading into the NCAAs. It's not as if one loss erased the whole resume.
"It doesn't matter," Perkins claimed. "Whoever we play, we'll play. Right now, I wouldn't want to be that team."
Funny. That's kind of what the Zags were this night.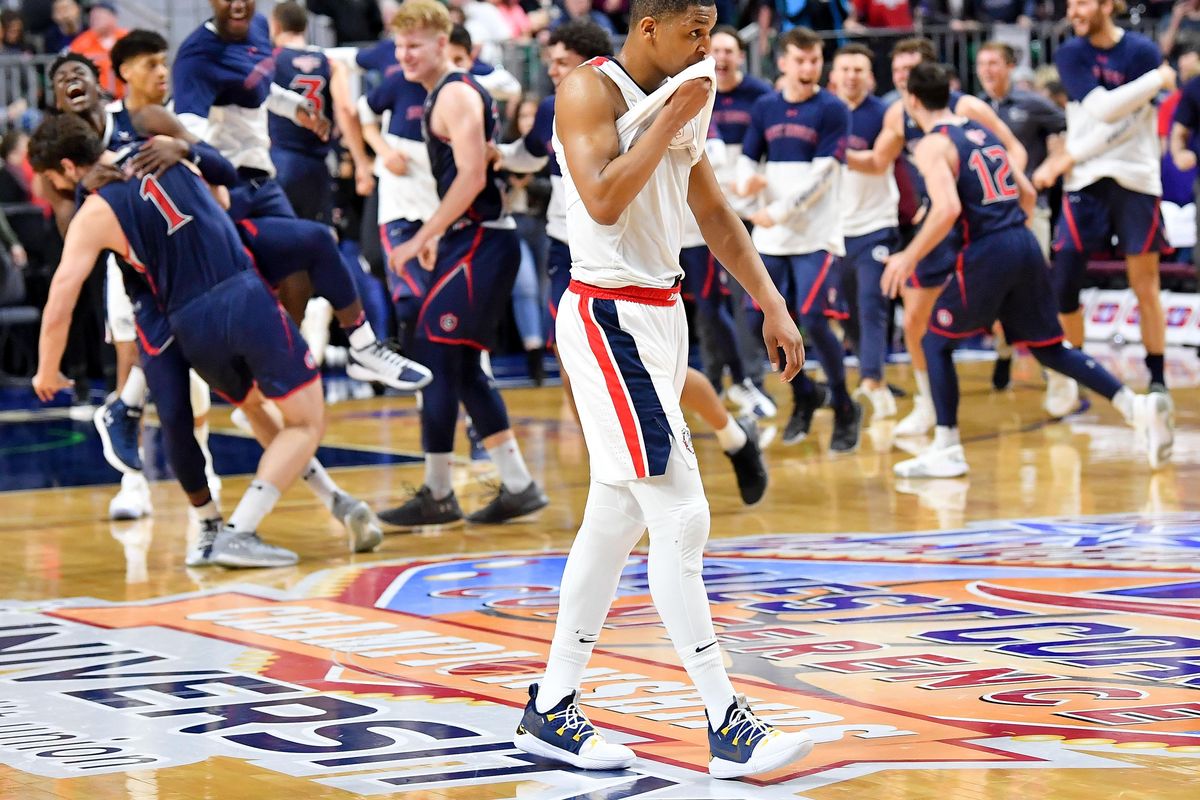 Gonzaga Bulldogs guard Zach Norvell Jr. (23) reacts as the St. Mary's Gaels celebrate defeating Gonzaga during a WCC men's final basketball game on Tuesday, March 12, 2019, at The Orleans Arena in Las Vegas, Nev. Saint Mary's won the game 60-47. (Tyler Tjomsland / The Spokesman-Review)
Local journalism is essential.
Give directly to The Spokesman-Review's Northwest Passages community forums series -- which helps to offset the costs of several reporter and editor positions at the newspaper -- by using the easy options below. Gifts processed in this system are not tax deductible, but are predominately used to help meet the local financial requirements needed to receive national matching-grant funds.
Follow along with the Zags
Subscribe to our Gonzaga Basketball newsletter to stay up with the latest news.
---