Sports > Idaho basketball
Big Sky Tournament: Idaho's late comeback falls short in loss to Montana State
UPDATED: Wed., March 13, 2019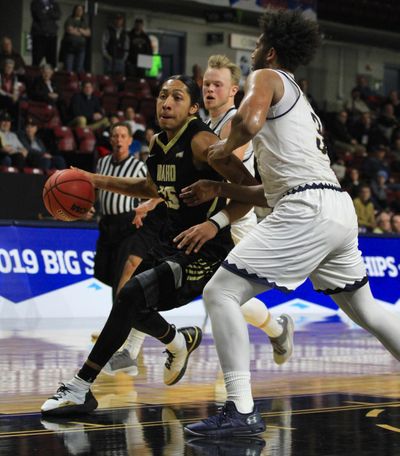 BOISE – Tyler Hall, the Big Sky Conference's all-time leading scorer, has hit plenty of timely jumpers in his four years at Montana State.
He was clutch on the other end of the floor Wednesday.
Hall's late steal in Montana State's 75-71 win over Idaho in the Big Sky Conference Tournament opener at CenturyLink Arena secured the Bobcats a spot in Thursday's quarterfinals.
Sixth-seeded Montana State (15-16) will face No. 3 seed Eastern Washington (14-17). The Eagles and Bobcats split during the regular season.
Trevon Allen's shooting helped 11th-seeded Idaho (5-27) nearly erase a 15-point second-half deficit, but when the Vandals put themselves in a position to tie or take the lead in the final seconds, they squandered the opportunity.
Idaho trailed 73-71 with 8 seconds left when Hall poked the ball away from Allen near halfcourt. Hall was subsequently fouled and hit both free throws to ice the game.
"There was no way I was going to miss those (free throws)," said Hall, who scored a game-high 23 points and had 10 rebounds. "After I missed a free throw (that set up Idaho's potential winning possession), I had to make up for it."
The injury-riddled, freshman-heavy Vandals took care of the ball otherwise, totaling nine turnovers.
Allen, a junior from Clarkston, scored 20 of his team-high 21 points in the second half, including a jumper that cut MSU's lead to 73-71 with 30 seconds left.
Idaho finished the season winless away from home.
"Playing with just eight healthy guys and seven after halftime, I thought our guys battled their tails off," Idaho coach Don Verlin said. "Three or four weeks ago, if we were down 15 we would have quit, but we didn't.
"We fought like crazy and had a chance to steal one against a great Montana State team."
The upset-minded Vandals came out hot.
Idaho had a 20-10 lead midway through the first half, a cushion sparked by the 3-point shooting of Cameron Tyson, who scored 15 of his 18 points in the first half.
Montana State answered with a 22-8 run, though, and never trailed again.
Freshman forward Jared Rodriguez had 18 points and seven rebounds for Idaho, which returns all but one player from its roster for next season.
"It makes me excited for the future," Allen said.
Local journalism is essential.
Give directly to The Spokesman-Review's Northwest Passages community forums series -- which helps to offset the costs of several reporter and editor positions at the newspaper -- by using the easy options below. Gifts processed in this system are not tax deductible, but are predominately used to help meet the local financial requirements needed to receive national matching-grant funds.
Subscribe to the sports newsletter
Get the day's top sports headlines and breaking news delivered to your inbox by subscribing here.
---