Sports
Grip on Sports: The Cougars decide to pay now for the last five years instead of waiting any longer
Fri., March 15, 2019 A GRIP ON SPORTS • Washington State made a change in its basketball program leadership yesterday. Bit the $4.2 million artillery shell and fired head coach Ernie Kent. At least when we miss, we miss big. Read on.
••••••••••
• We won't ignore our wide-right thought about Kent's status that appeared in this space yesterday. We were wrong. About 4.2 million wrong. But before we get into that failure, let's talk about Kent's failure, shall we, and look at how Washington State can be successful in the future. And touch on the human aspect of any athletic department change.
As we said yesterday, it was hard to image Kent fitting in Pullman. Not just recently, but when athletic director Bill Moos hired him five years ago.
He wasn't Moos' first choice. The job was offered to Boise State's Leon Rice, who looked at his roster that upcoming season, looked at the one Ken Bone was leaving and said no thanks. To his alma mater no less.
Kent came in believing he could get good enough players to Pullman to win his way. He was wrong. The Cougars haven't sniffed the postseason since he arrived and only looked like a competent Power 6 team in rare glimpses.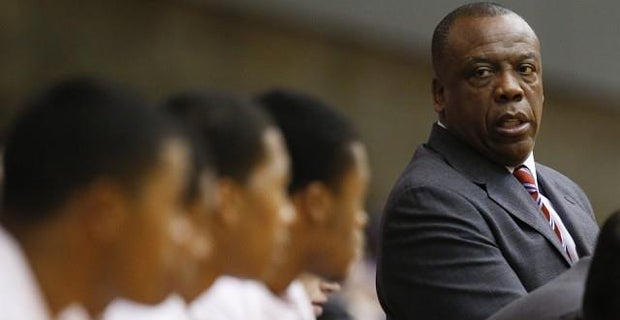 But, thanks to a golden parachute supplied by Moos rolling over Kent's five-year deal before he left for Lincoln, Nebraska, Kent seemed to have every opportunity to get it figured out, at least in the short term.
WSU owes Kent $4.2 million dollars. The Cougars will pay him every penny not to coach. For a school that is projecting an almost $90 million budget deficit in the near-future, piling a couple more Scrooge McDuck moneybags to the total must be OK – not just for the folks in Bohler but down the way at French Ad as well.
Seems odd, but the spend-money-to-make-money folks must have prevailed – again. If the Cougs can improve enough to add 5,000 folks to the crowd count each home game, the change will pay for itself, right?
Ya, that's happened a lot. A decade ago.
Who can walk into Bohler, take what Kent has left, add a couple folks and excite the Washington State fanbase enough to bring back the Bennett-era crowds?
I'll wait why you run through the names available – and don't say Rick Pitino. Please.
As we outlined yesterday, to win at Washington State, the next coach has to be kin to Mike Leach. Not in the genealogical sense, but in the philosophical one. Winning in Pullman takes a different outlook, a different way to play. Doesn't matter what, but few folks could be successful trying to out-recruit their Pac-12 brethren, considering the facilities, the lack of tradition, the remoteness.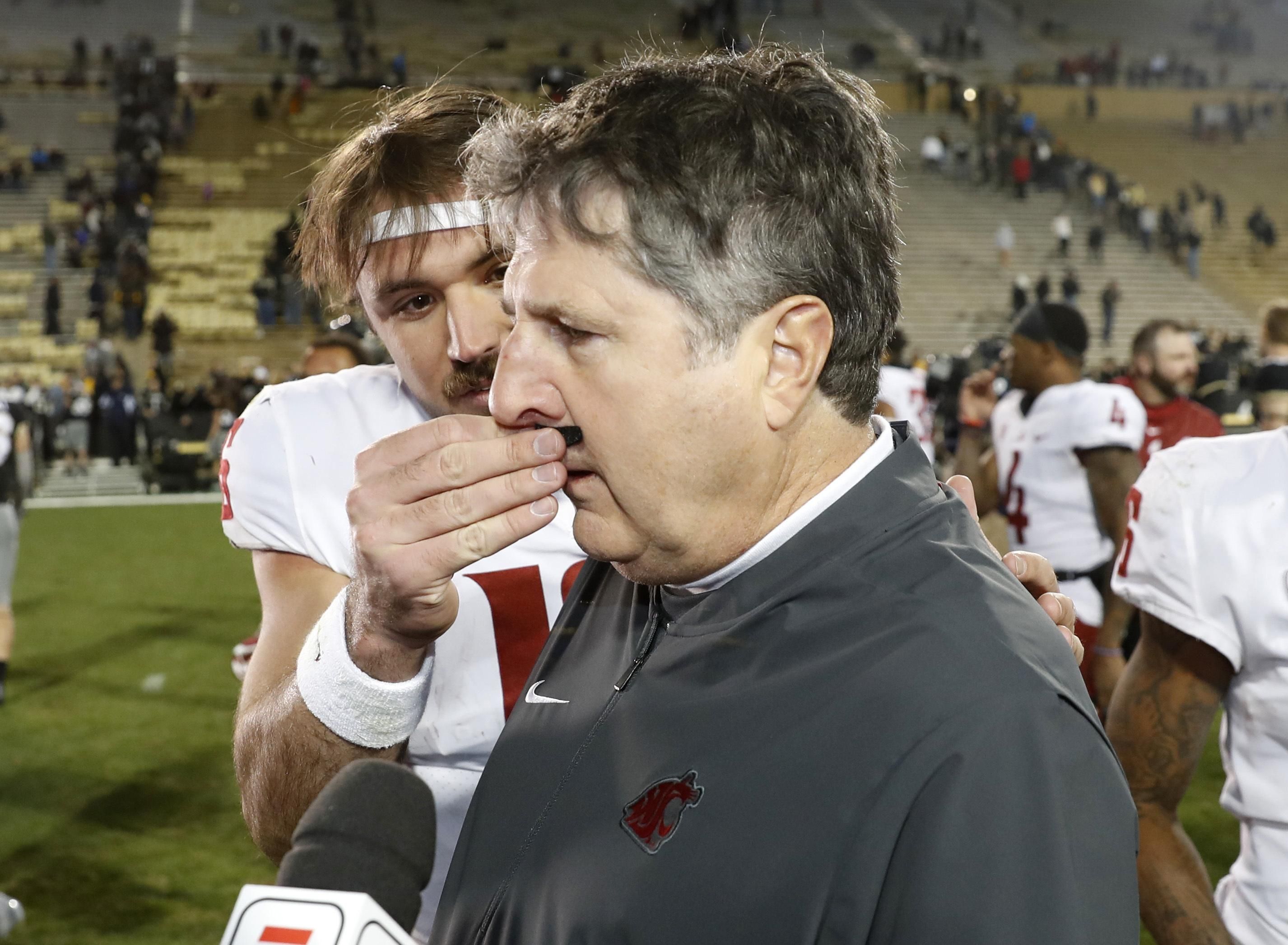 Leach wins by changing the rules of the game. He's done it since his Texas Tech days. The next basketball coach, like the coaches that have won at WSU in the past, needs to do the same. There are coaches out there with philosophies that don't fit the norm. That do things differently. That win without as much talent as their competition.
Whether the Cougars can find the right one at a bargain-basement price – it's hard to imagine the next WSU coach getting a couple million a year, though a five-year contract (at least) seems necessary considering the recent lack of success – is still to be determined.
Pat Chun made a difficult call yesterday. He absorbed a $4.2 million hit and decided to change the basketball program's trajectory. The path he sends it on with the next coach will define Washington State basketball for the next decade.
• Fans are quick to call for a change when things don't go right. But they sometimes forget that it isn't just the head coach, and his family, that deals with a firing like Kent's. He'll be OK, if only because of the financial air mattress cushioning his fall.
There are others connected to his office, however, that don't have that type of financial security. Assistant coaches and some of the support personnel will also be out looking for work now, some of whom have spent many years in the Pullman area.
So when you are celebrating the change, if that's how you feel, remember those folks. It's an abrupt and tough change for them as well.
• Rarely can you go wrong basing your anticipation of decisions on monetary factors. Not in America these days.
But we certainly did yesterday. Honestly, the amount of Kent's buyout, the athletic department's deficit, the lip-service to getting the red ink under control, it all seem to point toward another year. Someone must have turned the signpost around when we weren't paying attention.
It would have been nice, though, if Chun had waited a day or two. Maybe by then everyone would have forgotten yesterday morning's tweet. Those things disappear quickly on the Net, don't they?
•••
Gonzaga: The men are in bounce-back mode after the WCC finals loss to Saint Mary's. Jim Meehan details how they will be going about doing that. … The women have presented the NCAA Selection Committee with a quandary, considering they will play the tournament without two of their top players. Jim Allen examines that question. … Brandon Clarke has been a revelation for Gonzaga. Now he is a finalist for the nation's top defensive award. Jim Meehan has that story. … The baseball team opened WCC play with a win at BYU. … Around the WCC, will there be a change made at BYU?
WSU: The Kent news filtered out yesterday afternoon and Theo Lawson jumped on it. He has more in this story. … John Blanchette, whose Cougar coverage dates back to the George Raveling era, takes a look at where the Cougars are headed in this column. … Around the Pac-12, Jon Wilner thinks the conference needs UCLA, which lost to Arizona State last night, to throw as much money as it takes at Tony Bennett. Money's important, but a membership at Bel-Air or Rivera or Lakeside may be the real enticement. At least for Dick. … Oregon stayed hot as the Ducks blasted Utah in the second half after scoring just 18 points in the first one. The Utes' second half included some hard feelings. … Dana Altman signed a contract extension before the game. … Colorado had little trouble with Oregon State, though the Beavers did rally in the second half. … Washington opened the day by holding off USC as the Trojans made the same mistakes they've been making all season. Or did the Huskies force them? … What will happen at Arizona this offseason? … There is football news from Utah, Oregon State, UCLA, Arizona State and Oregon. A lot for Oregon State actually. The Beavers had a player injured.
EWU: The Eagle women will play in the Big Sky Tournament finals today with a chance to end an NCAA Tournament drought that dates back to before the school was a conference member. Ryan Collingwood has a preview. … Ryan also was at the men's quarterfinal win last night over Montana State. The third-seeded Eagles will face Southern Utah in the semifinals tonight. … Around the Big Sky, Weber State moved on with a win over Portland State. … The Bobcats' coach needs a new contract. … Montana picked up a tight win over Sacramento State.
NIC: Chris Harrison, a former Cardinal standout, died Wednesday in Seattle. Jim Meehan has his obituary.
Mariners: The M's set their roster for Japan.
Seahawks: How close were the Hawks to bringing Earl Thomas back? … The club and K.J. Wright quietly worked out a new contract. … There is a new offensive lineman headed to Seattle and an old one re-upped. … The deal with kicker Jason Myers is pretty good for Seattle.
•••       
• If I make another prediction and it is as bad as the Kent one, I may have to change professions. Anyone need a weatherman? Until later …
Local journalism is essential.
Give directly to The Spokesman-Review's Northwest Passages community forums series -- which helps to offset the costs of several reporter and editor positions at the newspaper -- by using the easy options below. Gifts processed in this system are not tax deductible, but are predominately used to help meet the local financial requirements needed to receive national matching-grant funds.
Subscribe to the sports newsletter
Get the day's top sports headlines and breaking news delivered to your inbox by subscribing here.
---