News > Spokane
100 years ago in Spokane: Sperry Flour Mill set to open with 67 years of advancement to technology
Sat., March 16, 2019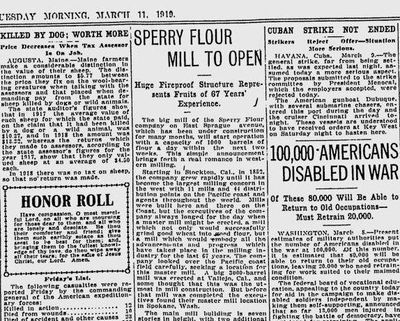 The big Sperry Flour Mill on East Sprague Avenue was about to open – with a capacity of at least 1,000 barrels a day.
It would, said The Spokesman-Review, "bring forth a real romance in Western milling."
The main mill building was seven stories high, "with two additional stories for the head house, which accommodates the elevation machinery."
The first floor would be devoted to warehouse, storage and loading facilities.
"From the time the wheat is unloaded from the cars into the hopper, it is never touched by human hands until the sacks of flour are lifted into the car or onto the trucks," said the paper. "… The third floor is the grinding floor, with 14 double stands of 9 by 30 rolls."
The mill embodied "all of the advancements and progress which have taken place in the milling industry for the last 67 years."
Milling was shut down in 1965, but the building still exists. Today it is an Archer Daniel Midlands "mix plant" for muffin mix and pancake mix.
Local journalism is essential.
Give directly to The Spokesman-Review's Northwest Passages community forums series -- which helps to offset the costs of several reporter and editor positions at the newspaper -- by using the easy options below. Gifts processed in this system are not tax deductible, but are predominately used to help meet the local financial requirements needed to receive national matching-grant funds.
Subscribe to the Coronavirus newsletter
Get the day's latest Coronavirus news delivered to your inbox by subscribing to our newsletter.
---