Sports > Seattle Mariners
Clint Roig's family earns unique opportunity to retrace his baseball days in Japan
Sun., March 17, 2019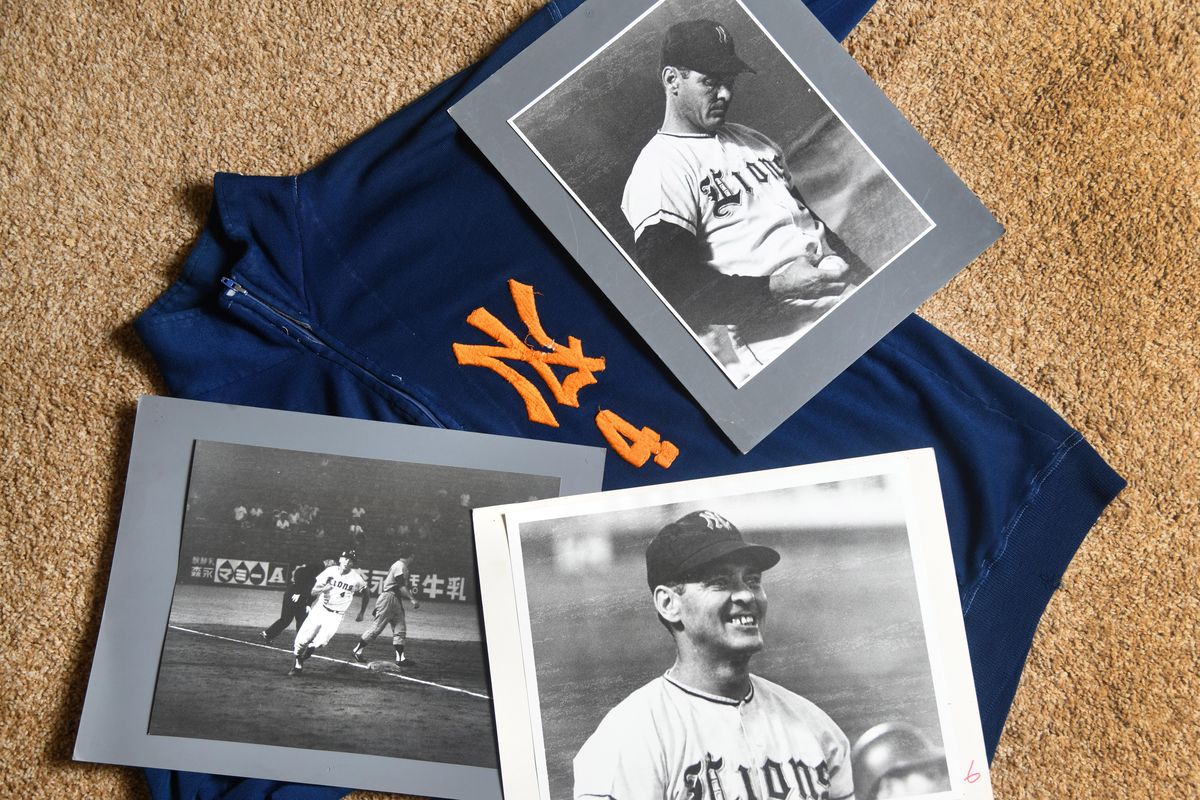 Tony Roig played for the Nishitetsu Lions from 1963-67. (Dan Pelle / The Spokesman-Review)
Clint Roig was an eager listener whenever his grandfather, Tony, wanted to share one of the many stories related to his baseball career.
"He and his grandpa just hit it off," recalled Rick Roig, Clint's dad and Tony's son. "My dad was very easy to talk to. The stories he'd tell about playing in the Southern leagues and in the big leagues, Clint was just enthralled when Grandpa was telling those stories."
Tony Roig, who died in 2010 at 82, spent 12 years playing professional baseball on American soil, including brief stints in the major leagues in 1953, 1955 and 1956. He ended his playing career at 40 in Japan, where he emerged as a fan favorite as a slugging middle infielder during his six seasons there.
"He was a hero to me, for sure," said Clint, a Cheney native now living in Dallas. "I loved hearing about his time in the big leagues and his time in Japan."
Clint and Rick are avid Seattle Mariners fans. The Mariners are traveling to Japan this week to open their season with two games in Tokyo against Oakland on Wednesday and Thursday.
Clint and Rick will board a flight to Japan on Monday. Attending the games will be a certain highlight, but the trip will also afford them a chance to retrace Tony's footsteps in Japan.
"It was a perfect storm, really," Clint said. "I've grown up a Mariners fan. It's been on the bucket list of mine to go back to Japan. to see where my dad grew up and where Grandpa played. The timing couldn't be better."
A television station in Fukuoka, Japan, intends to document their visit, they said, and introduce them to people affiliated with the team during Roig's playing days.
"He was a pretty famous player over there," said Rick, who spent much of his adolescence in Japan before his dad settled the family in Spokane. "He was one of the top American players and one of the most adored by the Japanese people. They loved him."
Roig's baseball career spanned the world. As a minor leaguer in the South, he played in nondescript towns like Enterprise, Alabama, and Dublin, Georgia. He was called up to the major leagues three times with the Washington Senators but couldn't stick. He played three seasons in Spokane (1958-60) with the hope of returning to the bigs, but he found that window of opportunity closed as he entered his 30s.
Roig, who would remain part of the game in later years as a scout and hitting instructor for the Philadelphia Phillies, played his final season on American soil in 1962 as a 34-year-old middle infielder at Double-A Indianapolis.
Unwilling to give up on his career, Roig became something of a trailblazer as one of the first Americans to take his career to Japan.
"He wanted to play baseball, and he loved the game," Rick said. "They made him a significant offer to get him over there. It was the early days of (Americans) playing in the Japanese baseball league."
Roig, with family in tow, relocated to Fukuoka, Japan. He played five seasons in the Pacific League with the Nishitetsu Lions from 1963-67 before one final season with the Kintetsu Buffaloes. He posted a respectable slash line of .255/.309/.437 with 126 home runs in those six years.
Rick, a 63-year-old retired firefighter who lives in Cheney, owns a video recording of a black-and-white documentary about his father that was produced by RKB Mainichi Broadcasting in Fukuoka in the late 1950s.
Clint reached out to the network via email to see if it was possible to locate the original audio recording to pair up with their video.
A search for the audio proved fruitless, but Clint's contact at the network offered a proposal. The Roigs were asked if the network could follow and interview them during their visit, and they were offered transportation and a chance to meet with Futoshi Nakanishi, who was Tony Roig's manager with the Nishitetsu Lions and is now 85.
Nakanishi was Roig's boss, but he was also several years younger than the gaijin, the Japanese word for "foreigner." Rick said the two became friends, and Nakanishi features prominently in many of the photographs Rick has kept from that era.
"It will be such an honor for me to sit down and talk about Dad with him," Rick said. "It's such a fitting end to all of this. If I had to pick one person to be able to see, he would have been it."
Local journalism is essential.
Give directly to The Spokesman-Review's Northwest Passages community forums series -- which helps to offset the costs of several reporter and editor positions at the newspaper -- by using the easy options below. Gifts processed in this system are not tax deductible, but are predominately used to help meet the local financial requirements needed to receive national matching-grant funds.
Subscribe to the sports newsletter
Get the day's top sports headlines and breaking news delivered to your inbox by subscribing here.
---