News > Spokane
Think the snow and cold were bad this winter? In 1969, Spokane saw 3 1/2 feet on the ground
Sun., March 17, 2019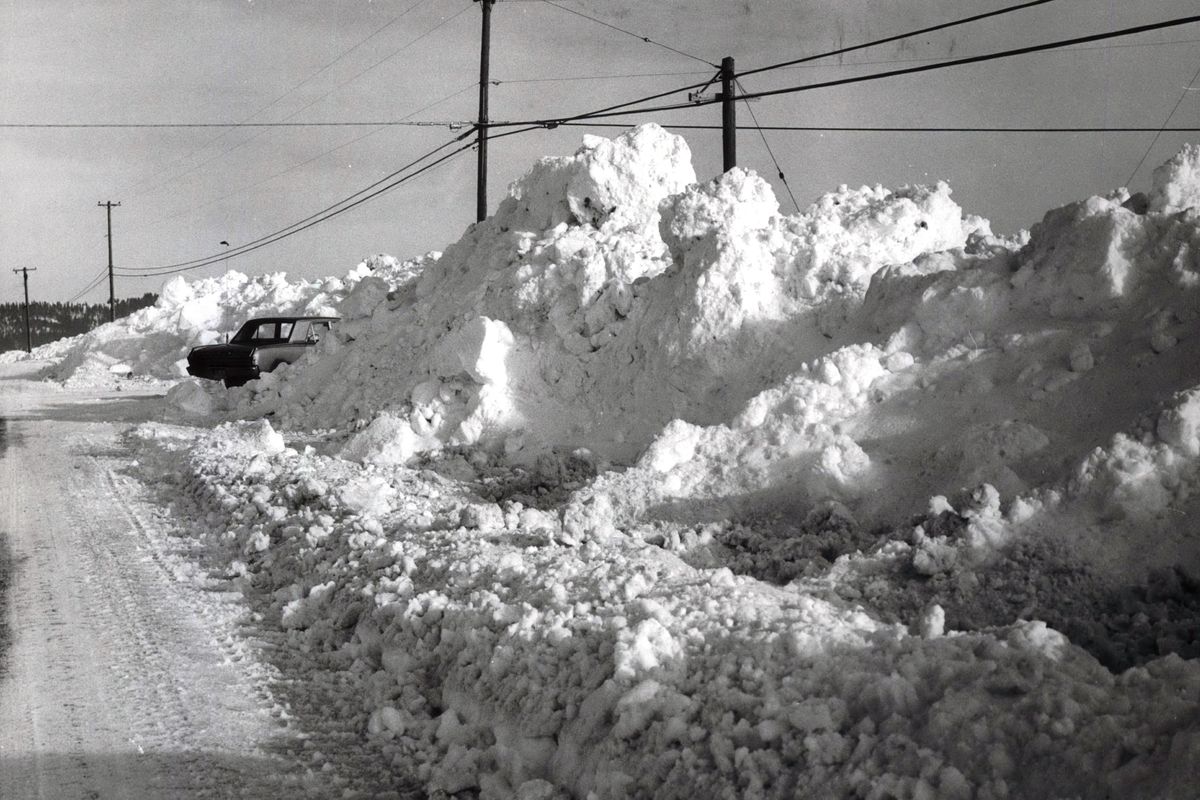 East Valley Road, Harvard Road at Euclid in 1969. (PHOTO ARCHIVE / SR)
Doctors snowmobiled to patients. Roofs collapsed under the snow. People stranded in snowdrifts died.
It was the winter of 1969, and snow was so high, children could ride their Flexible Flyer sleds off their roofs onto the snowpack. It was a winter when school attendance in Spokane was lower than at the height of the 1918 flu pandemic.
Now that this year's winter appears to be in the rearview mirror, it stacks up against some of the biggest winters in Spokane. Like in 2008-09, when Spokane received the most measurable snow. This year, the most ever accumulated snow stubbornly remained to set a late-season depth record that topped 1968-69.
Yet the winter of '69 holds a place in the record books and in the collective memory of Spokane. The oddities of that winter collected as fast as the snowfall.
It was a year with simpler technology for forecasting, transportation and communication. It's one that people remember as an outlier – at the time, it set some snowfall records.
And like this year, it began mild.
Calm before the storms
In November 1968, Richard Nixon was elected the 37th president of the United States and Spokane saw 6 fewer inches of snow than the monthly average.
November passed, and the first three weeks in December were also warmer than normal, apart from a few snow showers that left an average of 2 inches on the ground.
Then things got cold.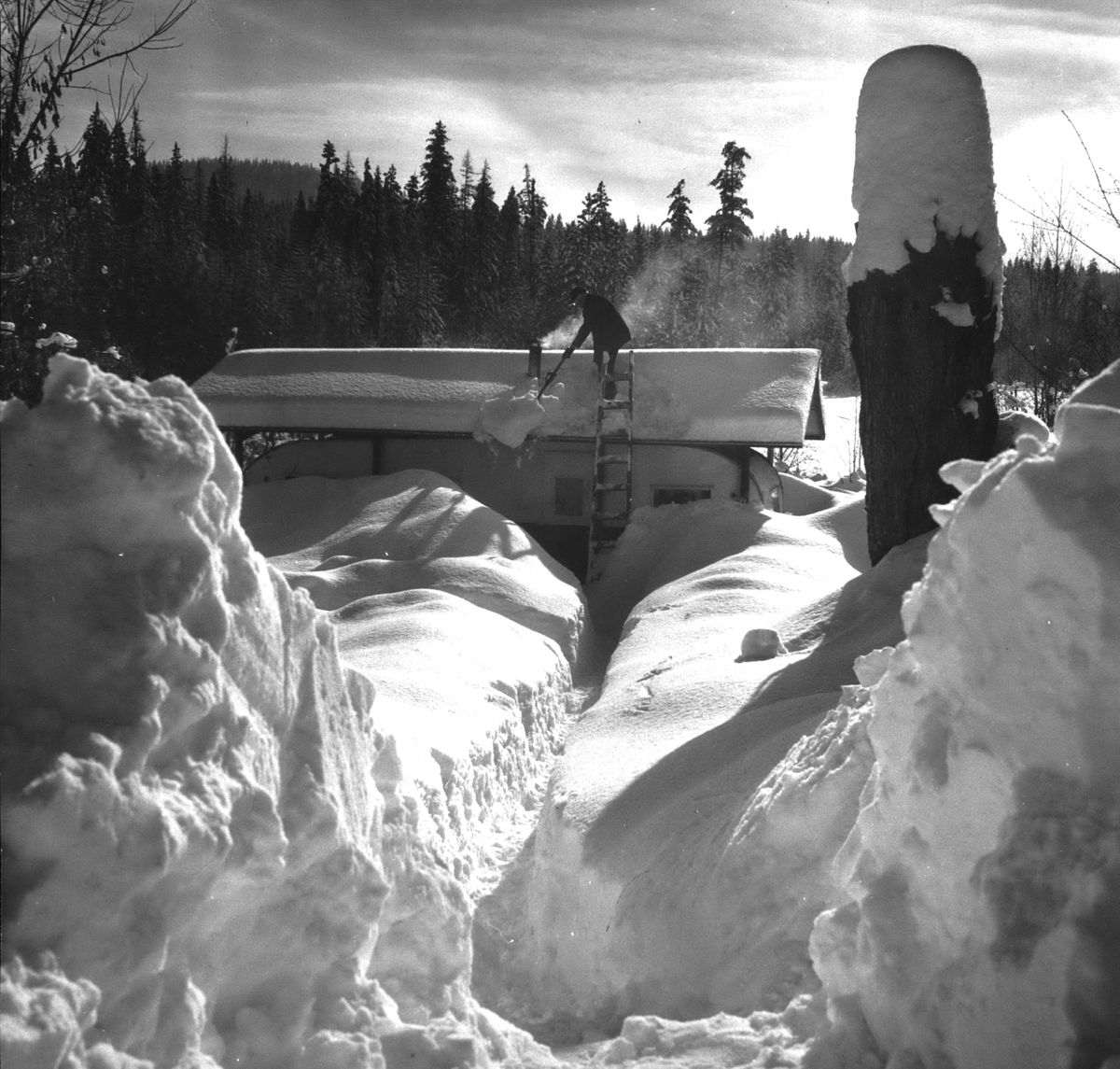 A man shovels snow off a roof covering a camper trailer surrounded by snow in 1969. (PHOTO ARCHIVE / SR)
An arctic air mass crept south on Dec. 27, bringing subzero temperatures. The daily high temperature dropped from the 30s on Dec. 27 to minus 9 days later; the low temperature dipped to minus 25 by the end of the month.
Dec. 29 and 30 brought the coldest two-day stretch that any currently living person has experienced in Spokane. The only winter that had colder days was 1889.
The cold caused power lines to "tighten up and snap." Deaconess Hospital reported an increase in pneumonia and flu patients. And the city was slammed with about 200 phone calls from people needing help with their frozen water pipes.
At the time, Spokane Fire Chief Bill Dunham advised homeowners to leave a water tap running throughout the night to prevent pipes from freezing. He also suggested wrapping pipes in rags and pouring hot water over them.
People were suffering, but it was just the beginning.
January: tragedy and triumph
The year 1969 was memorable for a number of reasons: Woodstock, the moon landing, and in Spokane, the snow.
It dawned with 11 inches on the ground, 7 of them from New Year's Eve.
On Jan. 19, the snow caused its first wave of destruction: Store owner Paul Clark was heating up his store to melt some of the snow when the roof collapsed and damaged a camper and trucks.
Nixon was sworn into office, and an another arctic air mass moved over Spokane. But for the next four days, not much new snow would fall – it was just the bitter cold.
On Jan. 22, two youngsters, ages 8 and 10, died in a sledding accident on the South Hill. They were hit by a car driven by a man who couldn't see the sled because the snowbanks were four feet high. The brother of one of the victims was sledding just behind the two and witnessed the tragedy.
A minus 19 low hit Spokane on Jan. 23rd, and peach, cherry, apricots and grape farmers reported their orchards had suffered heavy damage. They predicted a fruit shortage for the year.
Between Jan. 25 and 31, 7 inches of snow fell on Spokane, bringing the total snowfall to 39 inches.
Meteorologist Robert Small wore a blanket during an interview with the Spokesman-Review. "Really, it's been a miserable winter," he said. Small had been gathering statistics and "hovering over the strange occult machines that second-guess mother nature." He advised suffering Spokanites to move to Florida if they didn't want to shiver.
The city had been steadily plowing streets and was already out $207,000 for snow removal. About 2,100 tons of chemicals had been spread throughout Spokane, but temperatures were too cold to allow them to melt the snow.
On Sunday, Jan. 26, Spokane would break snowfall records. Albert Ayars, Spokane Public Schools superintendent, was hesitant to cancel school. He began his daily struggle with making the decision, but he decided to keep the schools open on Monday while most of the county didn't.
"Unless we get more snow, we'll be open Monday morning," he said.
Almost 10 inches of snow fell that day and Spokane set a record for accumulated snowfall at 32 inches.
Students trudged through snow to school. People strung colorful bandannas, antenna toppers and red tape from their cars to indicate where the plows should avoid
Then another tragedy struck.
Near Omak, Washington, five friends got stuck in a snowdrift. Three went to find help, but the two left in the car, an 18- and a 19-year-old, died. They had left the car running, and the surrounding snow trapped the carbon monoxide from the running engine. The toxic gas asphyxiated them, and they were found dead later that day.
But there was also triumph.
A doctor drove a snowmobile to Liberty Lake to help a woman, Barbara Soran, while she was in labor. She was able to make the trek to Sacred Heart in the snow before the baby was born.
Ayars caved and canceled school the next day "to reduce the danger facing children walking to school," he told the Spokesman-Review at the time. Absenteeism had been higher than at the height of the 1918 flu epidemic, he said, and he was hit with calls from parents complaining about their kids having to travel through the snow.
School was out and students rejoiced.
Jude Dykeman-Bly was a senior in high school at the time. She remembers the snow "so high we could sled right over the barb wire fences," according to a comment on a 2016 Facebook post from the Spokesman-Review about that winter.
Susan Nash Walker was a sophomore at Shadle Park High School. She remembers shoveling snow off the roof of her two story house and where it fell, she made a pile so high she couldn't see out the windows, she wrote on the Facebook post.
A staggering 220 city workers launched an attack to plow the city with round-the-clock 12-hour shifts and 70 plowing units. Some had "huge snow loaders" and others had simple hand shovels.
It had become "almost a battle for survival," said the city manager's engineering assistant.
An editorial in The Spokesman-Review from that day praised crews for "handling snow trouble well" but complained that people leaving their cars on city streets were making plowing more difficult – "an annoyance that makes a hard job more difficult."
The Spokesman-Review published a picture of a birdhouse topped with a column of snow about 32 inches tall. The caption read: "Sunday's snowfall set records for amount of snow on the ground in many areas of the Inland Empire, leaving behind buried streets, buried houses – even buried bird houses."
"Not since before the first snows on Dec. 19 had a citizen seen bare earth locally," the Spokesman-Review reported.
Near midnight, the roof of a multi-level downtown storage garage for Utter Motor Co. collapsed under the snow. Workers scrambled to remove cars from the first floor of the structure, fearing further collapse. It was the second car storage facility to collapse in 24 hours, the other being Ernie Majer Ford Co., which caused an estimated $75,000 in damage.
The next day, Ayars closed school again, and the city was ready to punish drivers for not moving their cars.
Motorcycle cops led a parade of snowplows through the frosted brick buildings of downtown Spokane. Blaring through loudspeakers, the cops warned residents to move their cars from the streets before they were towed away because plows needed to push the snow off the streets. Police impounded more than 50 cars in two days. But they showed some mercy: Cars that showed evidence of recently being used were moved to side streets.
Washington Gov. Daniel J. Evans placed Spokane County on emergency status to help get food and fuel to isolated ranchers, and the month ended with high temperatures at 11.1 degrees below normal. Lows were 15.4 degrees below normal.
But winter's worst was only about halfway through.
February: winter's slow retreat
The month started slightly warmer and without new snow.
"Snow on the streets in Spokane melted Sunday, revealing the scars left by the long battle between plows and tire chains and record snow depth," the Spokesman-Review reported Feb. 3.
"It's too early yet to tell how extensive the damage is, but based on early signs, it looks bad – very bad," a city official told the paper.
More snow began to fall that day, and Spokane also saw more tragedy: A 72-year-old woman caught her clothes on fire from a hot plate while trying to heat up coffee in her home. She ran outside, catching the attention of a neighbor, who ran to her.
He pushed her into a snowbank to extinguish the flames.
The next day the county's engineering office reported it had spent $350,000 in road clearing so far in the season – four times the normal amount. A fourth roof collapsed in Spokane, this time at the Taylor-Edwards Warehouse and Transfer, Inc. Then another warehouse roof collapsed: Polar Cold Storage warehouse's 10-year-old roof failed, but the snow fell onto frozen food items, making the damage less severe. Still, estimated damage was upward of $35,000.
Cold temperatures on Feb. 6 slowed winter's retreat, and the heavy snowpack had city officials worried about flooding.
All winter, people had been slipping on sidewalks or falling off roofs. Deaconess Hospital reported an average of three bone fractures per day due to the weather. The hospital also had five heart attack cases caused by patients' "overexertion while shoveling snow," and "an especially severe accident resulted when a snowmobile ran into a barbed wire fence." There were a few frostbite cases caused by long-distance drives through mountain passes.
The weather was harder to predict in 1969: Forecasters "are predicting everything from spring breezes to a major blizzard, basing their conclusions on everything from home barometers to rheumatism in the big toe," reported the Spokesman-Review.
Between Feb. 8 and 11, warmer weather and heavy rain melted snow. The high temperature in Spokane spiked to 40 degrees and snow depth decreased roughly 15 to 20 inches from the start of the month, according to meteorologist Stephen Bodnar, currently working at the National Weather Service in Spokane.
On the 8th of February 1969, Spokane Community College student Mary Jo Hilterbrant stuck a sign in the snow that read, "Think Spring," and things got easier from there.
The next day, the sun came out after a long absence, for exactly seven hours and 19 minutes, , according to the Spokesman-Review.
Winter ended with one last little bite, as half an inch fell April 29. It melted quickly.
Local journalism is essential.
Give directly to The Spokesman-Review's Northwest Passages community forums series -- which helps to offset the costs of several reporter and editor positions at the newspaper -- by using the easy options below. Gifts processed in this system are not tax deductible, but are predominately used to help meet the local financial requirements needed to receive national matching-grant funds.
Subscribe now to get breaking news alerts in your email inbox
Get breaking news delivered to your inbox as it happens.
---