News > Crime/Public Safety
Kittitas County Sheriff's deputy killed, officer injured during traffic stop
March 20, 2019 Updated Wed., March 20, 2019 at 8 p.m.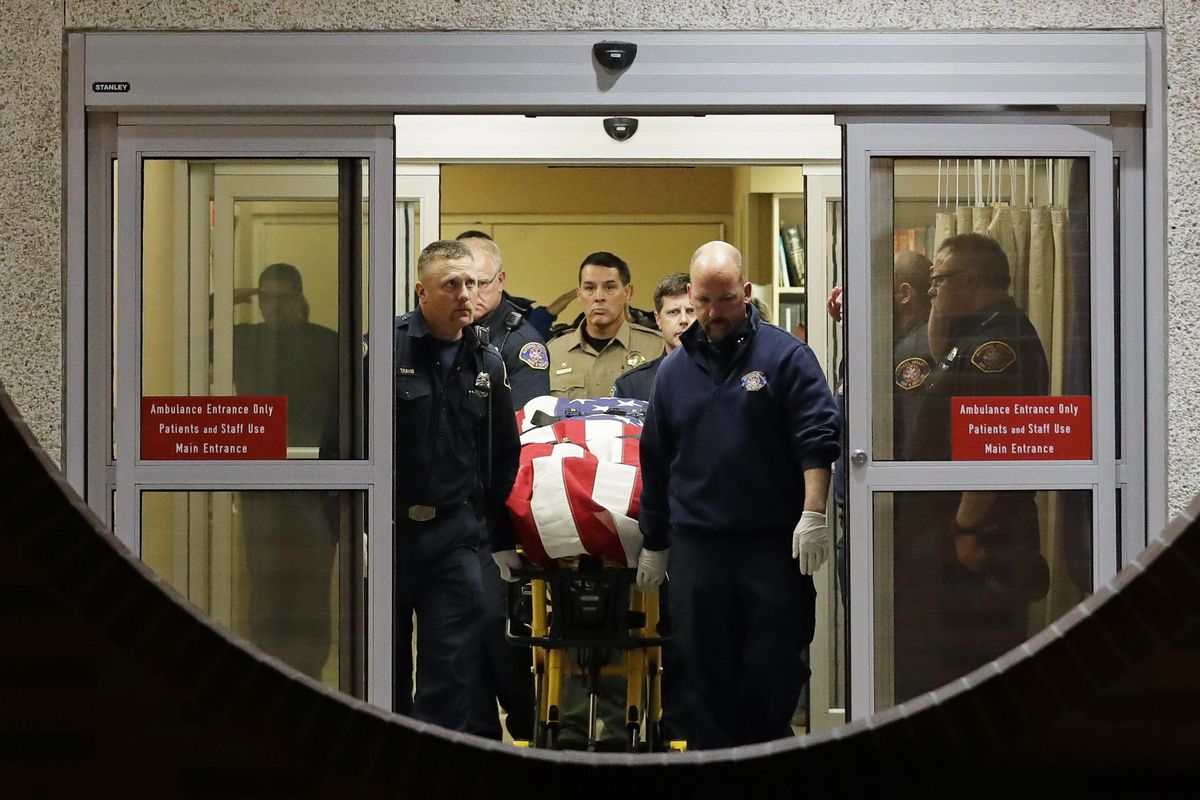 The body of a Kittitas County Sheriff's deputy is draped with a U.S. flag as it is carried out of Kittitas Valley Healthcare Hospital, in the early morning hours of Wednesday, March 20, 2019, in Ellensburg, Wash., as seen through a large circular entry window. (Ted S. Warren / AP)
A sheriff's deputy was killed and a police officer was injured after an exchange of gunfire during an attempted traffic stop near Ellensburg on Tuesday night.
Kittitas County Sheriff Gene Dana identified the slain deputy as 42-year-old Ryan Thompson, a Central Washington University graduate and 15-year department veteran.
"Last night was the worst incident in my 45-plus years of law enforcement," said Dana, addressing a roomful of media Wednesday. "And something that a sheriff or police chief wishes would never happen during their watch."
Chief Chris Taylor of the Kittitas Police Department, which employs three officers including Taylor, said the injured officer is 22-year-old Benito Chavez. He was hired full time in July and finished training in late January. Chavez was airlifted Tuesday evening to Harborview Medical Center in Seattle, where he underwent surgery Wednesday morning for a gunshot wound to his leg that fractured his femur.
"He's a respected officer," Taylor said. "He's a 22-year-old man who provides this community with the protection it deserves."
Speaking to media, Ken Wade, chief of the Ellensburg Police Department, which is leading the investigation along with the Washington State Patrol, said the shootout began after Thompson and Chavez attempted to stop a vehicle at about 7:30 p.m. that was reportedly in a "road rage-type of event" on Interstate 90.
Wade said the suspect, identified as 29-year-old Juan Manuel Flores Del Toro, led the two off the freeway and through the town of Kittitas, east of Ellensburg, where he stopped his vehicle.
Del Toro then exited and exchanged gunfire with Thompson and Chavez. Del Toro died after being treated at Kittitas Valley Hospital in Ellensburg.
"The officers advised that the pursuit had terminated," Wade said. "Less than three minutes later we were advised, or dispatch was advised, of shots being fired."
Neither agency uses body cameras.
Dana said Thompson leaves behind a wife and three children.
"This officer was a great officer," he said. "He had a great personality. Well-liked. Highly motivated. He had a great future in law enforcement."
Dana said this was the first instance of a Kittitas County deputy dying during an officer-involved shooting since 1927.
"Our community has a very heavy heart today," he said. "And last night we lost one of our finest."
The Associated Press contributed to this report.
Local journalism is essential.
Give directly to The Spokesman-Review's Northwest Passages community forums series -- which helps to offset the costs of several reporter and editor positions at the newspaper -- by using the easy options below. Gifts processed in this system are not tax deductible, but are predominately used to help meet the local financial requirements needed to receive national matching-grant funds.
Subscribe now to get breaking news alerts in your email inbox
Get breaking news delivered to your inbox as it happens.
---