News > Spokane
Convicted killer Joseph Duncan loses appeal to escape death sentences
UPDATED: Sat., March 23, 2019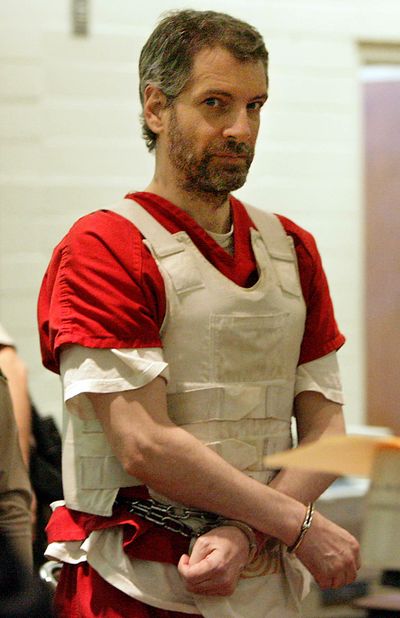 The convicted killer who brutalized a Coeur d'Alene area family in 2005 just got a fresh seat back on death row.
U.S. District Court Judge Edward Lodge ruled against Joseph E. Duncan III on Friday on a 12-argument appeal by the killer, who initially pleaded guilty to all state and federal charges. In 2008, a jury sentenced Duncan to three death penalties that attorneys later challenged.
Except for one pending legal matter, Lodge found against Duncan in all arguments and affirmed two of three death penalties against him.
"Duncan claims the combination and cumulative effect of the problems and errors he alleges occurred from the beginning to the end of his case, deprived him of his constitutional rights to a fair and reliable proceedings and due process and, as a result, his conviction and death sentence should not be allowed to stand," Lodge wrote on Friday. "For the reasons stated in this order, except as to count seven, the court finds Duncan's claims are without merit."
Duncan became one of the region's most notorious criminals in 2005 for his gruesome attacks on a family that lived in the Wolf Lodge Bay area just east of Coeur d'Alene.
Duncan's crime spree was triggered on May 16, 2005, when he saw 8-year-old Shasta Groene playing in her yard as Duncan – a registered sex offener – drove by on Interstate 90.
Duncan left the interstate and attacked the family at its home. Duncan used duct tape and zip ties to bind Brenda Groene, 40, her boyfriend, 37-year-old Mark McKenzie and her 13-year-old son, Slade Groene, before using a claw hammer to bludgeon them to death. Duncan then kidnapped Shasta and 9-year-old Dylan Groene and drove them to Montana where he sexually molested them multiple times before killing Dylan. Shasta Groene was discovered and Duncan arrested at a Coeur d'Alene restaurant on July 2.
In 2008, after Duncan pleaded guilty, the federal jury handed down three separate death sentences, one each for the convictions of kidnapping, sexual exploitation and use of a firearm resulting in the death of Dylan.
On Nov. 15, 2008, Duncan sent a letter to Lodge stating "if any appeal is initiated on my behalf, it is done contrary to my wishes." Lodge later concluded after a hearing that Duncan did, indeed, seek to waive his right to appeal the death penalty sentences.
"Nevertheless, the Ninth Circuit heard the appeal 'for the limited purpose of reviewing the district court's competency determinations' and concluded that (Lodge) erred by not holding a competency hearing to determine whether Duncan competently waived his right to appeal," court records state.
In 2009, after weeks of testimony in connection to a separate child murder case in California, a judge and jury determined that Duncan was competent.
Lodge later ruled in 2013 that Duncan was competent at the time he waived his appeal in 2008, which the Ninth Circuit Court of Appeals affirmed in 2015.
Then in 2016, the U.S. Supreme Court denied a request by Duncan's attorneys to consider the case. In 2017, Duncan filed the most recent petition, which Lodge ruled on Friday.
Lodge's order Friday "denies Duncan's post-conviction claims and upholds Duncan's convictions and sentences on all counts with the exception of one," wrote Stephon Kenyon, the clerk of U.S. District Court in Idaho. "Duncan's sentences on two of the three death penalty counts are affirmed as are his multiple life sentences and additional terms of imprisonment on all of the non-capital crimes."
In the California case, Duncan was convicted of killing 10-year-old Anthony Martinez, bringing him a total of 11 life sentences in addition to the death sentences.
Duncan, now 56, awaits his death sentence while residing in a federal prison in Terre Haute, Indiana.
Local journalism is essential.
Give directly to The Spokesman-Review's Northwest Passages community forums series -- which helps to offset the costs of several reporter and editor positions at the newspaper -- by using the easy options below. Gifts processed in this system are not tax deductible, but are predominately used to help meet the local financial requirements needed to receive national matching-grant funds.
Subscribe to the Coronavirus newsletter
Get the day's latest Coronavirus news delivered to your inbox by subscribing to our newsletter.
---