Sports > Gonzaga basketball
John Blanchette: Baylor's Rem Bakamus, John Jakus know their dancing partner far too well ahead of Gonzaga showdown
March 22, 2019 Updated Fri., March 22, 2019 at 8:43 p.m. SALT LAKE CITY – How do you like your mixed emotions served? Shaken? Stirred?
Layered?
At the edge of a merry Baylor locker room after the Bears bounced Syracuse from the NCAA Tournament on Thursday night, John Jakus pinned himself against a wall and weighed Fate's idea of the perfect martini.
"This is one of the least-favorite things I've ever done in basketball," he admitted. "I don't say that lightly, either. But it's better than going home."
A few yards away, Rem Bakamus corkscrewed his expression into a modified Debbie Downer and pronounced, "This is going to be weird. It already is."
Weird, but perhaps more common than ever, thanks to the increasingly tangled branches of the college coaching tree.
Come Saturday afternoon, the Bears and Gonzaga Bulldogs meet for the prize of a spot in the Sweet 16 – trips Jakus and Bakamus shared three years running at Gonzaga when Jakus was part of the basketball staff and Bakamus was the court-jester walk-on whose bench pantomime made YouTube nearly as often as the Zags' highlights.
This weekend, they locker across the hall with the Bears – Jakus in his second year as an assistant coach, Bakamus a graduate aide who is fending off verbal darts from pretty much all sides.
"He said all the Baylor guys have been giving him mess all week," reported Jack Beach, Bakamus' former walk-on compadre at Gonzaga.
And his old teammates?
"Oh, there'll be some trash talking, for sure," Beach said.
Second-round company loves misery.
It was about one region into last Sunday's NCAA Selection Show broadcast that Bakamus' phone buzzed with a text from Beach predicting that the Zags and Bears would find themselves matched in the same pod out West and destined for a round-of-32 rendezvous.
"But somehow, I just had that feeling all year," Bakamus said.
The Zags making like a No. 1 seed since November, he meant, and Baylor looking very No. 8-or-9-ish, scuffling through a season rife with injury setbacks and yet still in the hunt for the Big 12 title until the final week.
The old Triple-A ethos – anybody, anywhere, any time – that was a cornerstone in the early days in Gonzaga's rise to national prominence always had one caveat for head coach Mark Few: He wasn't going to schedule against his closest friends in the game. And after three years on Few's staff, Jakus is certainly that – "an unbelievable person," Few gushed, "who had a real impact on the program – and me."
But in the NCAAs, you get who they give you for dance partners. Hence Jakus' regrets.
"I don't want them going home," Jakus said, "and I especially don't want their kids going home."
Or, it goes without saying, Baylor's kids.
Jakus was Gonzaga's director of operations for three years, a catch-all role in which one major element was statistical analytics. If his predecessor, Jerry Krause, nudged the Zags toward paying attention to metrics, Jakus advanced the agenda considerably.
"He did it in such a way that I could see some real effects," Few said, "and he helped the players understand the effects of learning from analytics. But he was a very relational guy, too, and that was probably his biggest impact."
One of the relationships he fostered was with Bakamus.
The son of a legendary high school coach in Longview, Washington, Bakamus said he "resisted the idea of coaching" and after graduation in 2017 worked for Beach's dad and former GU great Dan Dickau in their Scorebook Live technology startup.
"They were great to me, but I wasn't going to make it behind a desk," he said.
So he reached out to Jakus, who noted the Bears get flooded with applicants for graduate assistant openings ("I've seen 10-15 this week," he said).
"I wouldn't call what I do coaching yet," Bakamus said, "but I'm trying to prepare."
He's also trying to "tone down the bench antics" – it helps that he doesn't actually sit on the bench, but in the front row behind it – and see the game a little differently.
But it's hard not to see it from the Gonzaga point of view.
Bakamus said he watched every Zags game this season – "sometimes twice, if I was bored at the office." Jakus estimated he saw 70 percent and called the Bulldogs "not just good but historically good."
But his warm feelings for the program go far deeper than numbers.
"I don't think they'll ever get enough credit what they've done there," he said. "Their player development, and the wisdom with which they run a program, and fund-raise and lead and engage the community – there's no better example in the country for doing it right and being rewarded for it.
"It's remarkable – the way they teach a system and the culture they create in the locker room. It's not normal. It's special."
"Not normal" also applies to the circumstances of Saturday.
"But they wouldn't have done a very good job with me," Bakamus said, "if I didn't want to beat them."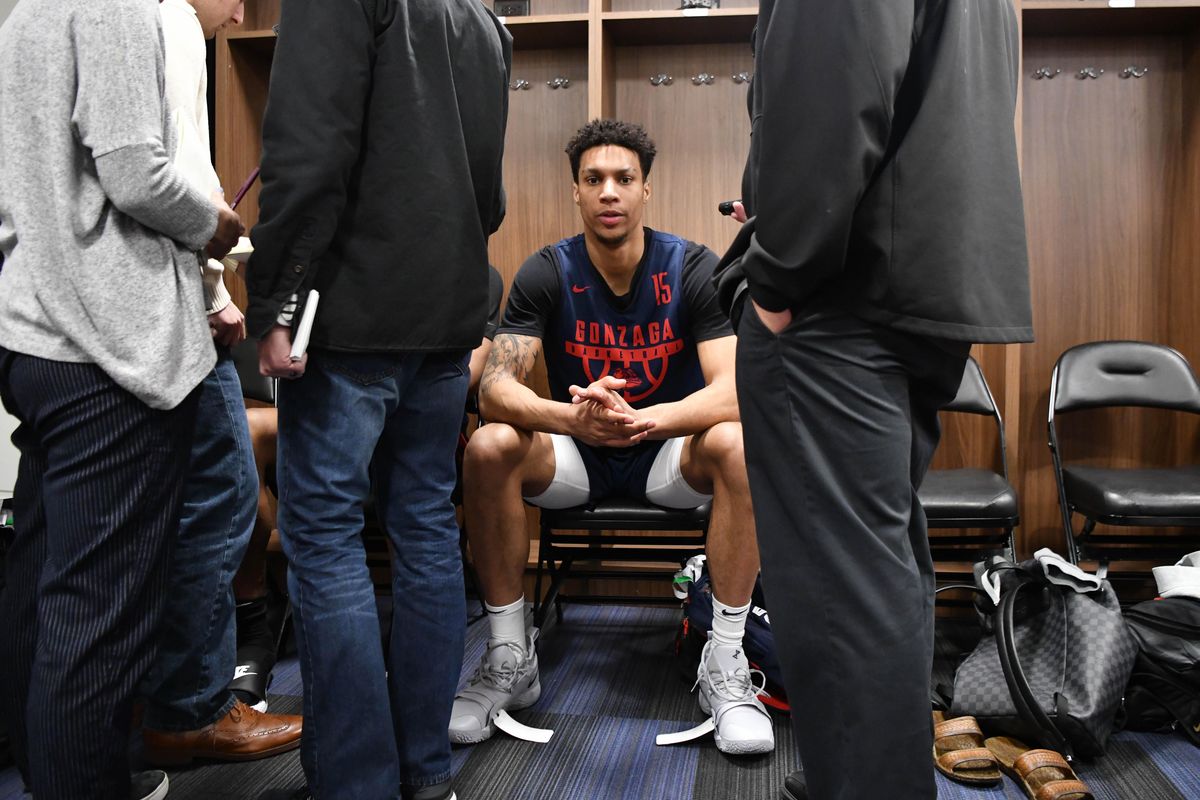 Gonzaga Bulldogs forward Brandon Clarke (15) fields questions from the media before an NCAA Tournament press conference on Friday, March 22, 2019, at Vivint Smart Home Arena in Salt Lake City, Utah. (Tyler Tjomsland / The Spokesman-Review)Buy a print of this photo
Local journalism is essential.
Give directly to The Spokesman-Review's Northwest Passages community forums series -- which helps to offset the costs of several reporter and editor positions at the newspaper -- by using the easy options below. Gifts processed in this system are not tax deductible, but are predominately used to help meet the local financial requirements needed to receive national matching-grant funds.
Follow along with the Zags
Subscribe to our Gonzaga Basketball newsletter to stay up with the latest news.
---