Sports > WSU football
Washington State coach Mike Leach happy with quarterback competition early in spring camp
UPDATED: Sat., March 23, 2019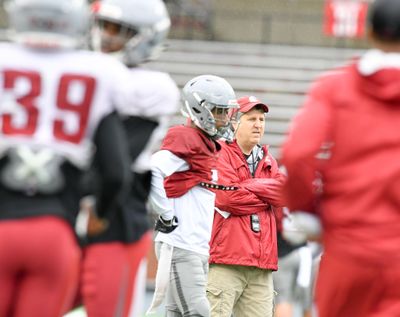 PULLMAN – He didn't sweep into Pullman with the force of a tornado, and he hasn't thrown an iconic touchdown pass to a receiver sliding into a snowbank to win the Apple Cup, like his father.
But there is another Bledsoe wearing No. 11 for the Washington State football team, and in the Cougars' second spring workout, he had a pretty good day.
Drew Bledsoe's record-setting career at Washington State – throwing for 9,373 yards and 66 touchdowns before departing after his junior season as the first pick in the 1993 NFL draft – has him on the highest level in the pantheon of great WSU quarterbacks. His towering throw dropping out of a snowstorm into the arms of Philip Bobo sliding into the end zone in the 1992 Apple Cup is the stuff of Cougar legend.
John Bledsoe has made a quieter entrance, walking on at WSU in 2017. But as a redshirt sophomore, he got reps with the starters Saturday.
In a 7-on-7 period, he showed a deft touch on a sideline fade and a corner fade in the end zone to Rodrick Fisher. In 11-on-11 work at the conclusion of practice, after throwing an interception to safety Chad Davis, he lofted a ball to a wide-open Easop Winston in the end zone. Just like Dad in the old days.
"I thought he did pretty good; He's gotten better as time went on," WSU coach Mike Leach said of Bledsoe's performance.
In truth, how much more could he say when the Cougars were still in shorts, jerseys and helmets? They don't put on pads until Tuesday. Senior wide receiver Calvin Jackson was somewhat more effusive.
"He's more comfortable than last year in his throws, his reads and his checks," Jackson said of Bledsoe.
The real action at quarterback this spring is between seniors Trey Tinsley and Anthony Gordon.
Except for a pair of interceptions thrown in the middle of the field, Tinsley looked economical and efficient in his time running plays.
"As long as I'm on time and accurate, I'll be able to play," Tinsley said, echoing advice from his father. "I was never the fastest or the best athlete."
Leach voiced the obvious.
"Tinsley and Gordon are ahead of everybody," he said. … "They operate like guys with some experience."
The specter hovering over their competition is Gage Gubrud, a graduate transfer from Eastern Washington who is rehabbing a foot injury suffered in winter conditioning and won't join in until summer workouts. The situation is what it is, Tinsley said.
"It's just another guy to come in and compete with," he said. "We compete spring, summer and fall."
That Darwinian aspect of spring ball isn't the only thing going on, according to junior free safety Skyler Thomas.
Thomas noted that defensive backs benefit from working against WSU's deep group of experienced receivers and its varying strengths.
"They're all pretty good," Thomas said. "Everyone helps me improve in certain things."
In addition to the crossing routes and receivers working to the sidelines that are Air Raid offense staples – and were featured in WSU's opening spring practice on Thursday – the offense spent considerable time attacking the middle of defenses with draws and shovel passes to running backs, especially when linebackers were deep and cornerbacks were playing off.
Tinsley and Gordon each looked adept in executing those fakes.
"Trey and Anthony are great. This is going to be crazy, a great run," Jackson said.
Leach said somebody has to emerge as a starter among his quarterbacks because he won't play two. Putting the quarterbacks in a position to be competitive is important this spring and in preseason camp, Leach said.
"Toward the end of camp, we have to make a decision," he said.
Local journalism is essential.
Give directly to The Spokesman-Review's Northwest Passages community forums series -- which helps to offset the costs of several reporter and editor positions at the newspaper -- by using the easy options below. Gifts processed in this system are not tax deductible, but are predominately used to help meet the local financial requirements needed to receive national matching-grant funds.
Subscribe to the Cougs newsletter
Get the latest Cougs headlines delivered to your inbox as they happen.
---