Sports > Gonzaga basketball
Five years in a row: Gonzaga's Sweet feat
UPDATED: Sun., March 24, 2019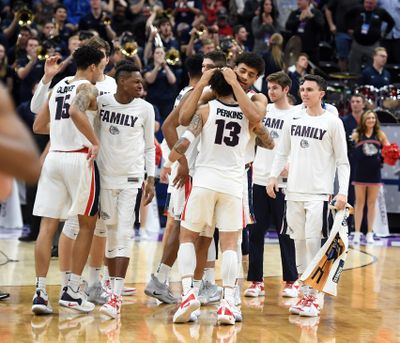 Time for a civil, measured examination of Gonzaga and this latest milestone of reaching the NCAA Sweet 16 five years running.
But first, a little raw meat to the snarling trolls on social media so they can go off and scrap to their hearts' content and the sane folks can hear themselves think:
"This program," said Bulldogs guard Josh Perkins, "has done everything but win the national championship."
There's that trigger – no national championship. Chew on that, pit bulls.
Now that we're outside the city limits of One Issueville, let's talk Sweet 16.
It is not the Zags' end goal, by any means. Never really has been since Gonzaga basketball stopped just aspiring for relevance and evolved into a phenomenon.
But it is still very much an achievement. With the first weekend of the tournament now over, fewer than 5 percent of college basketball's 353 teams are still playing. Kansas and Kansas State, both No. 4 seeds this year, aren't.
Virginia, a No. 1 seed last March, didn't make it past the first Friday last year. It's hard to win two games, regardless of the seed number.
And the Bulldogs, with their victories in Salt Lake City over Fairleigh Dickinson and Baylor this past weekend, have done it five years in a row.
"Now that I sit back and think about it," said sophomore wing Corey Kispert, "it's really, really special. We're part of some elite company in college basketball."
He doesn't know the half of it.
The Zags own the longest active Sweet 16 streak in the country. The closest comparable runs – three in a row – belong to Kentucky, Michigan and Purdue. You can figure out the programs outside that brief list.
Moreover, there are only 11 other streaks in tournament history as long or longer, though all but three come with asterisks, falling as they do before the bracket reached 64 teams.
Two other five-year runs – Kentucky and St. Joseph's – started in the 1950s, when the field was never bigger than 25. So neither had to win a game, which made it more of a Shrug 16. Same holds true for another Kentucky six-year streak and one by Cincinnati in the '60s. When Notre Dame reached the round of 16 six times in a row in the '70s, the bracket was 32 teams, requiring just a single win.
Only the long runs by North Carolina (13 years) and Duke (separate streaks of nine and seven) occurred after full expansion and can be considered meaningful. Even UCLA's record 14 straight included eight years of byes into the Sweet 16.
Though let's be real – nine consecutive national championships suggest that the Bruins would have done just fine against any and all opponents.
Just as interesting: Only that Duke run of nine Sweet 16s has occurred in the past 20 years. It's simply more difficult than ever to put together back-to-back wins in the NCAA Tournament. The talent gap narrows; rosters of one-and-done kids get one-and-undone by those with grizzled upperclassmen.
"In this kind of a tournament, even the little guys are coming after you because they believe they can do it," said Kispert.
Little guys – 14th-seeded Bucknell in 2005 and No. 15 Middle Tennessee in 2015 – ended runs by Kansas and Michigan State after four straight years. Four other programs in the 2000s – Florida, Louisville, Memphis and Wisconsin – saw their drives for five end when they didn't even make the field.
"We do not," said coach Mark Few of the streak, "take that for granted at all."
Ah, but the many critics argue, as a high seed, the Zags should advance at least through the first weekend.
Heck, yes. And every year, too – just like every other high seed.
And yet it's Gonzaga with the numbing consistency. Why do you suppose that is?
"Everybody in this locker room came here to win games, first and foremost, and play late into March," said guard Geno Crandall. "That's what we're doing. Credit to the coaching staff and what they've built. This is expected now. This is the standard."
By the way, the Zags have been a No. 1 seed twice these past five years, a No. 2, a 4 – and an 11. In their respective streaks, Duke has never been lower than a No. 5. North Carolina was a No. 8 once. That's it.
"It's weird," said Kispert. "Even when I was getting recruited it was always, aw, Gonzaga, never makes the Final Four, always gets bumped early, they're not very good in the tournament. When they play good competition, they fall apart. But then when you look at what we've done and what we continue to do, it refutes that theory altogether."
Well, it does unless the theory holder simply doesn't want it to. That's about the only way to resist a pretty Sweet argument.
Local journalism is essential.
Give directly to The Spokesman-Review's Northwest Passages community forums series -- which helps to offset the costs of several reporter and editor positions at the newspaper -- by using the easy options below. Gifts processed in this system are not tax deductible, but are predominately used to help meet the local financial requirements needed to receive national matching-grant funds.
Follow along with the Zags
Subscribe to our Gonzaga Basketball newsletter to stay up with the latest news.
---