A&E > Music
No 'American Idol': Spokane singer Kaylee Goins had the golden ticket in her hand. What she did next will shock you.
March 24, 2019 Updated Mon., March 25, 2019 at 6:57 a.m.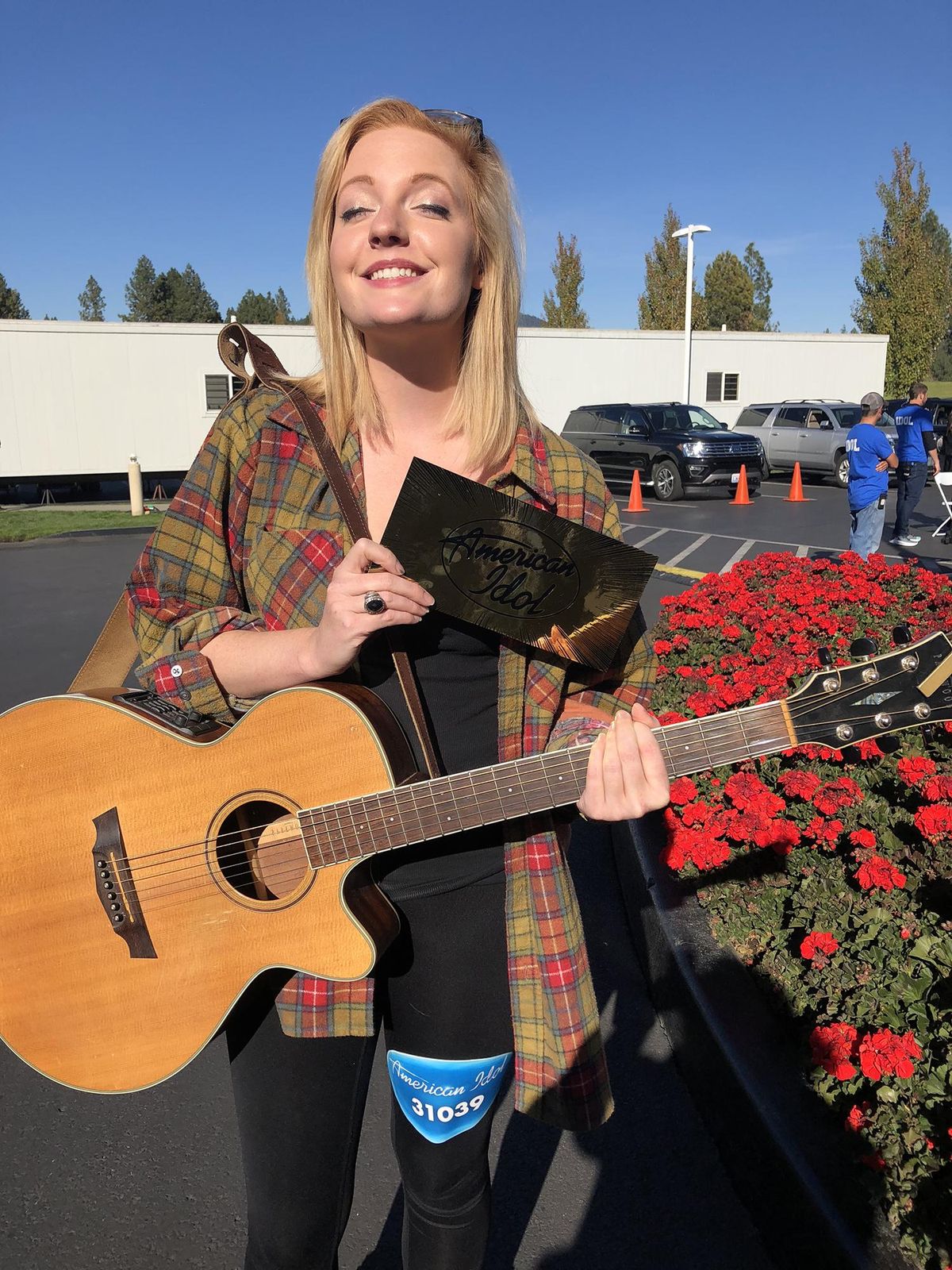 Kaylee Goin of Spokane won the thing that many aspiring singers would give a leg for: a Goldent Ticket to Hollywood and a chance go compete on "American Idol." (Carolyn Lamberson / The Spokesman-Review)
Dressed in black jeans and an oversized plaid flannel shirt, and armed only with her acoustic guitar, Kaylee Goins stood before Katy Perry, Luke Bryan and Lionel Richie.
To one side, a bank of floor-to-ceiling windows looked over Lake Coeur d'Alene as it shimmered on a glorious fall afternoon. Around her, the interior of the Hagadone Event Center was decked out, in her words, like a spaceship.
She took a deep breath and made her pitch to be the next "American Idol."
Goins, who lived in Spokane at the time, launched into "The Eye," a song by Brandi Carlile that is drenched with gorgeous harmonies and is clearly informed by Fleetwood Mac's "The Chain."
The judges, she said, then urged her to lose the guitar and give them something a capella.
"I wasn't prepared at all to do something a capella," Goins said recently. So she landed on the first song that popped into her head: Chet Baker's jazzy take on "My Funny Valentine."
One more, the judges asked of her. So she sang a rockin' blues number, "Learn How to Love" by the Tedeschi Trucks Band.
In the end, it was enough. Perry and Bryan said they heard potential and voted her through to Hollywood. Only Richie said no, telling Goins that he didn't feel she'd really yet found her voice.
Months later, Goins still bristles a bit at that assessment. "I had to strongly disagree. I was just very out of my element. I promise you I know exactly what my voice is."
Still, when she walked out of the audition on that October afternoon in Coeur d'Alene, she was all smiles. She clutched her golden ticket, an invitation to continue competing on the long-running television singing competition. Her Spokane friends surrounded her with hugs and cheers, and Goins began thinking about the road ahead.
On the surface, it seemed the timing was right. After a couple years in Spokane and six months in Coeur d'Alene before that, she'd been contemplating changing cities again. The Missouri native gave up her apartment and moved in with friends. Soon she quit her job as an account manager for a Spokane tech firm and began working with a new singer to take over her spot in Lazy Love, the Spokane band that has a regular Sunday night slot at Zola. Her other band, Bar Talk, she'd try to stay involved with, even if it meant doing it long distance.
But as the time approached to join the ABC show in California, Goins felt herself feeling unsure. Like a phony even. Plus, she was feeling the pull of something else, something 2,000 miles away.
In the end and at the last minute, Goins called "American Idol" and said thanks but no thanks.
Then she followed her heart to Austin, Texas, to pursue music on her own terms.
And to pursue love.
Texas-sized romance
"I hate sounding like the clichéd girl who's like, 'Oh, there's a boy,' but there was a boy. And still is a boy, thankfully."
She'd met Dennis Ludiker through his sister, Sarah Jean Kapeluch, Goins' bandmate in the local bluegrass-Americana band the Sulphur Banks. Ludiker's name is familiar to Spokane area music fans. His father, the late Tony Ludiker, was a five-time national fiddle champion. His mother, JayDean Ludiker, is also a former national fiddle champion and longtime Spokane Valley music teacher. His sister Kimber Ludiker co-founded the bluegrass band Della Mae, which earned a Grammy nomination in 2013 for their album, "This World Oft Can Be."
Ludiker himself is a songwriter, multi-instrumentalist and producer. He's a three-time Texas state fiddle champion who plays fiddle and mandolin for the long-running country outfit Asleep at the Wheel. He also plays keyboards and tenor banjo and has recorded albums with the South Austin Jug Band and MilkDrive.
As Goins said, their friendship evolved into something more last year. When the "Idol" opportunity presented itself, she found herself at a crossroads.
"After I got the golden ticket, and I know this sounds really stupid, there was never a point of excitement. I was never like 'My dream is coming true!' I felt like every other person there had that fire in them," she said.
Still, she was planning to go to Hollywood despite her lack of enthusiasm.
"A couple months go by and it's December, and I was about ready to go," she said. "I don't know how to explain it. There was this big personal weight on me where it was like, 'If I go, am I going to be able to handle it myself, being under someone else's creative control. And what if I hate that? And what if I leave and go to LA, and this person who I love, who's an amazing musician and who could introduce me to a lot of people I need to know, it's going to put a huge strain on that."
Ultimately, she decided the connections she could make in Austin would be more authentic than those she would make through "American Idol." And she wouldn't be doing it while under a long-term restrictive contract.
"I think the experience would have been super, super cool," she said. "But I was at a crossroads. If I pick 'American Idol,' I will always be that girl from 'American Idol.' … And I could miss out on opportunities that felt better with somebody that I really love."
So they're making music together. A new project of theirs, a western swing band called Open Road, recently played at the Alamo for Texas Independence Day celebrations. She's also pursuing her own sound, with a band, as a singer-songwriter in the progressive bluegrass/Americana vein.
Meanwhile, her recent trip to Spokane, timed with Asleep at the Wheels' gig at the Bing Crosby Theater this past Wednesday, afforded her a chance to play an album release show at the Red Room last weekend, with the Spokane rock band Bar Talk. Bar Talk, which released the five-track EP "Franks N Beans," has no plans to disband or hire a new singer. Goins is still a member in full. While they'll play fewer shows, Goins hopes they can find a place on the festival scene.
"My plan to is play more festivals, and honestly that's my goal with all of my projects is to focus on festivals," she said. "It's a good way to reach a lot of people. They have promoters, they put everything all together, and they pay really well."
No regrets. Well, not really
So while all is going well for her, she admits to sometimes feeling a twinge of regret about the path not selected, the one that headed to Hollywood and "American Idol."
"I think anytime you make a choice, A or B, no matter what you do, you're going to think about the other one," she said. "So if I would have done 'Idol' I would have way more regrets about not going to Austin, I already know that. So I think that's a good way to make decisions sometimes is to figure out which one you would regret not doing more than which one you want to do."
Still, she looks back at her brush with "American Idol" with fondness, and the takes the advice from Perry and Bryan to heart.
"The both said 'We hear something in your voice, but you need to just get mad at the world and push it out.' I do think of that sometimes when I'm performing, I'm like, 'Kaylee, get mad at the world.' "
Local journalism is essential.
Give directly to The Spokesman-Review's Northwest Passages community forums series -- which helps to offset the costs of several reporter and editor positions at the newspaper -- by using the easy options below. Gifts processed in this system are not tax deductible, but are predominately used to help meet the local financial requirements needed to receive national matching-grant funds.
Subscribe to the Spokane7 email newsletter
Get the day's top entertainment headlines delivered to your inbox every morning.
---