Sports > Gonzaga basketball
Analysis: Texas Tech hands Gonzaga bitter loss, ends Zags' dreams of Final Four
March 30, 2019 Updated Sat., March 30, 2019 at 9:38 p.m. ANAHEIM, Calif. – With the final seconds ticking away, Josh Perkins slumped over near Gonzaga's bench with his hands on his knees, losing the battle to control his emotions.
Time ran out on top-seeded Gonzaga's season with a bitter 75-69 loss to Texas Tech on Saturday at the Honda Center. The third-seeded Red Raiders stormed the floor to celebrate the school's first trip to the Final Four. The top-seeded Zags' hopes of reaching the Final Four ended one win short. Their dreams of the program's first national championship three wins out of reach.
Rui Hachimura went through the handshake line with a towel covering part of his face. The locker room was full of red eyes and sullen voices.
"We had really big dreams," junior forward Brandon Clarke said. "For them not to be fulfilled obviously hurts."
"I love all these guys," junior forward Killian Tillie said. "This is a tough one to finish the season on and finish some college careers. I'm just going to miss all these guys a lot."
Tillie's voice trailed off and a small group of reporters left him alone at his cubicle.
The Zags (33-4) and Red Raiders (30-6) were nearly inseparable for 40 physical, tense minutes. Each team led for 15-plus minutes. Texas Tech's largest lead was seven in the final minute. GU's biggest edge was four late in the first half.
It came down to the final 5 minutes, but the Zags' offense began struggling to score near the 13-minute mark. Texas Tech took advantage with a 6-0 run – its largest of the game – to take a 53-50 lead.
Gonzaga fought back, pulling even on a Perkins' 3-pointer with 5:12 left. The final 5 minutes were packed with huge plays, but the Red Raiders made the majority of them.
Davide Moretti buried two big 3s, the first putting Texas Tech up 63-58 and the second making it 66-60 with 1:45 remaining.
Perkins brought the Zags back. GU closed within 69-67 after Perkins' tough finish in the lane, his 3-pointer after a Red Raiders' turnover and a Zach Norvell Jr. putback with 11 seconds left.
As Matt Mooney was attempting to inbound the ball, Perkins reached across and made contact with Mooney's left wrist. Perkins was whistled for a technical foul and Moretti, a 92 percent free-throw shooter, hit both.
"He was ball-faking a lot and I thought he ball-faked right in front of me," Perkins said. "I guess instincts kicked in and I tried to swipe it away. Didn't even know the rules on that one, so something I have to live with the rest of my life."
Jarrett Culver added two more free throws – Texas Tech was 9 of 10 in the final 64 seconds – to close out the upset.
"It was a pretty even game defensively," Clarke said. "It just came down to them making some big shots that we didn't answer."
Gonzaga's powerful offense was generally effective in building a 50-47 lead with 12:43 remaining, but it sputtered down the stretch. Turnovers were the Zags' undoing throughout. Gonzaga finished with 16 turnovers and made just 36.4 percent of its second-half shots.
Texas Tech's quick-handed defenders repeatedly poked away entry passes and stripped the ball from Zags driving into the lane.
"They were really handsy on the ball, stole it a couple times from us," said Hachimura, who put up 22 points on 8-of-19 shooting.
Clarke had 18 points, 12 boards, three assists and two blocks, but he committed six turnovers. He was called for traveling twice in the first half on spin moves, one of his go-to moves this season.
"I was pretty bad with those in the first half, cleaned it up in the second, but that's still the most I've ever had," Clarke said. "It's obviously a testament to how good their hands are.
"They're able to guard the paint and also the 3-point line. That's why they're ranked No. 1 (on defense)."
Gonzaga led 37-35 after a surprisingly offensive-minded first half as Hachimura and Clarke combined for 23 points. GU shot 50 percent, but turnovers (nine) were already stacking up.
The Zags, running whenever they had the opportunity, had 19 points in transition, but the Red Raiders countered with a 17-11 edge in points off turnovers.
"This is the best team I've ever had for taking care of the ball," Zags coach Mark Few said. "So it's real. That defense is real. They took a lot of balls from us when we had the ball in a great position for us, where I'm feeling, 'Yes.' And then we just lost it."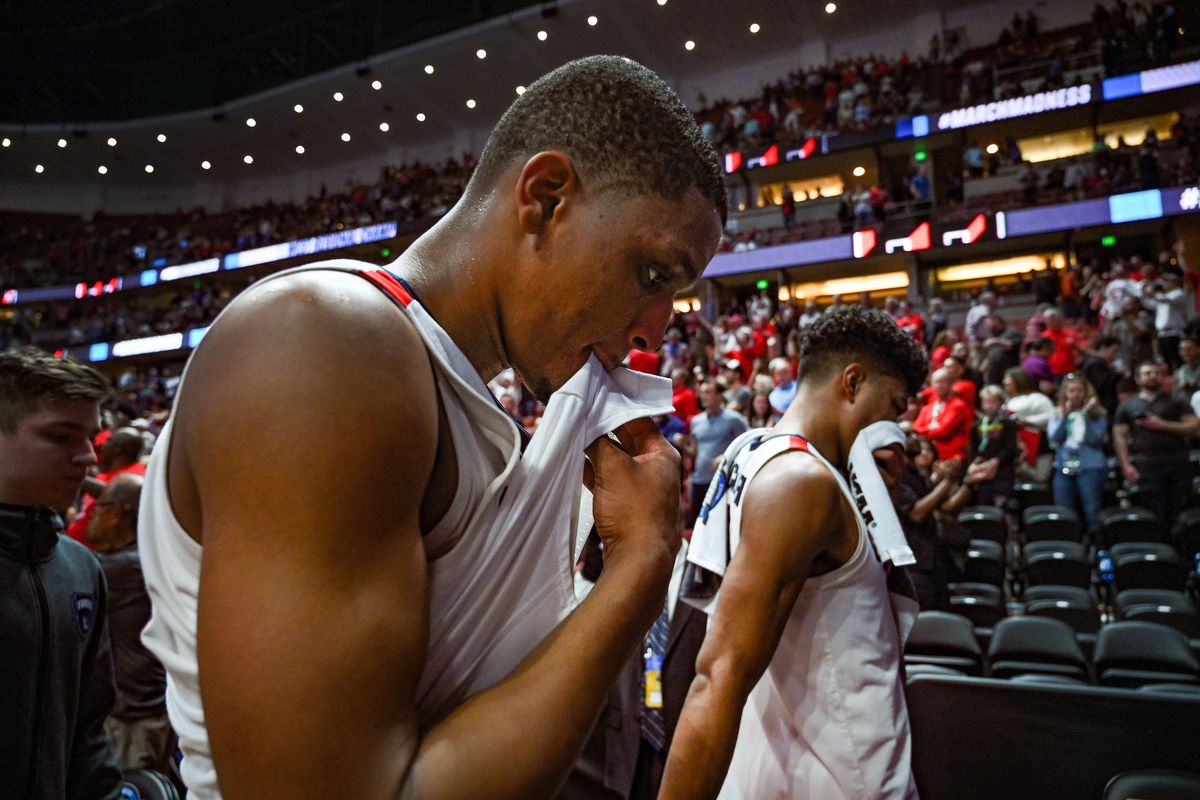 Gonzaga guard Zach Norvell Jr. (in front ) and Gonzaga forward Rui Hachimura (21) leave the court after Texas tech defeated the Zags in the NCAA West Regional Final college men's basketball game Thurs., March 30, 2019, at the Honda Center in Anaheim, Calif. . (Colin Mulvany / The Spokesman-Review)
Local journalism is essential.
Give directly to The Spokesman-Review's Northwest Passages community forums series -- which helps to offset the costs of several reporter and editor positions at the newspaper -- by using the easy options below. Gifts processed in this system are not tax deductible, but are predominately used to help meet the local financial requirements needed to receive national matching-grant funds.
Follow along with the Zags
Subscribe to our Gonzaga Basketball newsletter to stay up with the latest news.
---