Sports > Gonzaga basketball
John Blanchette: Every Gonzaga season has ended in hurt, but none match the pain felt right now
March 30, 2019 Updated Sat., March 30, 2019 at 10:33 p.m. ANAHEIM, Calif. – For all the ways Gonzaga basketball has changed the very face of Spokane in these past two decades, every Bulldogs season has still ended in hurt.
Only one team each year can avoid it. Those are the rules.
But for the Zags, this was the Biggest Hurt.
You can think back to Ronny Turiaf, with his jersey pulled up over his head to hide his pain, and Adam Morrison's tears and surely the Bulldogs of 2017 coming up a minute and a half short of a national championship. Hard moments, all.
This was the hardest.
The emotion spilled out of the Zags the instant their 75-69 loss to Texas Tech in the NCAA tournament's Elite Eight – and their season – ended. It was seen in everything from Josh Perkins slumping into the last chair of the bench and hanging his head to Rui Hachimura making his way through the handshake line with a hand over his face to the sobs of Brandon Clarke and Zach Norvell Jr. echoing in the tunnel as they made their way to the locker room.
Each with a teammate by his side. A shoulder, an arm around the waist.
A crutch.
"Everybody was sad for the next guy," said senior Geno Crandall, "more than they were sad for themselves."
And the sadness was deeper than ever.
The No. 1 seed? Forget that. No. 1s lose every tournament. North Carolina took a beatdown on Friday in the Sweet 16. The numbers aren't remotely relevant.
But there have been Gonzaga teams that thought they might have the goods to win a national championship, and others that believed it. As noted, one had it within its grasp.
These Zags were different.
Not only did they know they had those goods, they felt it was their destiny to win it all – and, nearly every night, played like it. So when they weren't up to the task on Saturday, it was devastating.
"It sucks we lost the game," said Perkins, "but it hurts to feel you let people you love down."
The stakes were certainly enough, but it forever seems as if Gonzaga's NCAA outings aren't just games but referendums. In this one, it was the best offense in college basketball – the Zags – against the best defense.
Defense wins.
Clutch wins.
Breakdowns don't win.
Against Tech's many-tentacled defense – "handsy," virtually every Bulldog called it – Gonzaga committed 16 turnovers total and shot just 36 percent in the second half. Twice within two minutes in the late going, the Zags lost Tech's Davide Moretti – who had been a stick-figure drawing to that point – for 3-pointers, and suddenly the Red Raiders were up six. And then came what looked to be the game's defining moment – Tech's Tariq Owens flying out from underneath to block Hachimura's 3-point attempt with a minute remaining, and saving it inbounds to teammate Brandone Francis.
Problem was, Owens stepped on the sideline. But no official saw it, the lead grew to 69-62 on a Francis free throw, and the play became barely a footnote.
Instead, Perkins made himself the bigger story with 11 seconds to play when – out of instinct or desperation – he reached over the end line and clipped Tech's Matt Mooney on the wrist as he tried to inbound the ball with a two-point lead. The automatic technical foul, Moretti's two foul shots and possession of the ball settled it.
"It's hard to feel that it's not all on me," Perkins admitted. "I'll be thinking about it forever."
Never mind that in the previous 35 seconds, Perkins made a ridiculously tough finish in the key, a tie-up for a Texas Tech turnover and a pull-up 3, getting the Zags back within a bucket, giving them a chance.
So his teammates weren't going to stand for the "that's Josh" narrative that too many people have tried to attach to the Perkins years.
"Hopefully, people don't talk about just that one play," said Norvell. "He's been the guy for the peak of Gonzaga's program. The right and the wrong – he always took everything on the chin. I love him to death."
Said Hachimura, looking a questioner dead in the eye, "He's the greatest leader I ever met."
But now there's nothing left to lead. He's off to "real life" as he put it. Hachimura and Clarke are all but locks to address their professional futures; Norvell and Killian Tillie will weigh their options. It could be a full roster churn and a young team next year, or something more. There will be intrigue, for sure.
And one player who can't come back seemed to desperately want to.
"I don't want to take this jersey off," said Perkins, nearly overcome again, "because when I do, I won't get to put it on again."
On a night of big hurts, maybe the biggest hurt of all.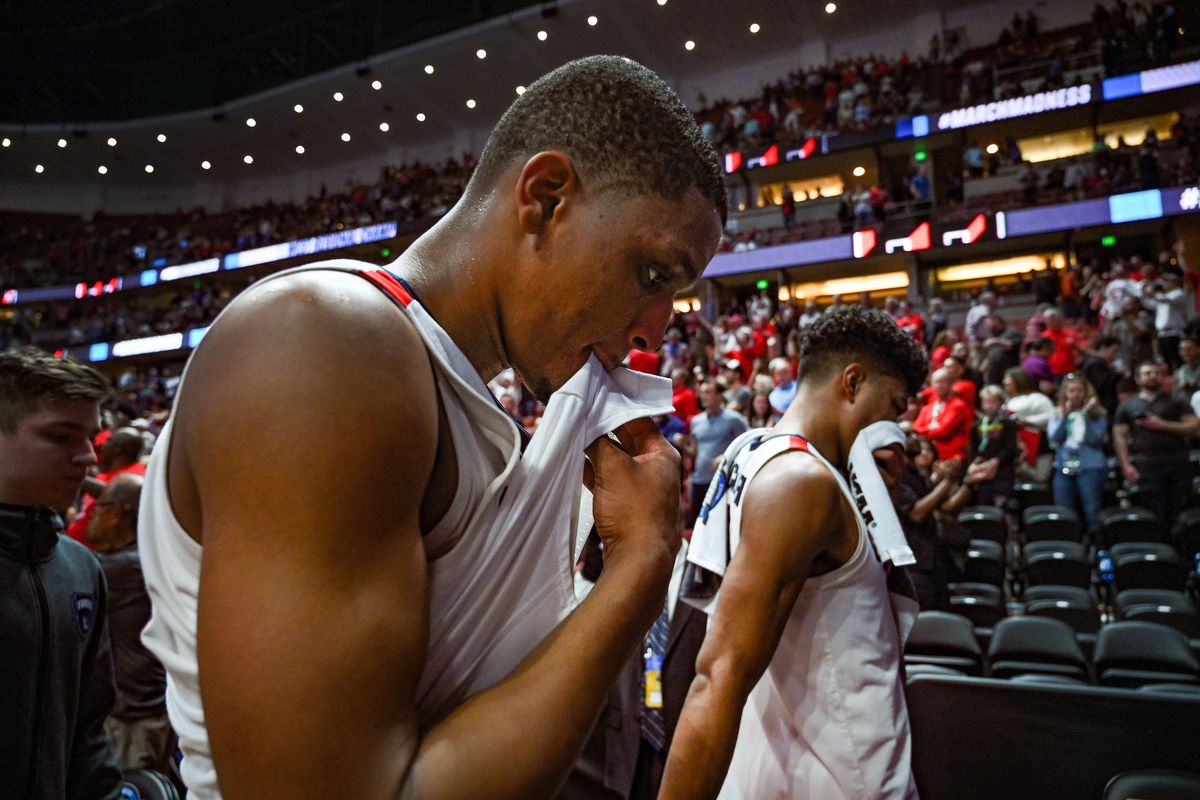 Gonzaga guard Zach Norvell Jr. (in front ) and Gonzaga forward Rui Hachimura (21) leave the court after Texas tech defeated the Zags in the NCAA West Regional Final college men's basketball game Thurs., March 30, 2019, at the Honda Center in Anaheim, Calif. . (Colin Mulvany / The Spokesman-Review)
Local journalism is essential.
Give directly to The Spokesman-Review's Northwest Passages community forums series -- which helps to offset the costs of several reporter and editor positions at the newspaper -- by using the easy options below. Gifts processed in this system are not tax deductible, but are predominately used to help meet the local financial requirements needed to receive national matching-grant funds.
Follow along with the Zags
Subscribe to our Gonzaga Basketball newsletter to stay up with the latest news.
---