Josh Perkins: 'Hard not to think about' technical foul that cost Gonzaga in closing seconds of Elite Eight loss ANAHEIM, Calif. – It may not offer any comfort or relief to Gonzaga fans now, but the Bulldogs could've had the ball back with a chance to tie the game had Josh Perkins not drawn a technical foul for reaching over the baseline and swiping Matt Mooney's arm during an inbound play with 10 seconds left.
The Texas Tech guard was eyeing an open teammate when he pump-faked and drew contact from Perkins, whose left hand caught Mooney's right arm before he was able to put the ball in play.
"I was just trying to get it in and I was struggling to find somebody," Mooney said. "He kind of bailed me out and reached across and grabbed my arm. The ref saw it and made the right call. I've never seen that happen before, but obviously you can't do that."
"He kind of bailed me out" were the words GU fans probably didn't need to hear after a 75-69 loss ended the Bulldogs' season, two games short of the national championship game many had picked them to reach.
The Red Raiders led 71-69 when Perkins was whistled for a technical – not more than 12 seconds after the senior gave the Bulldogs life with a momentum-swinging, fast-break 3-pointer that cut a five-point GU deficit to two points.
But Perkins' foul was as fatal as his shot was as big. Davide Moretti went to the free-throw line and hit two free throws, putting Texas Tech up 73-69. The Bulldogs had to foul on the ensuing possession, giving Jarrett Culver two more chances at the stripe. He converted both, putting the game out of reach at 75-69.
"It's just hard not to think about that violation," Perkins said afterward. "The whole time, we were saying 'believe' in the huddle, and we thought no matter what, we'd win that game. But that violation kind of put things to a halt, and it's hard for me not to think that's all on me. So, I can't lie, that's the only thing I'm thinking about right now. … It sucks we lost the game, but it hurts feeling like you let people you love down."
Players in both locker rooms agreed afterward they'd never seen an inbound situation play out like that – and didn't know contact could result in a technical.
"I didn't, to be honest," Perkins said. "He was ball-faking a lot, and I thought he ball-faked right in front of me, and I guess instincts kicked in and I tried to swipe it away."
Said Moretti: "You can't just go and grab the ball from your opponent, so I kind of figured it out."
Officials went to the scorer's table for a video review before confirming the technical call. Gonzaga's Killian Tillie saw Mooney reach the ball across the baseline, so he thought perhaps refs would give Perkins the benefit of the doubt.
"I mean, the guy reached the ball, too," he said. "So they both reached."
Ultimately, the call went against the Bulldogs, and a consequential moment in Saturday's Elite Eight loss left their fans wondering what could've been.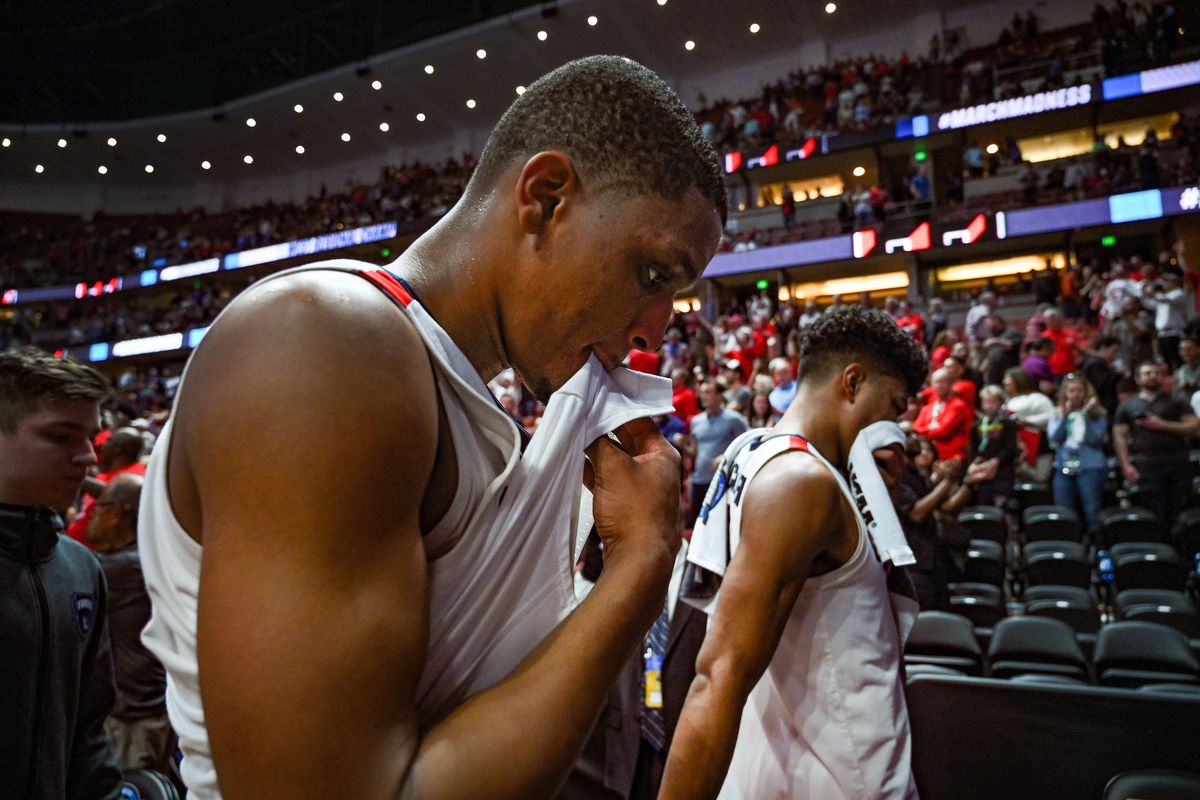 ---