News > Transportation
Spokane drivers: It's time to prepare for the zipper merge
Sat., March 30, 2019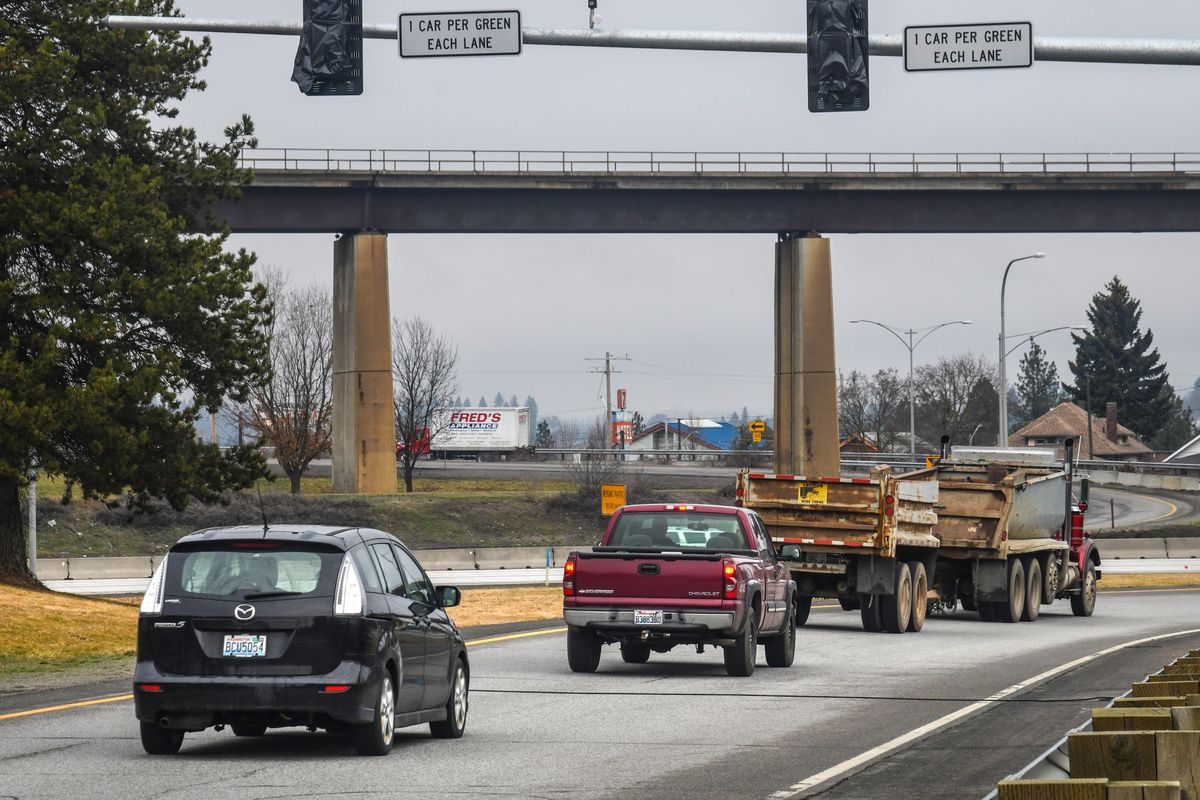 Motorists drive under the ramp meter, similar looking to a traffic signal, where northbound U.S. Highway 195 joins eastbound I-90, on Friday, March 29, 2019. The meter goes into operation on April 9. (Dan Pelle / The Spokesman-Review)
Slow your roll, merging motorists.
The city's first freeway ramp meter will begin operation next month on the northbound U.S. Highway 195 ramp to eastbound Interstate 90.
The Washington State Department of Transportation, which installed the meter last year, will turn it on at 6:30 a.m. on April 9. The meter, which looks like a traffic signal, will alternate red and green, and portion out the cars joining the freeway.
Most ramp meters in Washington create a four- to 15-second delay between vehicles entering a freeway, spacing them out and allowing for the "zipper merge."
Motorists trigger the ramp meter by driving up to the white line on the ramp. If the light is red, stop. When it turns green, merge into traffic. The meter will be operational from 6:30 a.m. to 9 a.m. and 2 p.m. to 6 p.m. weekdays.
By creating space between vehicles, the ramp meters have not only proven to reduce collisions by 30 percent, but also help to alleviate the "shock wave" caused by a line of cars attempting to merge with an already dense collection of vehicles on the freeway.
In this way, the meters help overall traffic flow. On Interstate 405 in Renton, ramp meters have eased congestion and shaved three to 16 minutes off travel times, WSDOT said.
However, for motorists who take the 195 to I-90 route, WSDOT estimates drive times will be increased by an additional two minutes.
Though it's the first of its kind in the Inland Northwest, WSDOT will install five other meters in Spokane during the 2020 construction season at the busy I-90 eastbound interchanges at Walnut, Monroe, Division and Hamilton, and a meter on westbound Division on ramp as well.
Ramp meters have been used for decades in the U.S, and the first was installed on the Eisenhower Expressway in the 1960s. Measurements in the Minneapolis-St. Paul region showed reductions in travel time, collisions and emissions, and an increase in traffic speed, following the installation of ramp meters.
Washington state's first meter was installed in the Puget Sound area in the 1980s.
Their presence in Spokane is an indication not only of the city's growth, but of the inability and unwillingness of WSDOT to widen I-90. Besides the prohibitive cost of expanding the elevated freeway, WSDOT has moved away from freeway widening and toward "next generation transportation investments so we are stewards of system and not just the builder of projects," according to a July speech made by WSDOT head, Roger Millar.
This stewardship is on display on I-90 in Spokane. WSDOT has a team of emergency responders on the freeway during rush hour looking for cars to push out of traffic, tires to change and empty gas tanks to fill. It's also considering redesigning parts of the roadway that have outdated "weaving" intersections. Workers at the Spokane Regional Transportation Management Center watch the freeway 24 hours a day examining conditions and monitoring traffic.
Local journalism is essential.
Give directly to The Spokesman-Review's Northwest Passages community forums series -- which helps to offset the costs of several reporter and editor positions at the newspaper -- by using the easy options below. Gifts processed in this system are not tax deductible, but are predominately used to help meet the local financial requirements needed to receive national matching-grant funds.
Subscribe now to get breaking news alerts in your email inbox
Get breaking news delivered to your inbox as it happens.
---