Sports > Gonzaga basketball
TV Take: Gonzaga left to wonder what could have been after Texas Tech clamps down on Zags' Final Four hopes
UPDATED: Sat., March 30, 2019 Going into the Elite Eight matchup between the nation's most efficient offensive team, Gonzaga, and the nation's most efficient defensive squad, Texas Tech, there was an easy narrative to latch on to.
The faster the game, the better it was for the top-seeded Bulldogs.
Except it really wasn't. The Red Raiders' swarming defense forced the Zags into hurrying on offense, especially after halftime, and that resulted in 16 turnovers and 42 percent shooting – 36 percent in a 32-point second half.
The result?
Texas Tech shut out the Zags over 7 minutes in two second-half stretches and reached its first Final Four, 75-69, in Anaheim, California. The Zags' season ended one game short of their second Final Four appearance.
Watching at home, it was nice to be accompanied by the TBS crew of Kevin Harlan on the play-by-play, along with Dan Bonner and Reggie Miller analyzing the action.
What they saw …
• In a game this tight, one call, or lack of a call, sometimes decides who moves on. That may have happened Saturday.
With less than a minute left, and Gonzaga trailing 68-62, Tariq Owens blocked Rui Hachimura's 3-point attempt.
"That's the play of the tournament right there," Miller said as Gonzaga was fouling to stop the clock.
There was one problem. As the ball flew backward, Owens stepped out of bounds and then jumped and saved the ball. The Red Raiders (30-6) hit both free throws – two they shouldn't have had.
Neither Earl Walton, on the baseline, nor John Higgins, on the sideline, saw it. And it's not reviewable under NCAA rules.
The TBS crew did see it, though, after a possession.
"He was clearly out of bounds," Bonner said. "The officials missed that one."
"I think the officials got caught up on the big block," Miller said.
• Higgins, however, did see Josh Perkins, who had a hit a transition 3-pointer to get GU close, reach out of bounds with 11 seconds left and touch Matt Mooney with Gonzaga (33-4) trailing 71-69. The ensuing technical free throws, and possession, ended the Zags' comeback.
• Bonner nailed the Zags' biggest second-half problem – Gonzaga went 12 minutes in the period with just three field goals – with a succinct comment midway through their second scoreless streak.
"They are taking bad shots," Bonner said.
• There was one stretch of up-and-down basketball in the first half, with both teams getting good looks and making shots.
It was out of character for Texas Tech, which Miller noticed.
"Dan," he said to his analyst partner, "you're messing with fire. You can't get in a shootout with Billy the Kid. You just can't."
Those words were just out of his mouth when Matt Mooney hit a 3-pointer, one of five the Red Raiders hit in the first half. That allowed Miller to hedge his bet a bit.
"Maybe you can," he said.
• Miller's best line of the first half, though, had to do with 6-foot-2 Texas Tech guard Davide Moretti trying to guard Gonzaga's 6-8 Hachimura. And failing, at least early.
After another Red Raider defensive switch, and another Hachimura basket – he finished with a game-high 22 points – Miller had enough. He complained about Texas Tech's choice.
Bonner explained the Red Raiders' lack of big men, so someone had to guard Hachimura.
"It shouldn't be him," Miller said emphatically.
What we saw …
• It seemed that early on, its aggressiveness was going to cost Texas Tech any chance of competing. The Red Raiders' best bigs, Owens and Norense Odiase, picked up two fouls apiece early in the first half. That seemed to be by design, as Bonner noticed.
"What we are seeing early in this game, Reggie, is Gonzaga really forcing the ball inside," he said. "Texas Tech is a team that has a pretty high foul rate anyway. They are going to run out of guys."
Nope. Though both played with the two fouls, neither received a third, as only 11 total were whistled in the first half.
• There was an interesting confrontation midway through the second half between Mark Few and Walton during a Gonzaga-called timeout.
Few seemed upset with the lack of calls on the inside, as Texas Tech poked another ball away from Hachimura.
He and Walton were nose-to-nose, and it caught the eye of the broadcast crew.
"There is a coach who is face-to-face with a terrific official," Harlan said.
The first part of that statement was true. The second part?
The next Gonzaga possession, Hachimura drove baseline and Owens flopped. Walton called a foul on Hachimura.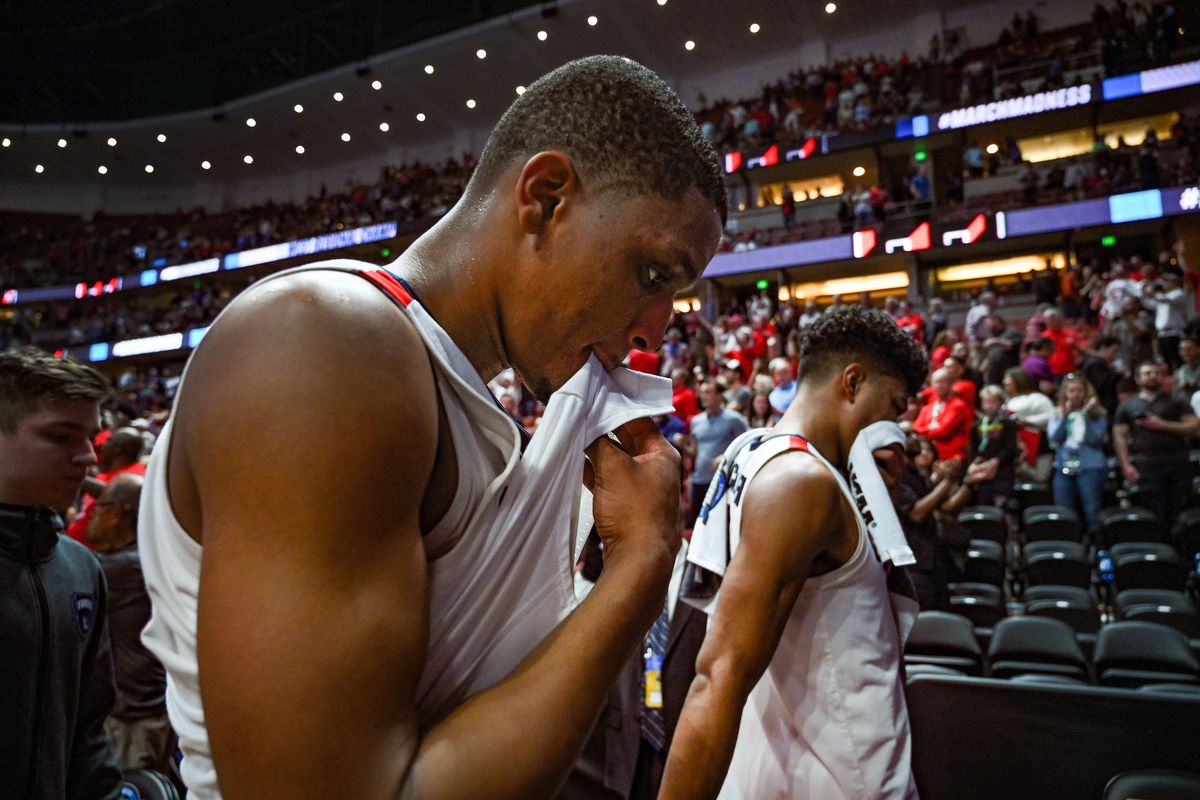 Gonzaga guard Zach Norvell Jr. (in front ) and Gonzaga forward Rui Hachimura (21) leave the court after Texas tech defeated the Zags in the NCAA West Regional Final college men's basketball game Thurs., March 30, 2019, at the Honda Center in Anaheim, Calif. . (Colin Mulvany / The Spokesman-Review)
Local journalism is essential.
Give directly to The Spokesman-Review's Northwest Passages community forums series -- which helps to offset the costs of several reporter and editor positions at the newspaper -- by using the easy options below. Gifts processed in this system are not tax deductible, but are predominately used to help meet the local financial requirements needed to receive national matching-grant funds.
Follow along with the Zags
Subscribe to our Gonzaga Basketball newsletter to stay up with the latest news.
---