Sports > National sports
Women's NCAA Tournament: Baylor beats South Carolina 93-68, returns to Elite Eight in Greensboro Regional
UPDATED: Sat., March 30, 2019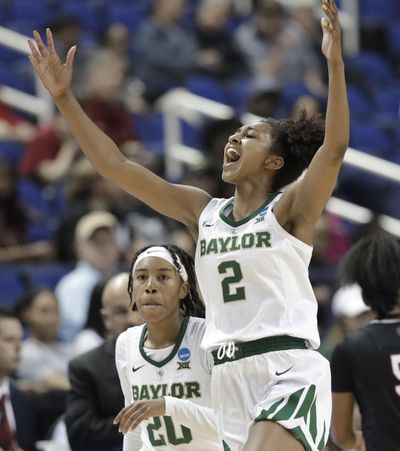 GREENSBORO, N.C. – Kim Mulkey has led Baylor to two national titles, so she knows the traits a contender ought to have.
"We're on a roll, and that's what it takes in the playoffs," Mulkey said. "You need to get on a roll, you need to stay healthy and have a little bit of luck."
Her Bears are still rolling through the bracket. No luck needed.
Baylor reached the Elite Eight for the fifth time in six years with another dominant performance, leading by as many as 30 points in a 93-68 victory over South Carolina on Saturday in the Greensboro Regional semifinals.
Didi Richards scored a career-high 25 points, and two key parts of the frontcourt – Kalani Brown and Lauren Cox – each had double-doubles for the No. 1 overall seed in the women's NCAA Tournament. Cox had 17 points and 14 rebounds, while Brown had 18 points and 10 boards.
"I was scoring, but I mean, I was also passing and able to find my teammates," Brown said. "And when everybody's scoring, I'm happy. If I can take a quiet 18 and 10, that's fine."
The Bears shot 52 percent to win their 26th straight game and blow out South Carolina for the second time this season.
Juicy Landrum and Chloe Jackson each finished with 12 points for the Bears (34-1). They will play second-seeded Iowa (29-6) on Monday night, with the winner advancing to the Final Four.
"We're just happy to get to the Elite Eight at least, and make it to the Final Four eventually," Richards said.
Behind the elite front line of the 6-foot-4 Cox and the 6-7 Brown, the Bears dominated the lane and the glass.
Baylor built a 54-30 rebounding advantage, held the Gamecocks to two second-chance points and outscored them by 30 in the paint.
Te'a Cooper scored 17 points and Mikiah Herbert Harrigan added 16 for the fourth-seeded Gamecocks (23-10).
They tried to make things interesting, pulling to 64-48 on Bianca Cuevas-Moore's free throw with 2:31 left in the third quarter. Brown hit a putback and Richards followed with consecutive layups in transition to push Baylor's lead back into the 20s.
Iowa 79, North Carolina State 61: Megan Gustafson had 27 points and 12 rebounds to lead the Hawkeyes (29-6) past the Wolfpack (28-6).
Hannah Stewart added 16 points and 10 rebounds. Gustafson, who averages a Division I-best 28 points while also ranking second in rebounding, finished with her 33rd double-double to match the NCAA's single-season record. She made 10 of her 13 shots.
They helped the second-seeded Hawkeyes earn their first Elite Eight appearance since 1993.
Freshman Elissa Cunane had 14 points and 11 rebounds, Kiara Leslie had 16 points and DD Rogers added 12 points for the third-seeded Wolfpack, who shot just 35 percent.
Local journalism is essential.
Give directly to The Spokesman-Review's Northwest Passages community forums series -- which helps to offset the costs of several reporter and editor positions at the newspaper -- by using the easy options below. Gifts processed in this system are not tax deductible, but are predominately used to help meet the local financial requirements needed to receive national matching-grant funds.
Subscribe to the sports newsletter
Get the day's top sports headlines and breaking news delivered to your inbox by subscribing here.
---