Sports
Grip on Sports: Gonzaga experiences the one constant in sports – the pain of losing
Sun., March 31, 2019, 8:27 a.m. A GRIP ON SPORTS • Two years ago, Gonzaga's season ended a couple points short of every college basketball team's ultimate goal, the NCAA title. Last night, this season ended a couple points short of the Bulldogs' immediate goal, the Final Four. For a team that thought it had all the components of a national championship team, it hurts. Read on.
••••••••••
• Pain comes in many forms, doesn't it? Physical, emotional, love, loss, blood, sweat. All types. And all types Gonzaga's players experienced around 6 p.m. last night.
John Blanchette uses the written word to illustrate it all in his column from the Honda Center while Tyler Tjomsland and Colin Mulvany focused their cameras to give you a visual representation.
But nothing can really catch the anguish within any athlete that comes up short of a goal they not only worked hard to achieve – a commonplace occurrence among college athletes of this caliber – but also believed without reservation they could achieve – something that is not as common.
When that belief is shattered, all that is left is a certain type of pain. A pain that will linger for longer than most will ever understand.
There is a reason "the agony of defeat" became a cliché. It is true. And universal for those who thrust themselves into the arena. Any arena.
• No Gonzaga player has appeared in more NCAA Tournament games than Josh Perkins. Few have had more impact. And yet, when his name comes up the next 40 years or so, the second thing most people will mention is one play, one mistake, he made Saturday night with 11 seconds left.
He tried too hard.
At the core, that's the mistake Perkins committed. He tried too hard. And his hands extended into a place they shouldn't have been. Out-of-bounds. When Perkins' over-zealous hands made contact with either Matt Mooney's arm or the basketball Mooney was holding, the Zags' chances of a comeback ended.
It wasn't the only play that decided the game, of course. But it was the most visible of those in the final seconds in what was then a one-possession contest.
Hopefully, it won't change Perkins' legacy. In those 15 NCAA games he played, the Zags won 11 times. That's more than any Gonzaga player as well. That should be his ultimate legacy, not one play that came about because he tried too hard.
• Why hasn't the NCAA made a change concerning out-of-bounds reviews since 2017?
Do you remember this play from the national title game? I do. And I may never forget it. It went a long way toward deciding the outcome of the game. The Tar Heels' Kennedy Meeks was clearly out of bounds, the play was missed and UNC scored to take a three-point lead with less than a minute left.
Believe it or not, it was not reviewable through video then and it is not reviewable now.
Why the heck not?
Ask any official in any sport and they will tell you their ultimate goal is to get the call right. They want both teams to have a contest in which that happens every time. It never does, but that's still their – admirable – goal.
But the NCAA thinks it has done enough with replay to ensure that. The organization is obviously wrong. Not if two of Gonzaga's last three tournament losses hinged in some regard on missed last-minute out-of-bounds' calls that are not reviewable.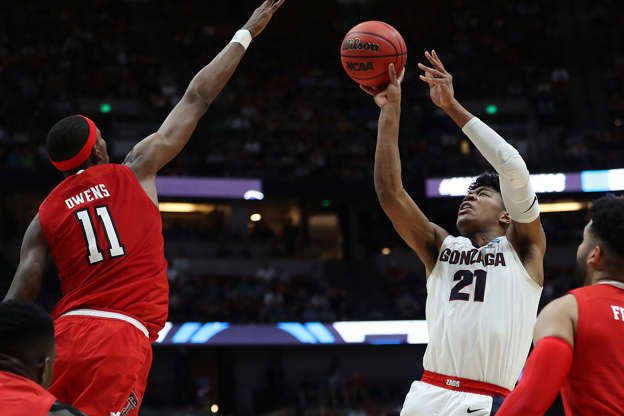 There is the one with Meeks pictured above. And then there was one last night, also with less than a minute remaining. And if one thing had changed, one little thing, it would have been reviewed – and almost certainly changed.
Tariq Owens made an exceptional block of Rui Hachimura's 3-point attempt with less than a minute left last night, then did something unbelievable. He jumped about three feet and saved the ball to a teammate, allowing the Red Raiders to run more time off the clock. In what became a one-possession game over the next 40 seconds, it was a crucial play.
There was only one problem. Owens' play was unbelievable because it was impossible. He had to step out of bounds to make the save. And no one saw it.
Problem is, like the Meeks' play two years ago, it is still not reviewable. The NCAA only allows review if two players are fighting for a ball and the officials are not sure who it touched last.
If Hachimura had turned and deflected the pass out-of-bounds anywhere near Owens, Mark Few could have requested, and quite likely received (considering the circumstances), a review. And the Bulldogs would have been awarded the ball. Instead, the call just goes into the ledger as another miss.
•••
Gonzaga: The Zags' season ended last night with 33 wins and just four losses. The last two defeats had one thing in common. Gonzaga never really got its offense in gear. Jim Meehan witnessed all 37 games, which helps make his game analysis from Anaheim so on-point. … Jim also has the keys to the game, and a story on two key shots down the stretch. … John not only has his column this morning, but also a piece on two Texas Tech grads who are now Gonzaga fans. … Theo Lawson asked the underclassmen about their professional plans and all said it was too early to comment. He also has a story on Perkins' play. … Justin Reed looks at the seniors' legacy and the all-regional team. … The guys in the office have a recap with highlights. … As we said, Tyler and Colin have the photo report. … We watched at home like a majority of you and wrote our TV Take. … There is more from Southern California. And from the Seattle Times. … The baseball team picked up a win.
WSU: A three-star running back has committed to the Cougars. Theo has more in this story. … Elsewhere in the Pac-12, there is football news from Washington, Utah, USC and Colorado. Heck, there is a lot from the Huskies. … Basketball? Well, Oregon is trying to make its first trip to the Final Four under women's coach Kelly Graves.
Chiefs: One series done, another looming. The Chiefs defeated Portland 4-1 last night at the Arena and won the first-round WHL playoff series by the same game score. Now Spokane will face Everett. Kevin Dudley has all the particulars in this story.
Preps: Former Spokane-area high school stars Match Burnham and Justin Martin earned NAIA basketball All-American honors.
Mariners: Hey, the M's won again last night. Despite a ninth-inning from hell. Is that why they call it the hot corner? Gene Warnick summarizes the win in this Out of Right Field column and then adds some seasonal context in another one. … If you have questions, there are answers. … Hunter Strickland will be out a while.
Sounders: The potent offense disappeared, but Seattle did earn a scoreless draw against Vancouver.
•••
• There was a different type of pain around our house this morning. After working in the yard for a few hours yesterday, this 62-year-old body made it clear it wasn't happy with our brain's choices. The back is ticked. The legs aren't happy. And the right arm, after raking and shoveling the dogs' formerly snow-covered winter legacy, just wanted to rest. But everyone rallied and came together to get this column done. The complaints receded to the background as the muscles and joints, professionals all, forgot their individual hurts for the good of the team. As soon as this column is posted, however, I expect their agents will be on the phone to their union. Until later …
Subscribe to the sports newsletter
Get the day's top sports headlines and breaking news delivered to your inbox by subscribing here.
You have been successfully subscribed!
There was a problem subscribing you to the newsletter. Double check your email and try again, or email
webteam@spokesman.com
---