News > Spokane
100 years ago in Spokane: Bomb that targeted Seattle mayor arrives for inspection
UPDATED: Thu., May 2, 2019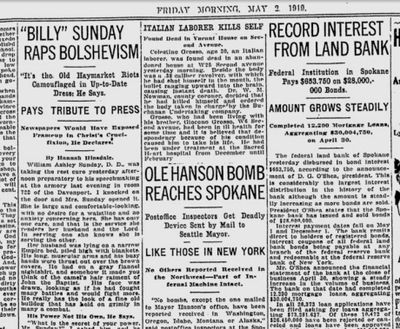 A bomb received by Seattle Mayor Ole Hansen was shipped to Spokane for inspection.
The device, which did not explode, was part of a wave of bombs sent to prominent officials across the country by anarchists.
Meanwhile, Hansen was in Kansas promoting Victory bonds. In a speech to the Topeka Chamber of Commerce, Hansen attacked Wobblies and anarchists.
"I trust Washington will buck up and either hang or incarcerate for life all the anarchists in the country," he said. "If the government doesn't clean them up I will. I'll give up my mayorship and start through the country. We will hold meetings and have hanging places."
From the labor beat: Restaurant workers demanding a six-day work week went on strike at three downtown cafes.
The three restaurants, the Big Seven, the White Lunch and White Lunch Annex, were all owned by H.M. Wilcox.
An agent for the restaurant workers' union said 40 other restaurants with union workers in the city already had agreed to the six-day week.
From the bread beat: Nine small bakeries in Spokane were in operation and adding shifts "to supply the city with bread" as workers at the two largest bakeries remained on strike, the Spokane Daily Chronicle reported.
Bakers went on strike a day earlier, demanding a $4 per week increase in pay and the end of Sunday work.
The city's two largest bakeries, the Spokane and Jessmer bakeries, were holding out and running with reduced forces recruited from non-union workers.
From the war finance beat: A rally held by Billy Sunday at the Spokane armory attracted 5,000 people and sparked the sale of $168,000 in Victory bonds to help pay for the United States' involvement in World War I, The Spokesman-Review reported. Sunday was the nation's most popular evangelist.
From the military beat: James A. Drain was elected Spokane County clerk in 1899 and served one term. He later moved to Washington D.C. to be the editor of Arms and the Man, a military publication.
While living in Spokane, he lost his right hand in a hunting accident.
Despite this, he was accepted for service in World War I, serving in the tank corps. The Spokane Daily Chronicle reported that he was awarded the French Legion of Honor for his service.
Jim Kershner is on sabbatical.
Local journalism is essential.
Give directly to The Spokesman-Review's Northwest Passages community forums series -- which helps to offset the costs of several reporter and editor positions at the newspaper -- by using the easy options below. Gifts processed in this system are not tax deductible, but are predominately used to help meet the local financial requirements needed to receive national matching-grant funds.
Subscribe to the Coronavirus newsletter
Get the day's latest Coronavirus news delivered to your inbox by subscribing to our newsletter.
---