Marketing > Sponsored
Learn how to shed your costly debt and fend off its return
Thu., May 2, 2019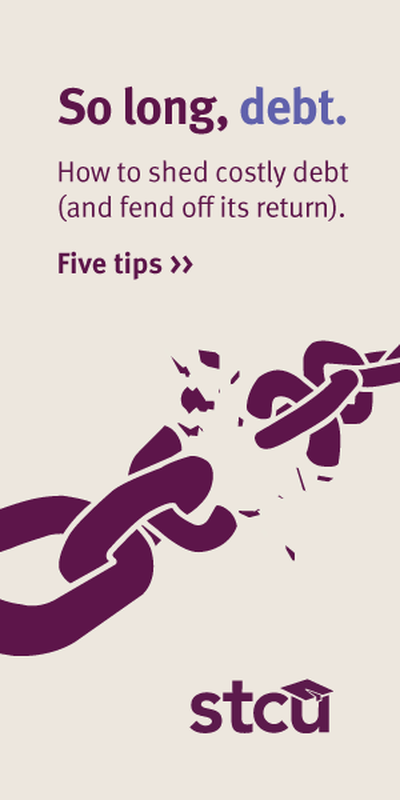 If you're in debt, you're among friends.
Total U.S. household debt reached a new high at the end of 2018 ― $13.5 trillion, according to the Federal Reserve. Here are a few ways to help you shed your debt and to keep it off.
Choose a method to pay down credit cards.
There are a few ways to shed debt. You could start with the smallest balances and move on to larger balances. Or pay off debts with the higher interest rates first and lower interest rates later. Or combine the two strategies.
Consider these factors:
Paying off smaller debts first nets quicker "wins" to motivate you to keep going.
Paying off debts with higher interest rates usually saves more money in the long run.
A hybrid method can help you start with an early win, providing motivation to then attack a high-cost debt.
Pay with cash or debit.
Don't make matters worse. Avoid using credit cards for most purchases unless you plan to pay off the balance quickly. Otherwise, your groceries, gas, clothing, and household goods could cost you significantly more than you originally paid.
Stash some cash.
Track your daily spending for at least a month, and look for discretionary purchases. Cut back where you can, spending only on essentials ― especially if you're in debt-pay-down mode.
Find more debt-shedding tips on STCU's financial education blog.
Local journalism is essential.
Give directly to The Spokesman-Review's Northwest Passages community forums series -- which helps to offset the costs of several reporter and editor positions at the newspaper -- by using the easy options below. Gifts processed in this system are not tax deductible, but are predominately used to help meet the local financial requirements needed to receive national matching-grant funds.
Subscribe to the Coronavirus newsletter
Get the day's latest Coronavirus news delivered to your inbox by subscribing to our newsletter.
---