News > Spokane
Tiny house notion: Legislators, advocates for affordable housing see benefits of growing market
Thu., May 2, 2019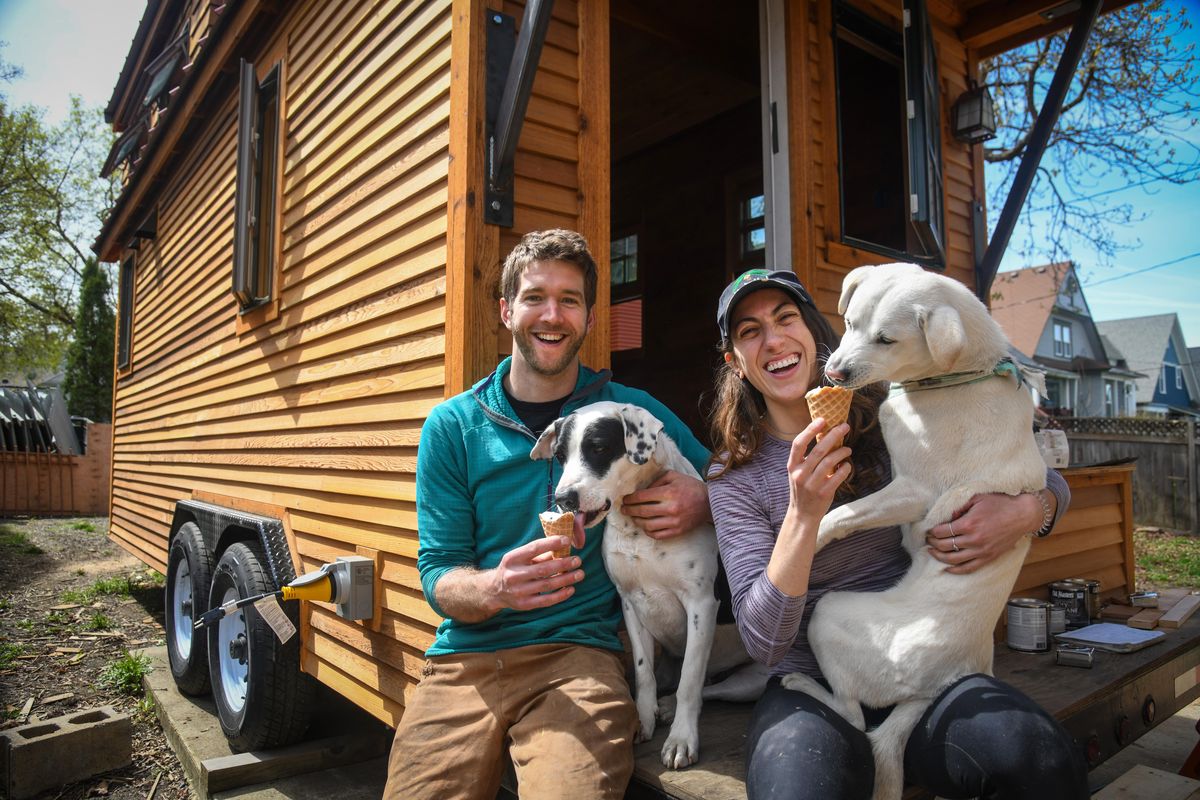 Henry Hagood and Grouper, along with Mallory Koula and Wizard, will be taking their tiny home to Montana. (Dan Pelle / The Spokesman-Review)Buy a print of this photo
Tiny houses have gained popularity in the past few years among people choosing to live in the small spaces for environmental reasons, to be part of a community, or to alleviate the burden of a mortgage and monthly bills.
For Spokane resident Henry Hagood, building a tiny house has economic benefits.
Hagood is constructing a 143-square-foot tiny house to live in, with girlfriend Mallory Koula and his two dogs, while attending graduate school in Montana.
"I love the idea of creating something," he said. "I didn't want to be paying rent, and know that it's hard to find housing."
In 2017, Hagood began construction on the tiny house, which is perched on a travel trailer in the backyard of a property owned by his parents in the Perry District.
He plans to finish construction this summer and haul it to Montana.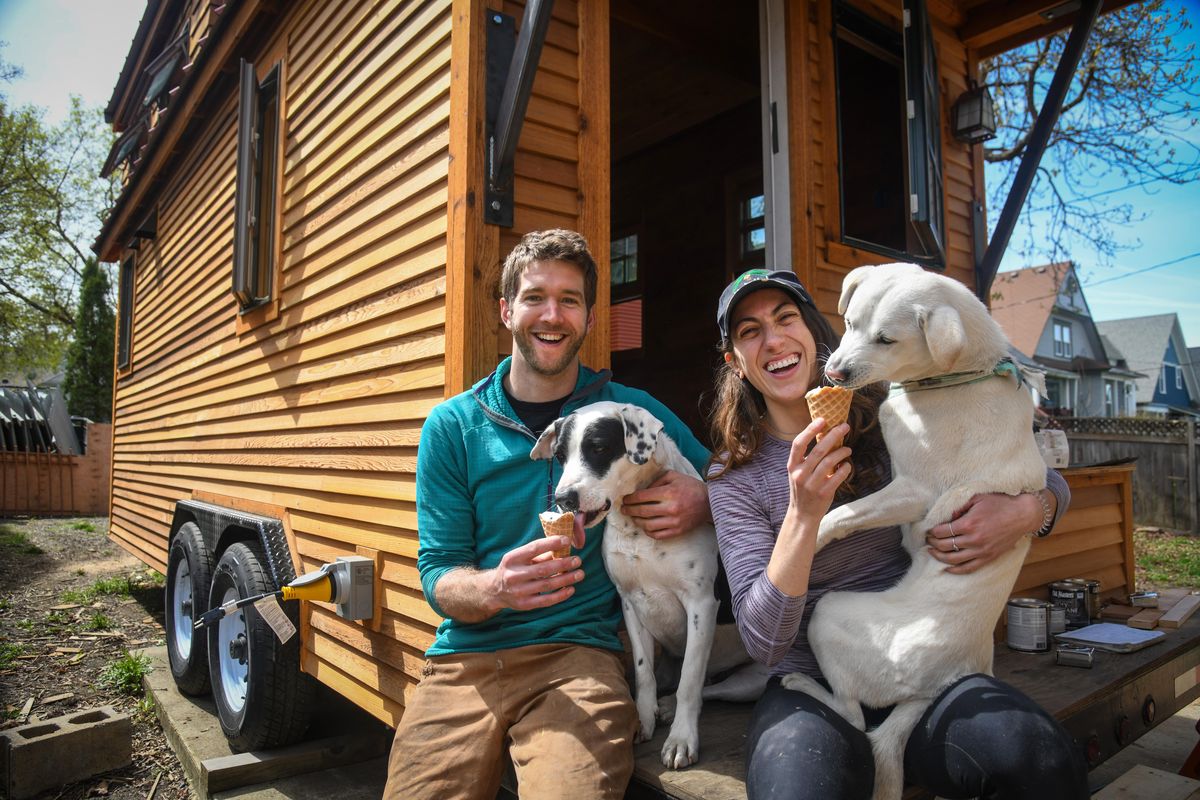 Henry Hagood and Grouper, along with Mallory Koula and Wizard, will be taking their tiny home to Montana. (Dan Pelle / The Spokesman-Review)Buy a print of this photo
Although Hagood is building the house without architectural plans, his stepfather, Tim – a master carpenter – is helping with the project and providing feedback.
"There aren't architectural plans or drawings to consult," Hagood said. "So anytime I run into an unknown – which is often – I'm left to problem-solving and trying different iterations until something works. Some of the time, I've been able to rely on Tim or YouTube."
Hagood is using local, sustainable forestry products, doors and windows from Overhauser's Outlet, exterior siding from Brown Building Materials, and wood from Duff's Specialty Wood in Coeur d'Alene.
Hagood created four stained-glass windows for the house, which took more than 120 hours and required more than 250 pieces of wood for the circular frames. He also incorporated a bronze maritime porthole window in the bathroom area, which pays homage to his experience working on a commercial fishing boat.
Tiny houses – which typically range in size from 100 to 400 square feet – can cost about $20,000 to $30,000 to build.
Hagood has spent more than $35,000 in materials for his tiny house.
Once completed, the energy-efficient house will feature a sitting lounge, counter space, a loft, kitchen appliances, a closet, a spice rack, a bathroom and a small porch.
Hagood said building the tiny house has been a rewarding experience that includes overcoming challenges and learning new skills.
Koula said it's been fun to help with the tiny house and see it come to life.
"I would love to give tiny living a shot and see if we can make it work," she said.
As tiny houses rise in popularity, state legislators responded with a bill that allows tiny houses on wheels to be used as a primary residence in mobile home communities, and authorizes cities to adopt ordinances regulating creation of tiny house communities.
It also requires the Washington State Building Code Council to adopt standards for houses less than 400 square feet by December, and authorizes schools and training programs to contract with community service and nonprofit organizations to build tiny houses for low-income housing without breaking public works competitive-bidding laws.
The bill, sponsored by Sen. Hans Zeiger, R-Puyallup, and passed by both the House and Senate, has been sent to the governor's office.
"We are waiting for Gov. Inslee to sign off on it any day now," said Todd McKellips, executive director of the Washington Tiny House Association, a nonprofit organization that advocates for tiny house legalization.
Government and zoning regulations posed a challenge for tiny houses in the past, and most cities have a square-foot requirement. To get around that requirement, homeowners have built their tiny houses on travel trailers with wheels.
Cities have also indicated a desire for tiny houses but didn't have the legal language to regulate them. Because the state building code will now include definitions for tiny houses when the bill is signed into law, it will help local governments provide opportunities for more tiny houses, McKellips said.
The Spokane City Council passed revisions to zoning laws last year that allow for subdivisions of "cottage housing units," which can allow up to 14 houses per acre in single-family residential areas – if the houses are smaller than 500 square feet. At a February meeting, the city's Plan Commission indicated future plans to create a tiny house guide.
More than five years ago, demand was high for tiny house construction but not high enough for builders to make ends meet. The tiny house bill, once signed, will pave the way for affordable housing options and spur more demand for builders, McKellips said.
"Builders are getting excited about it," said McKellips, referencing the bill. "It will be a booming industry in 2020."
Kevin Polk, president of the American Tiny House Association, said Oregon and Washington are ahead of the nation with legislation allowing tiny houses.
"Washington has the opportunity to enjoy an explosion in how local communities can provide opportunities for people that need more affordable housing," he said. "We are all pretty excited."
There isn't a way to quantify exactly how many tiny houses exist locally or nationally, he said, adding that demand for them has been constrained by local and state laws.
"The lack of ability to get permits to place tiny homes is the most significant factor that has been facing the tiny house world. A lot of people haven't been able to choose to right-size their housing because they couldn't find a place to put it," he said. "As we begin to overcome that, far more people will be able to take advantage of tiny house living."
Hagood and Koula are planning to purchase a standard house in Montana, rent it out and live in their tiny house on the property. If the couple can't find a house to purchase, they will live in the tiny house on a 1-acre property outside of Missoula.
Hagood plans to stay in the tiny house through graduate school and will "see what happens after that."
"I could see myself, I think, being in it for awhile," he said. "I've kind of fallen in love with it."
Local journalism is essential.
Give directly to The Spokesman-Review's Northwest Passages community forums series -- which helps to offset the costs of several reporter and editor positions at the newspaper -- by using the easy options below. Gifts processed in this system are not tax deductible, but are predominately used to help meet the local financial requirements needed to receive national matching-grant funds.
Subscribe now to get breaking news alerts in your email inbox
Get breaking news delivered to your inbox as it happens.
---