Sports
Grip on Sports: The Bloomsday run, the Run for the Roses, none of these are as easy as running down the Mariners' chances
Sun., May 5, 2019 A GRIP ON SPORTS • As thousands of Nike-clad folks prepare to make a 7.5-mile run through Spokane this morning, we sit down at our computer for our daily jog through all the Interweb has to offer. Seems about equal.
••••••••••
• Honestly, my main subject today was going to be all about the first-ever on-track disqualification in the 145-year history of the Kentucky Derby.
But then the president weighed in on Twitter this morning and made it impossible to discuss the outcome without a political tinge.
Such is American life in 2019.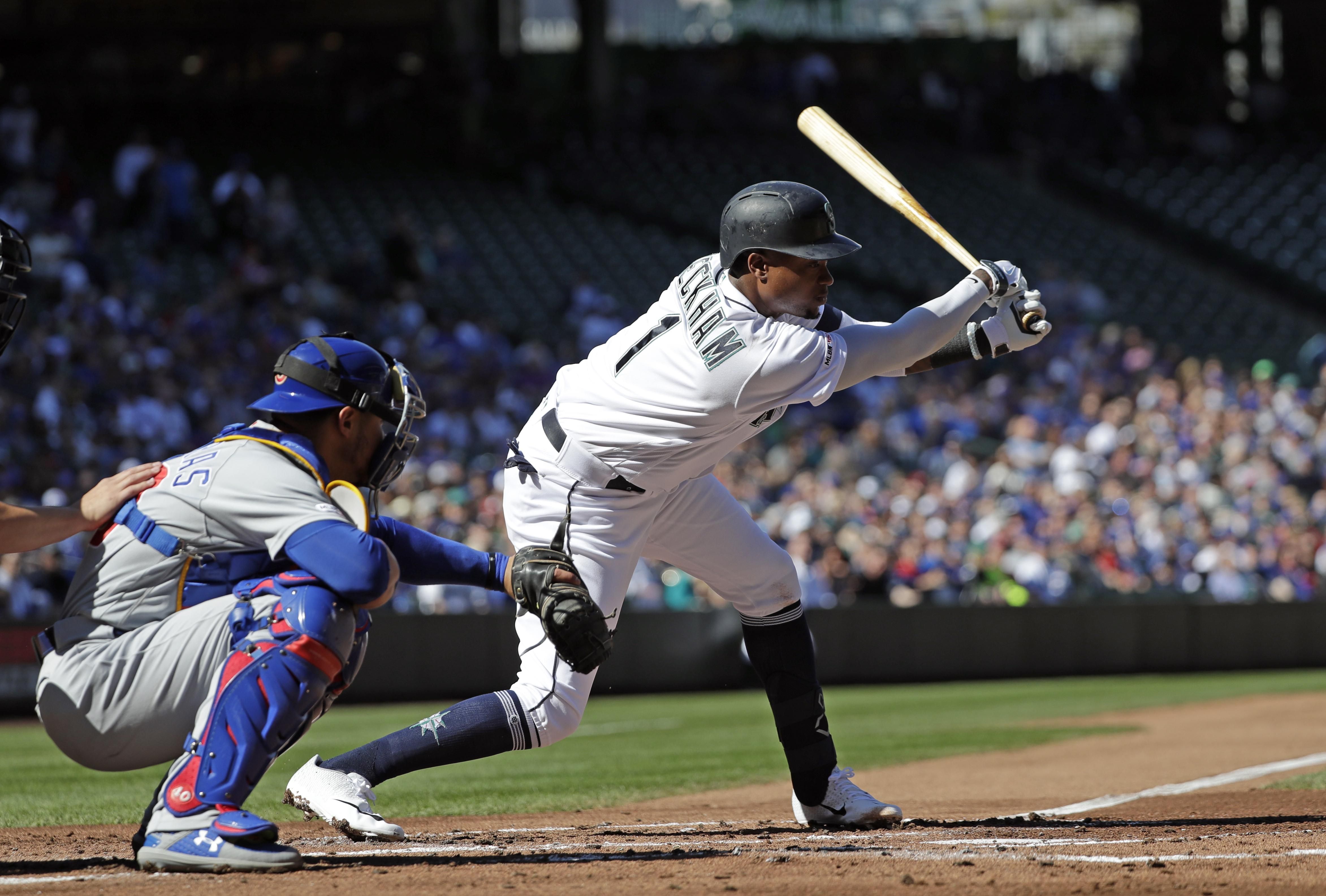 So we will focus, instead, on the Mariners. Both sides of the aisle can agree they aren't very good, though the adjectives each would use might be different.
They are also in the midst of a six-game losing streak, making the 13-2 season start a fading memory and quite irrelevant.
Thank goodness. Who would have wanted to spend the summer months thinking and hoping and anticipating the postseason, only to be disappointed once again?
Not this guy. Fool me once, shame on you. Fool me 19 times, shame on me.
Summer can now be reserved for playing golf. Or yard work (did a lot of that yesterday). Or lounging by a lake. Or, even, listening to Rick and Aaron without any expectation other than a home run here or there, a blown save, an error and, maybe, a rally or two.
When I was a lad, I had a book on the history of baseball. A big book, 8 ½ by 11 inches and about 2 inches thick. I read it so much the binding finally disintegrated.
There was a chapter in this book about the Brooklyn Dodgers. It was titled "The Year That Was 'Next Year.' "
See, the Dodgers lost the pennant race or the World Series so often, for so long, the Brooklyn fans began to greet each other with "wait 'til next year."
Finally, in 1955, next year came. The Dodgers won the World Series.
Mariner fans can relate. Those of you who have lived and died with them since they came into existence have been waiting forever. It seemed as if there was a chance in 1995. And 2001, when it seemed more than a chance. It seemed inevitable. Then Bartolo Colon pounded them with fastballs in the playoff opener, the Indians took them to the final game of the Division Series and the pitching staff was worn out for the American League Championship with the Yankees.
This year is not next year. Neither will be next year. But, hey, someday, things will turn. The M's will win a World Series.
Please drive out to my grave and let me know.
• By the way, I've been watching horse racing pretty intently since the early 1970s. Yes, there was a problem at the head of the stretch yesterday. Should Maximum Security – full disclosure: my pick to win – have been disqualified? The track was muddy, his hind legs slipped a bit, there was no intent to hinder, and it is the freaking Kentucky Derby. There were enough reasons not to disqualify Maximum Security, so the stewards probably should have called it good. A claiming race at Emerald Downs? Throw the proverbial book at the horse. But not here, not on the first Saturday in May.
Which makes it pretty impressive it only took 22 minutes to figure out the right call. Only 22 minutes to make a decision that would be met with a lot of scorn. And a day-after presidential tweet.
•••
WSU: Craig Ehlo is one of the more famous products of George Raveling's coaching tenure at Washington State. He may even be the most famous, though that fame is a two-edged Longclaw or Oathkeeper. John Blanchette caught up with Ehlo recently as we approach the 30th anniversary of his most famous defensive lapse, though it did come in the NBA. …. John also spoke with Ehlo about a personal lapse that thrust Ehlo back into the news a while back. … Yes, the baseball team still only has one conference win. … Elsewhere in the Pac-12, there is not a lot this morning, but the best piece comes from The Oregonian's Ken Goe. Oregon State has an out-of-the-ordinary dynamic going on with their baseball team leadership. … The Oregon women, including G-Prep grad Oti Gildon, won the college 3-on-3 title again. … The FBI probe and trial is hitting home with the Pac-12.
Gonzaga: It's assured Rui Hachimura and Brandon Clarke will stay in the NBA Draft. The same seems more and more likely for Zach Norvell Jr. But what about Killian Tillie? His status is up in the air. Or, after what happened Friday, down by his feet. Jim Meehan has more on Tillie tweaking an ankle in his initial team workout. … There are quite a few local college players headed to the national tennis tournament, led by GU's Sophie Whittle.
Whitworth: The Pirates aren't allowed to wear pads in the spring. It's Division III football, after all. But that doesn't mean they don't practice and hold a special finish. Ryan Collingwood was at the Pine Bowl yesterday and has this story. (Again, full disclosure: The main subject of his story is a friend.)
Preps: We have roundups covering the playoffs in soccer and baseball. … Clarkston High product Joel Dahmen rallied mid-round yesterday and is still tied for the lead in this week's PGA Tour event.
Mariners: Yes, the losing streak is six games after the bullpen faltered late in a 5-4 loss. … Larry Stone looks at the old – Felix Hernandez – and Ryan Divish the new – Jarred Kelenic – today. … There was a trade yesterday. … Dave Nichols handles the Out of Right Field column this week. In it, he examines the possible trades, and the possible return, for the M's. … Gene Warnick has the daily Out of Right Field summary.
Seahawks: There are always stories out of the rookie minicamp. Some of the subjects may even stick around. It is the top draft choices who have the most chance.
Sounders: Seattle traveled to Minnesota and earned a 1-1 draw. … Portland picked up another win, this one at Real Salt Lake.
•••       
• Darn you Bloomsday. As I planned my weekend, my whole goal was to work in the yard Saturday, get out of here early today, head downtown and pay matinee prices for the Avengers. Until I remembered yesterday afternoon Sunday was Bloomsday and there was no chance we were going downtown. My knees ached from kneeling in the dirt. My back hurt from digging holes. My head hurt from having a beer. All of which made me think of Bloomsday. And ruined my planning. Until later …
Local journalism is essential.
Give directly to The Spokesman-Review's Northwest Passages community forums series -- which helps to offset the costs of several reporter and editor positions at the newspaper -- by using the easy options below. Gifts processed in this system are not tax deductible, but are predominately used to help meet the local financial requirements needed to receive national matching-grant funds.
Subscribe to the sports newsletter
Get the day's top sports headlines and breaking news delivered to your inbox by subscribing here.
---