A&E > Beer/Drinks
Winery presses ahead: Bridge Press Cellars celebrates renovations, new ballroom event space
UPDATED: Tue., May 7, 2019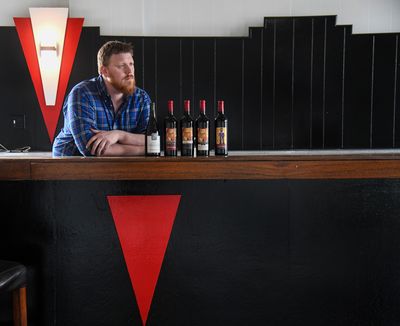 Bridge Press Cellars is a family affair: Patriarch Brian Padrta makes the wine onsite; matriarch Melody Padrta handles the finances; and their son, Andrew Padrta, is a part owner in charge of booking music and events and leads all marketing.
Starting this month, the 25,000-square-foot Bridge Press, which became Washington state's 600th winery when it opened in 2009, officially debuts a second-level ballroom event space to complement its tasting and dining room, bar and music space and outdoor patio, all of which have undergone extensive renovations.
Last weekend the winery at Browne and Pacific hosted a soft opening; this weekend is the official grand opening with the Mother's Day Weekend Wine & Music Festival. The lineup is blues music. Andrew Padrta is an avid supporter of local bands, as evidenced by the lineup at the building, opened in 1905, that has housed Foresters of America, the USO, punk rock club the Grotto and more.
"Spokane has a lot of talented artists and musicians in town, and we wanted to bring them to our venue," Padrta said last Thursday. "I started reaching out, and we've gotten busier and busier. We're now booked with bands every Friday and Saturday for the next nine months. We want to bring in the best talent."
Bridge Press also features an all-genre jam session hosted by Tuck Foster on Thursdays. The live music starts at 6:30 p.m., "so you can be home and in bed by 10:30 p.m.," Padrta said. "You can come down here right after work."
Bridge Press features wine, of course – its cabernet sauvignon, merlot and grenache just received Seattle Wine Awards last week – and music, but Padrta reminds that the food shouldn't be overlooked. "Our chef does a phenomenal job, from farm-to-table and flatbreads to sliders and charcuterie."
Padrta said that preservation of as many original elements in the building was important. All the doors and ground mouldings are original. The first-floor music space has its original tin ceiling and copper bar. The ballroom, a multi-purpose space available for rent for events, includes its original and newly refinished flooring. "Everything just needed a little love," Padrta said.
The ballroom sat unused for three years, said Padrta, and has its own entrance and parking lot, and the adjoining Forbidden Bar adds a speakeasy feel from its early 1900s origin.
"Every room has a different feel, and it feels like you're going back in history," Padrta said. "Walking into the ballroom, it's like you're back in 1910. There's definitely a Prohibition feel with the black-and-red art deco Forbidden Bar."
The renovation and expansion has been 1½ years in the making, with the last 7 months focused on the second floor, nicknamed "the hidden ballroom." Former business partners Emvy Cellars have retired from winemaking but are co-owners of the building and were integral in the remodel.
Padrta said that the bigger Bridge Press will still be familiar to longtime patrons – "the wine, music and food are still there, but it's just on a larger scale now" – and continue to be home to local bands, comedians and singers. The comedy shows have done especially well.
The Mother's Day Weekend Wine & Music Festival lineup includes Zach T. Cooper Band, the Sammy Eubanks Band, Shuffle Dawgs, Bobby Patterson & the Bobby Band, Sara Brown Trio, the Blue Mustangs and Pat Barclay & Side Step. Tickets are $10 for the entire weekend, $15 at the door. More: bridgepresscellsars.com.
"I'm especially proud of how welcoming Bridge Press is to everyone. We have a family-friendly atmosphere. You'll see my own family here, including my 2-year-old," Padrta said. "We're excited to get people in here to see everything and to discover a space that they didn't know was up there."
Local journalism is essential.
Give directly to The Spokesman-Review's Northwest Passages community forums series -- which helps to offset the costs of several reporter and editor positions at the newspaper -- by using the easy options below. Gifts processed in this system are not tax deductible, but are predominately used to help meet the local financial requirements needed to receive national matching-grant funds.
Subscribe to the Spokane7 email newsletter
Get the day's top entertainment headlines delivered to your inbox every morning.
---