News > Spokane
Leaders, onlookers cheer 'change in the skyline' as Gateway Bridge officially opens
May 7, 2019 Updated Tue., May 7, 2019 at 6:39 p.m. Upward of 500 people turned out for Tuesday's official opening of the University District Gateway Bridge – six months after Spokane's $15.4 million pedestrian bridge opened, and nine after it was originally supposed to.
If there's a lesson there, Lisa Brown has it.
"This is not just an inflection point that connects our past, present and future. This is a victory over the name callers and naysayers," said Brown, a former state senator from Spokane who now leads the state Department of Commerce. "We did it with a commitment to education and equity."
Needless to say, the bridge was a hit. Before a cheery crowd, a food truck and more than a few students from Pride Prep, the parade of speakers described the city's changing skyline, the educational and economic connections the bridge has made and a brief primer on "how the sausage is made."
Spokane Mayor David Condon pointed to the various organizations involved in bringing the bridge to reality – including BNSF Railways and Garco Construction – but spoke of the personal meaning it had for him as mayor.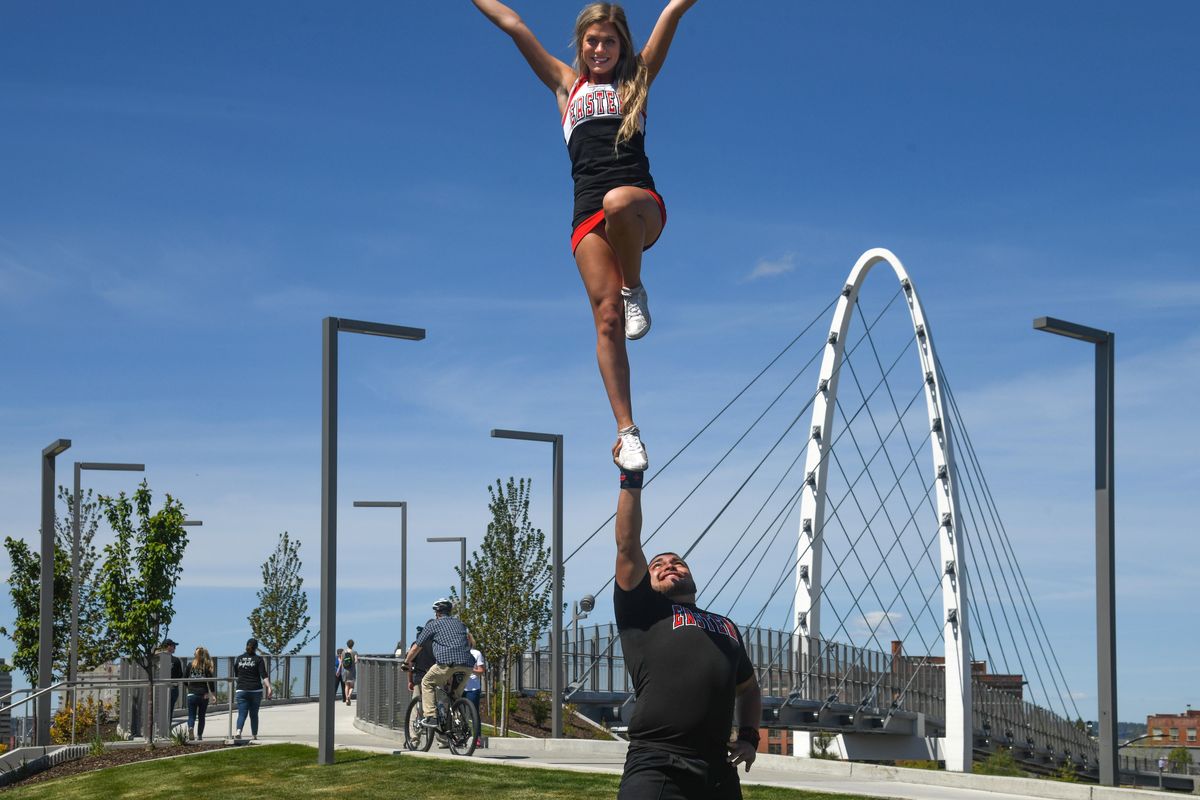 Eastern Washington University cheerleaders Kenzie Briggs and David "Walnut" Valdovinos strike a Liberty Pose as they participated in the entertainment during the official opening of the University Gateway Bridge, Tuesday, May 7, 2019, in Spokane. (Dan Pelle / The Spokesman-Review)
"I committed for my time in office that I wanted to change that skyline," Condon said, noting there's a "change in the skyline, and that is of this bridge," which is on the city's official keys and coins he gives to notable Spokanites.
Condon called the bridge "an amazing, amazing structure," but said it represented the city's larger goals of constructing "innovative infrastructure," building more pedestrian and bicycle trails and investing in downtown.
State Sen. Andy Billig, a Spokane Democrat and majority leader in the Senate, said the bridge would encourage people to be healthy and active in their everyday lives, but lauded the connections the bridge will forge.
"This is a bridge to education. This is a bridge to economic development. This is a bridge to better health," he said.
Michael Baumgartner, Spokane County treasurer and former state senator, took his turn to tell the many young people there about the "strange bedfellows" politics can make, and told in detail of the political maneuvering in 2015 that delivered a large portion of funding for the bridge's construction.
"Success in politics has a thousand mothers and fathers, and most are here today," he said.
Daryll DeWald, chancellor of Washington State University-Spokane, said the bridge was part of making the University District a "globally impacting, nationally prominent, regional health innovation district." He then led crowd in separately cheering for all the universities in the district, including the Eags, Zags, Huskies, Bucs and Cougs.
E. Susan Meyer, CEO of Spokane Transit Authority, told of the new stations on either side of the bridge. The bus rapid transit Central City Line will pass by the bridge's north landing, and a new transit hub will serve the south landing.
"I can think of no better occasion than today to announce the names for the new transit stations," she said. "They will be the North Gateway Station and the South Gateway Station, names that will communicate the iconic and important destination that it is."
The crowd did not stifle its laughter.
Local journalism is essential.
Give directly to The Spokesman-Review's Northwest Passages community forums series -- which helps to offset the costs of several reporter and editor positions at the newspaper -- by using the easy options below. Gifts processed in this system are not tax deductible, but are predominately used to help meet the local financial requirements needed to receive national matching-grant funds.
Subscribe now to get breaking news alerts in your email inbox
Get breaking news delivered to your inbox as it happens.
---