Sports
Grip on Sports: It's been a busy stretch for Kyle Smith, WSU basketball players
Wed., May 8, 2019, 8:33 a.m. A GRIP ON SPORTS • Isn't May supposed to be a relatively quiet month in college sports? Well, it is not anymore, even if it ever was.
••••••••••
• There was a time, oh about a decade or so ago, when May was the month for leaving Pullman for a while. I'm speaking from experience here. Sure, the NCAA releases the APR report sometime this month, but otherwise it was a good time for the person covering Washington State athletics to get out of town. The students had, including most of the athletes, so there was little to nothing to write about.
That certainly has changed.
And we have the free-agent nature of college sports to thank.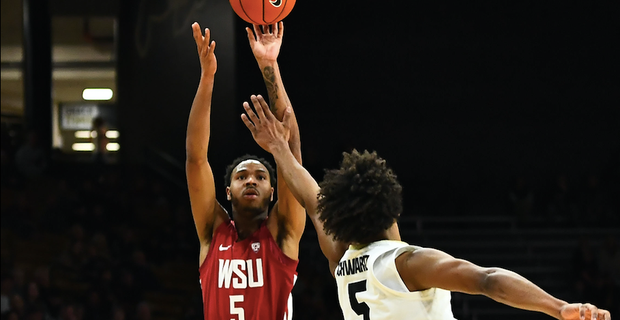 Let's be clear. The freedom of movement afford college athletes these days is a good thing, especially how it is manifesting itself in situations like the one confronting WSU basketball.
There has been a coaching change. The players at Washington State came to Pullman to play for Ernie Kent. He's gone. They should have every right to decide whether they want to stay and play for Kyle Smith or go somewhere else.
They are doing just that. But it makes for busy days for Theo Lawson, charged with keeping you abreast of what's happening in the Palouse.
Yesterday was atypical, sure, but it was also more of the norm these days.
The main subject: comings and goings in the new coach's program.
The former was illustrated by a commitment from a legacy.
Noah Williams, son of former WSU player Guy Williams, announced yesterday he signed a letter of intent with the Cougars. The O'Dea guard will be a freshman in the fall.
He'll be needed. Yesterday two other Cougar players either left the program or made plans to leave.
Chance Moore, who redshirted last season after transferring from Wichita State, is no longer part of Smith's team. And Marvin Cannon, who stood with Smith at his introductory press conference, has submitted his name to the NCAA's much-ballyhooed transfer portal. Other schools are now free to talk with him about making a change.
Most fans immediately think, when transfer talk arises, the player is unhappy and wants to leave. That is often times the case. But there is always more to a transfer. Sometimes, after getting to know each other better, a new coach and player will sit down, evaluate skills, fit and personality and decide whether it would be better for the player and program if a change was made.
In other words, it's not always the player's decision. And we rarely know the ins-and-outs of that process.
We don't in these cases. All the decisions made at WSU may have been made by the players. Or they may have been encouraged by the coaches. Or they may have been a result of a combination of both.
All we know for sure is there is a lot of movement going on. And May, that quiet, peaceful month, is busy as it's ever been.
•••
WSU: Not only does Theo have the stories about Cannon, Moore and Williams, he also has another one on the basketball team's Thanksgiving plans. They will spend it this year in the Cayman Islands. Now that sounds fun. … Elsewhere in the Pac-12, the conference's value is something that never was debated in the past. It is now. … So is its West Coast recruiting. And who will win the South next football season. … Even if the NCAA hammers Sean Miller, an Arizona writer doesn't expect him to go anywhere. … A Washington football player is making a rarely seen position switch. … There is also football news from Colorado and Utah and basketball news from Utah.
Gonzaga: Lisa Fortier will be busy this month. She's going to help USA Basketball pick its Junior National Team. … Larry Weir talked with The Slipper Still Fits' Steven Karr about hoops for the latest Press Box pod.
EWU: The Big Sky Conference announced its football schedules for the next few years and there still is a glaring misconception on which schools are rivals with Eastern.
Idaho: Sophie Hausmann had a tough second day at the NCAA golf championship.
Preps: It was a busy day in the playoffs. We have roundups of action in softball, baseball and soccer. … Steve Christilaw has a story on the longest-standing prep track records in the area.
Mariners: The bullpen couldn't hold another lead and due to the 5-4 loss, the M's are back to the .500 mark for the first time since the season began. … James Paxson is injured. That didn't stop him from catching up with Ryan Divish though. … Yes, the M's hit a lot of home runs. … If you were looking for Gene Warnick's Out of Right Field summary, here it is.
Seahawks: How close are the Hawks to breaking through?
Sounders: Joevin Jones left Seattle two years ago. He's coming back as the Sounders add more veteran presence to their roster.
•••
• Baseball is a weird game at times, with weird rules. For confirmation of the former, we give you Mike Fiers' second career no-hitter. For a great example of the latter, and of the silliness of some bureaucratic organizations, we give you this story from California. Until later …
Subscribe to the sports newsletter
Get the day's top sports headlines and breaking news delivered to your inbox by subscribing here.
You have been successfully subscribed!
There was a problem subscribing you to the newsletter. Double check your email and try again, or email
webteam@spokesman.com
---