News > Spokane
Mead High School yearbook wins 'Pulitzer' of annuals – the Pacemaker national award
Thu., May 9, 2019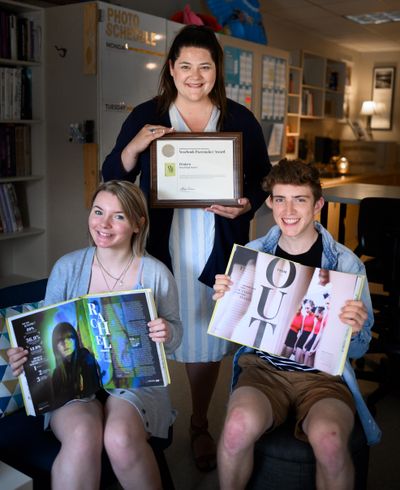 The Mead High School yearbook staff earned a Pacemaker award from the National Scholastic Press Association for the 2017-2018 yearbook.
"The NSPA calls it the Pulitzer Prize of yearbooks," said yearbook adviser Makena Busch. "It's incredibly, incredibly competitive."
Every year, schools that are NSPA members send their yearbooks in to be judged. The book is reviewed and even things like grammatical or spelling errors are noted.
"They literally grade it like a teacher would," she said. "They even grade our baby ads in the back."
A group of yearbooks are selected as Pacemaker finalists, then the cream of the crop are given Pacemaker awards. The number varies every year and this year there were 43 finalists and 19 award winners.
Busch said it's hard to know what the judges are looking for. "You have to be a trendsetter," she said.
Last year, the student photographers experimented with projection photography, projecting a photo on top of a student they were photographing for one of the many student profiles in the yearbook. It went along with the theme, which was not to judge a book by its cover or judge students by how they look.
"It represents the plight of the teenager in high school," she said.
Busch and her yearbook staff are very proud of the award.
"This is the first time in our school's history we've been named a finalist," she said. "This is a field mostly dominated by California, Colorado and the East Coast."
She said her staff of a couple of dozen students put in a lot of work to produce the 400-page yearbook. Each student, who also doubles as a photographer, is assigned several pages to complete. Surveys are sent to each organization, sport and club to gather information.
"We write very specific stories," Busch said. "We try to tap into the hearts of every group and club and tell their story."
There is no formula for putting together a yearbook because it changes every year, Busch said.
"Every year is completely different – different theme, different photography, different typography," she said.
Busch has photographed every type of event the school has and can tell her students where to stand to catch the action and what type of equipment they'll need. "A lot of things, you only get one shot at it."
Every year the school has a Battle of the Bell football game versus Mt. Spokane High School. Busch said she typically has eight students there taking photographs so they can catch every angle of the action.
Senior Isabella Wood is the editor-in-chief of this year's yearbook and worked on last year's award-winning yearbook.
"A lot of my job isn't making specific pages, it's overseeing the production of the yearbook as a whole," she said.
Ward said a lot of people don't realize how much work goes into producing the yearbook. She said learning that last year's book won an award had a bigger impact on her than she anticipated.
"Winning the award, I didn't think I would cry, but I did," she said. "I knew that being a finalist was a feat in itself."
Being on the yearbook staff has already been in demand and this award might increase interest from students. Busch said students have to apply to get into the class and she only accepts juniors and seniors, which means she loses half her staff every year. This school year 60 students applied and she accepted 27.
The job may sound like fun, but it takes a lot of dedication to attend a host of after-school events to get information and pictures. It's important to Busch that she makes sure students are committed.
"I can teach you design and writing," she said. "I can't teach a work ethic."
The 2018-2019 yearbook will be delivered to students in a few weeks and it will be sent off to be graded as well.
"It's like having a child," Busch said. "It takes nine months and you don't know what you're going to get when it comes out."
Local journalism is essential.
Give directly to The Spokesman-Review's Northwest Passages community forums series -- which helps to offset the costs of several reporter and editor positions at the newspaper -- by using the easy options below. Gifts processed in this system are not tax deductible, but are predominately used to help meet the local financial requirements needed to receive national matching-grant funds.
Subscribe to the Coronavirus newsletter
Get the day's latest Coronavirus news delivered to your inbox by subscribing to our newsletter.
---