Sports
Grip on Sports: Youth sports serve many purposes, including developing friendships
Tue., May 14, 2019 A GRIP ON SPORTS • The announcement of the retirement of a local businessman yesterday got me to thinking about relationships. Actually, a certain type of relationship. The type of relationship you develop through your children and sports.
••••••••••
• Just about everyone lately has been examining the relationships sports brings to our lives. The most notable, at least recently, has been brought to us by Doug Baldwin.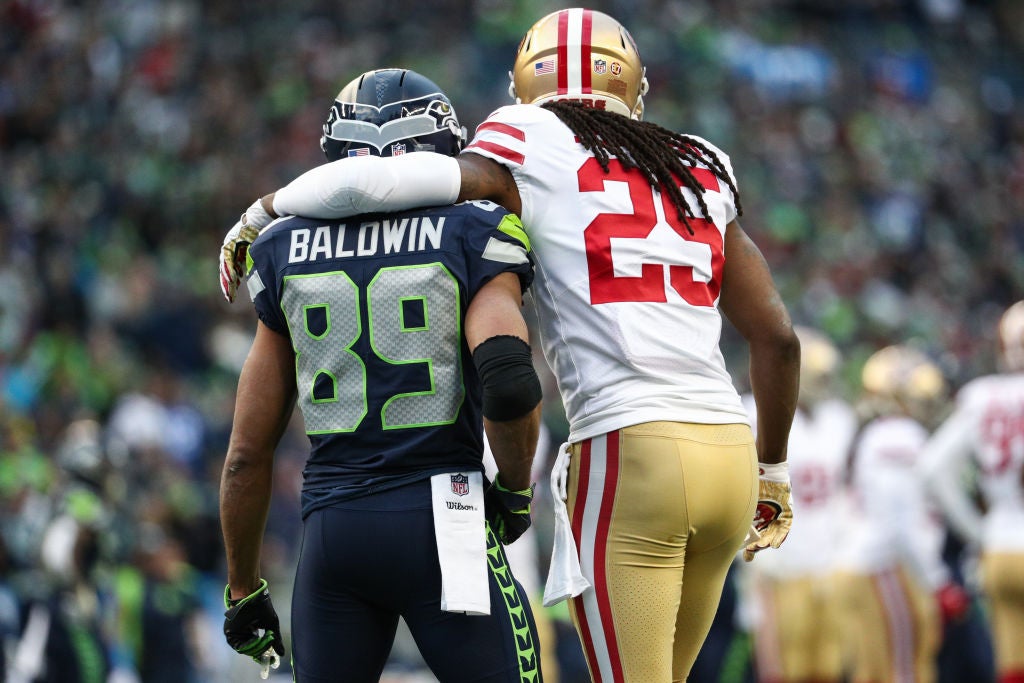 The retiring – it seems – Seahawk receiver spent a lot of time on Twitter the past few days espousing his views on relationships and football. And remembering the good times.
But the relationships built through your child's sporting endeavors are different.
They are more business-like in a way, but the people you meet are different than the ones you interact with in the world of commerce. Those folks are usually more homogeneous, with a shared background and, at least, an eight-hour workday.
The relationships you develop while dealing with your kid's sports can be more varied, with people from different backgrounds, ethnic groups, economic circumstances and other factors brought together with only one goal: To see their child succeed and be happy.
When you sit down at a soccer game or a track meet or a golf tournament, the person next to you might reflect the same image as you – or they may not. It's not your choice. It's most times by happenstance, but sometimes there is some selection involved. The common denominator: They have a kid who loves the same sport your child does.
When my eldest was playing youth soccer, I used to joke there were more doctors on the sidelines than you would find in Sacred Heart's emergency room. I would look around and immediately come to the realization our family was at the bottom end of the economic scale with this group. With Kim working part time – to spend more time with the boys – and myself a journalist – don't fall for the fake news medium-sized-city journalists make (or made) huge incomes – we were just getting by in those days.
Maybe that's why I gravitated to one parent, a local golf pro, who seemed a bit more down to earth than most. That and I hoped he would help me with my chipping as we watched our kids roll over opponents. It didn't work. The chipping lessons, I mean.
But when Tyler and Jack played baseball, the parental groups were different.
More diverse. More folks just scrapping by. More interaction with people from, at first, around Spokane, and then, later, with Jack's traveling group, all over the Northwest.
Basketball was similar. There was a core group of parents in all my sons' sports, most of whom became solid companions for those years, but there were also sports-specific kids whose parents became one-year (or season) friends.
One parent, who is an athletic director these days at a local high school, used to say back then Spokane was a big city, but the sporting community was a small town. I tend to agree with her, except when one of my sons bonded with a teammate who lived in Deer Park or out in the east Valley. Then Spokane's sporting community seemed really big as well, especially when the boys wanted to get together.
Anyhow, as the boys made friends through sports, so did their dad. I used to sit or stand way out in left field during my son's baseball games, so as not to embarrass them with my comments. In the shame zone I met and befriended Ken Brett, whose son Casey played with my youngest. And I became acquainted with John Stockton, whose son played against him.
Ken sat down the line for the same reason I did. John did it, I think, to avoid having to deal with people saying "aren't you …" all the time.
Either way, conversations occurred, some of which will stay with me forever.
Sports has a way of bringing people together in ways you may never imagine.
• The local businessman who is retiring?
That would be Scott Morris, who has led Avista for many years. We became acquainted through our sons, who played baseball together at Ferris High and in Legion baseball, and through a mutual friend, Joe Everson, who coached Scott as a youngster and with whom I coached Legion and high school baseball.
By the way, in that small community way Spokane has, Scott will be replaced atop the Avista pyramid by Dennis Vermillion, whose son played on an AAU basketball team I helped coach. The only reason I was doing that was because, when coaching my sons' teams, I came into contact with and befriended another basketball coach who has become a true friend the past decade or so.
To paraphrase the good Doctor Seuss, oh the places your kid's sports will take them – and you. And the people you will meet.
•••
WSU: Utah seems to be the destination of former Cougar offensive lineman Noah Osur-Myers. The grad transfer will be able to play in the fall. … Washington State is hosting the Pac-12 men's golf tournament this week. … Elsewhere in the Pac-12, the North should be loaded in the fall. … Utah has a loaded schedule but is still expected to win the South.
Gonzaga: Every Zag fan knows Killian Tillie has an Achilles' heel. And wonder when he will injury it. OK, that's not fair. But it is fair to say Tillie has dealt with a myriad of injuries in his time at GU, the latest of which may have cost Tillie his chance to impress the NBA folks at the draft combine. Jim Meehan has more in this story. … Jim also has a story on another grad transfer considering the Bulldogs, so USC's Derryck Thornton isn't all that well known. … Finally, Jim spent some time yesterday talking with Larry Weir for the latest Press Box pod. … In women's basketball news, Jim Allen shares the information a transfer is headed Gonzaga's way. … Around the WCC, Chris Burgess wouldn't give BYU a yes when he played, but now he's there as an assistant coach. … The Cougar baseball team is atop the conference standings, led by a man who makes a certain group of Washington State basketball fans still see red.
Preps: Lakeside will enter the State soccer tournament on a winning streak. Justin Reed has a preview of the undefeated Eagles' weekend.
Mariners: The M's had to rally twice, including scoring two runs in the bottom of the 10th to defeat the A's 6-5 last night at T-Mobile. … Jerry Dipoto is trying to fix the bullpen with a shuttle from Tacoma. … Wade LeBlanc should be ready to return soon.
Seahawks: Jon Ryan has found a new home – in his original home. … Geno Smith has found one as well. The well-traveled quarterback is expected to become Russell Wilson's latest backup.
•••
• So I finally saw the Avengers movie last night. Uh, it was OK. Now, some personal stuff came up during the movie – outside interference, so to speak – which may have colored my thinking, but still, three hours in a movie? And no intermission? C'mon man, some of us are not built for this. By the way, I remember when my first girlfriend dragged me to "Gone With the Wind," re-released in theaters in the early 1970s. We sat through the entire Civil War and when Scarlett said "as God is my witness, I'll never be hungry again," I decided I needed a Double-Double. I got up to leave, but Terry informed me it wasn't the end, just the intermission. Jeez. Until later …
Subscribe to the sports newsletter
Get the day's top sports headlines and breaking news delivered to your inbox by subscribing here.
You have been successfully subscribed!
There was a problem subscribing you to the newsletter. Double check your email and try again, or email
webteam@spokesman.com
---