News > Spokane
Live from the International Space Station: Astronaut Anne McClain speaks to Spokane students at Gonzaga Prep
May 15, 2019 Updated Wed., May 15, 2019 at 7:05 p.m. Astronaut Anne McClain had a surprise for her alma mater Wednesday morning.
Hurtling through orbit 250 miles above the Earth's surface, McClain unzipped her NASA flight suit once the pleasantries of connecting Gonzaga Prep's packed gym with the International Space Station were through. Beneath was a G-Prep T-shirt, eliciting a roar of approval from the dozens of students in the bleachers.
"I am loud and clear, and I'm very excited to hear from you," McClain, a 1997 graduate of the school, said as she appeared on-screen to hundreds of local elementary and middle school students, in addition to the Bullpups. "Welcome to the space station, everybody."
Wednesday's event, sponsored by Mobius and Avista Corp., was one of a handful of what are known as "downlinks" between astronauts aboard the orbiting space laboratory and Earth. Dozens of local schools sent representatives to the bluffs above the Logan neighborhood, who questioned McClain about her mission.
And the West Point graduate, U.S. Army lieutenant colonel and Navy test pilot was happy to oblige, regaling students with stories of what spring was like among the stars.
"The moon, from here, it's like it jumps off the Earth. You can almost see it moving up in the sky," McClain told one student, curious about the most spectacular thing she'd seen in space. "It's like watching a moonrise or moonset, on fast forward."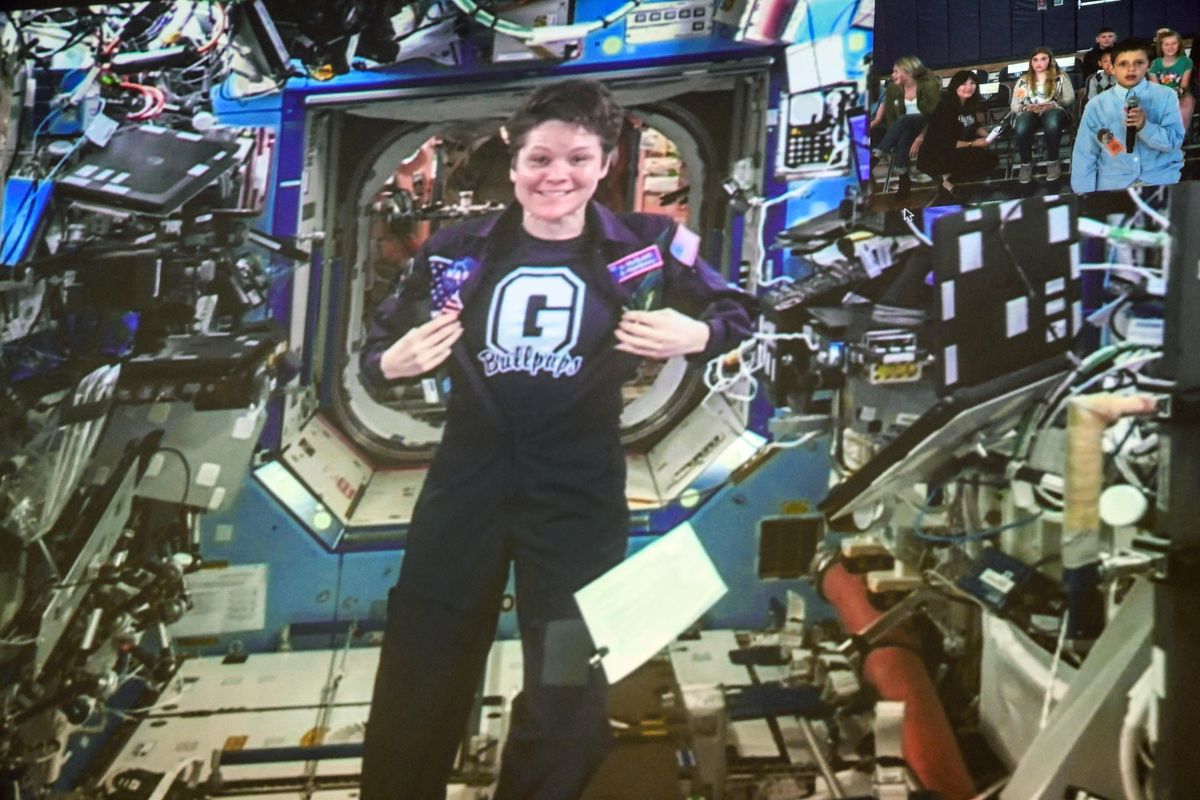 Astronaut Anne McClain displays her Gonzaga Prep Bullpups T-shirt as she participates in an Earth-to-Space video downlink to a gathering of city-wide students at G-Prep, on Wednesday, May 15, 2019. (Dan Pelle / The Spokesman-Review)
The 20-minute video call featuring more than a dozen questions from students also included a cameo appearance from fellow space station astronaut Nick Hague, who zoomed past the camera with a wave for audience members. Those included Charlotte Lamp, McClain's mother, who teared up at the sight of her daughter on the big screen in her old school.
"She was excited about this because she was talking here, she was talking to Spokane, and that's moving," said Lamp, who had just spoken with McClain via downlink Sunday, for Mother's Day.
The T-shirt reveal was a surprise to mom, too.
"That is so Anne," Lamp said. "I have no control over the child, never have. That didn't surprise me, it's so Anne."
The astronaut was introduced on stage by Steve Schreiner, also a G-Prep alumnus, class of 1997. Schreiner told students they were following the same footsteps as McClain and shouldn't limit their ambitions.
"I do remember that Anne was someone who was kind to others," said Schreiner, who attended Cataldo Catholic School with McClain as an 8-year-old second-grader. "Students joining us from Cataldo today, Anne sat in the same classrooms as you do. She played on the same playground. She walked up the same stairs."
"I was inspired by exploration and outer space since I was a little girl," McClain told students. "I was 3 years old when I told my parents I wanted to be an astronaut, and that dream never changed."
It's a lesson that resonated with students that attended the assembly, even if they aren't interested in blasting off into orbit.
"I don't think that I want to go to space," said Erin Dougherty, a sophomore at G-Prep who volunteered to assist with Wednesday's event. "But she definitely inspires me to pursue something that I love, and to really work hard, and to achieve it."
Current Bullpups appreciated McClain's gesture to them from space.
"That was really exciting," said Zach Round, also a sophomore. "Good school spirit."
"It's neat to see that we're like, following her footsteps in a way, and how small the world is," sophomore Addy DeCaro said.
McClain will finish up her mission next month on the space station, returning to Earth in Kazakhstan, where her rocket launched in December. Lamp said she'll be heading to Houston soon to reunite the family, after McClain deals with the strangeness of readjusting to the Earth's gravity and experiencing just one sunrise per day, instead of 16.
McClain wrapped up her presentation with a pair of front flips and two hand waves, promising she'll return soon.
"It's great to hear from you guys, and I can't wait to be back in the Pacific Northwest here in the next few months," McClain said.
Local journalism is essential.
Give directly to The Spokesman-Review's Northwest Passages community forums series -- which helps to offset the costs of several reporter and editor positions at the newspaper -- by using the easy options below. Gifts processed in this system are not tax deductible, but are predominately used to help meet the local financial requirements needed to receive national matching-grant funds.
Subscribe now to get breaking news alerts in your email inbox
Get breaking news delivered to your inbox as it happens.
---