News > Spokane
Still roped together: More than 700 show up at packed Jess Roskelley memorial
Sat., May 18, 2019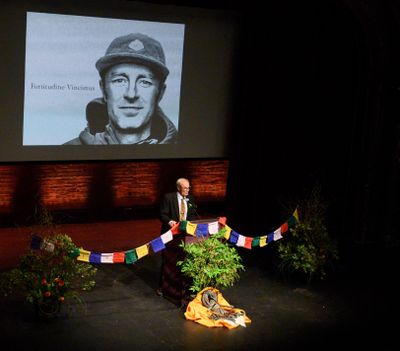 From Joyce Roskelley's deck Mount Spokane is visible in the distance, slashes of lingering snow running like vertical veins down its upper reaches.
Joyce's home, which she built with her husband John, is most visibly a testament to a successful climbing career. On the walls are mementos to John's climbing achievements, Tibetan begging bowls bought while on expeditions, ornamental knives from Nepal and books authored upon safely returning home.
But on a subtler level this house is a testament to Joyce Roskelley and the rock-like support she gave John during his decades-long career scaling some of the world's tallest and most dangerous peaks. Joyce was a teacher – a very good one – who still receives letters from students decades later.
Her talent and regular paychecks were what filled in the gaps between book deals and advertisements. And her commitment to the home front launched her three children, Dawn, Jordan and Jess.
So, it's only fitting that at her only son's memorial Friday, Joyce did not speak, remaining the silent force behind her families ambitions.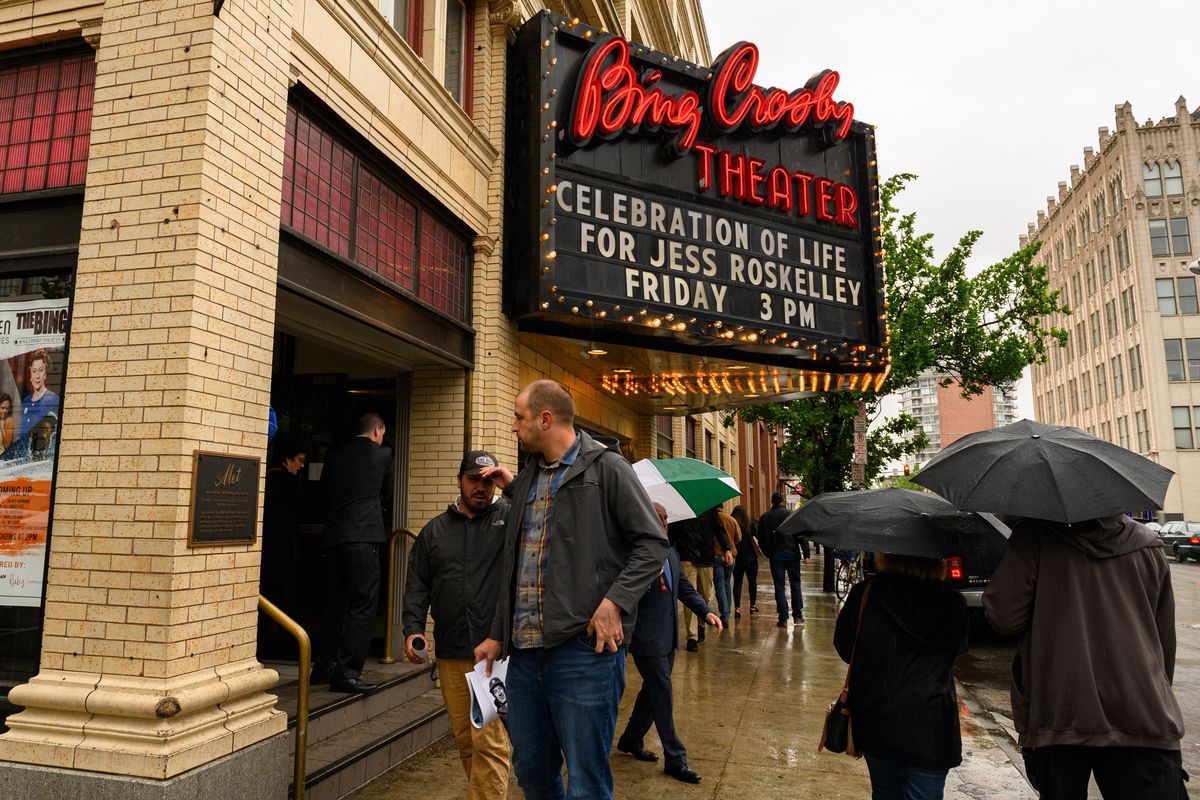 The Bing Crosby Theater was filled to capacity for the memorial of Spokane alpinist Jess Roskelley, Friday, May 17, 2019. (Colin Mulvany / The Spokesman-Review)
In April, Jess Roskelley, a 36-year-old professional climber, was killed when a cornice broke above him while descending from Howse Peak with Austrian climbers David Lama, 28, and Hansjörg Auer, 35.
On Friday, more than 700 people crammed into the Bing Crosby Theater to honor his life. Friends, family, acquaintances and distant admirers lined up in the rain. Eventually, organizers had to turn people away. KHQ livestreamed the memorial with Tamarack Public House screening it for those that couldn't make it in.
Climbing partners, friends and family from around the globe honored Jess. They shared stories of his climbing exploits, but mostly they remembered him for his humor and loyalty.
And, the last speaker, Jordan Roskelley, Jess' sister, addressed Joyce Roskelley directly.
"I want to thank my mom," she said. "She is an incredibly strong woman and Jess would have wanted you to receive the recognition that you deserve. … You are the glue to our family. Without you none of this would have been. Jess loves you and more importantly Jess appreciates you."
'Contributing to his safety'
During the height of John's climbing career, when he'd be gone from home for months at a time, Joyce Roskelley did not leave Spokane for any extended amount of time, per the request of her husband.
Some of her friends couldn't believe she'd agreed to that. John was adventuring all over the world. Climbing dangerous peaks and leaving her home alone with a young daughter.
What right did he have to ask her to stay home?
Joyce didn't see it that way. Instead, she knew her husband was engaged in an Olympian-level effort. One that required 100% concentration. The way she figured, anything she could do to ease John's mind and help him focus, and thus get him home safely, was worth it.
"Our sticking to routine at our home was contributing to his safety," she said during an interview Wednesday.
She did this for decades, until 2003 when her son and her husband decided to climb Mt. Everest together.
"It drove me to distraction," she said. "I mean having both of them on there. I could handle John but to have your child there and your husband? The combination was just nuts."
So, she left on a trip to Ireland. The first time she'd ever left Spokane for any substantial period of time while John climbed.
The duo successfully summited and Jess became the youngest American to climb the world's tallest peak. When John called home, using a satellite phone near the summit, Joyce didn't pick up. She learned the news standing in a pay phone in Dublin as a gale roared around her.
From there Jess dove deeper into climbing. Finding purpose and passion. And Joyce found that it was much harder to watch her son head into the mountains than it had been to watch her husband.
"I hated it," she said of Jess' climbing. "I really hated it. It was always hard when he left."
Every time he departed she'd tell him, "Watch the cornices. Don't go out on the cornices. Don't go under the cornices."
In 2017, when Jess climbed the complete ascent of the south Ridge of Mount Huntington (a remarkable climb that earned him a spot on The North Face alpine team) he texted Joyce every day telling her "I'm watching the cornices, mom."
Like a military wife
Being married to an alpinist is something like being a military wife, Joyce said. No matter how conservative and safe an alpine climber is, there are certain inherent and unavoidable dangers in the mountains that can, and do kill climbers, whether a mistake is made or not.
"Nature is swift and massive and final," said Dawn Roskelley, Jess' oldest sister. "The places that these guys go to do what they do, dwarf any human."
But Jess loved climbing. It matured and grounded him. And he was good at it. So as much as Joyce may have worried, she recognized and honored this fact.
"Not everyone has a passion," she said. "For someone to have that kind of a passion, and to be so good at it, you know, if you really love that person, you don't tell them they can't do that. You either support it or you let them be."
Like Joyce, Allison Roskelley, Jess' wife, knew that she'd married a man with a dangerous job. They talked about it openly and directly, she said during an interview Wednesday.
"Not that it makes it any easier, but we had many conversations that this was a possibility," she said. "Climbing was ingrained in him. And I'd never take that away."
Allison was committed to supporting Jess' dreams. And that meant accepting the fact, at least intellectually, that he could die.
"I was 100% supporting him and who he was," she said. "And that's the man I fell in love with."
Which doesn't mean it's easy.
"I wake up every morning with the reality hitting me again," Allison said in a text message. "We were supposed to grow old together and have a family. My whole world is intertwined with Jess, and now I'm stuck in this (terrible) reality without him."
Still roped together
While Dawn Roskelley, Jess' sister, has never really climbed, she's grown up connected to the highs and lows of the vertical world. As a child she saw her father leave on monthlong expeditions – a frenzy of packing and preparation and taut goodbyes followed by months of little or no contact.
And Dawn saw the return of her father. Once, he exited the plane in Spokane in a wheelchair because of severe frostbite, his beard so long she barely recognized him.
She watched her baby brother, Jess, who was born when she was 16, fall in love with the mountains. She watched him grow up in the alpine and saw the joy and peace that climbing brought him.
And now, she's seen the tragic, unavoidable edge of alpine climbing. The edge the whole family knew about, intellectually at least.
Jess, or Jessie as Dawn calls him, left an impressive legacy. Bold climbing achievements. A successful career as a welder. A marriage many looked up to. A profane sense of humor that could diffuse the tensest situations. More friends and admirers than anyone imagined.
But, he left a wife. And a mother. Two sisters. And, his father.
And now they're learning to live without him.
"We're roped in with them when they climb," Dawn Roskelley said. "And wherever they go, we go with them. By proxy and by choice."
Local journalism is essential.
Give directly to The Spokesman-Review's Northwest Passages community forums series -- which helps to offset the costs of several reporter and editor positions at the newspaper -- by using the easy options below. Gifts processed in this system are not tax deductible, but are predominately used to help meet the local financial requirements needed to receive national matching-grant funds.
Subscribe now to get breaking news alerts in your email inbox
Get breaking news delivered to your inbox as it happens.
---