Sports > Outdoors
After 20 years, Spokane's 24-hour bike race takes final lap as participation drops
Sun., May 19, 2019 After 20 years, Spokane's 24 Hours Round the Clock mountain bike race will take a final lap next weekend.
"We've had a long great run of fun times," co-organizer and founder Wendy Zupan said.
Zupan and Gino Lisieck started the race in 1999 as 24-hour races of all kinds were rising in popularity.
But in the two decades since, the popularity of these races has declined, in Spokane and nationwide.
"Most of our racers are 45-year plus," Zupan said. "I don't think there is as much interest from the younger folks. I think it's a different kind of culture."
That decline isn't unique to Spokane or mountain bike racing. In 2019, Bloomsday saw its lowest participation in years. That mirrors a national trend of declining participation in road races. Between 2017 and 2018, the number of road race participants nationwide dropped from 8.3 million in 2017 to 8.1 million in 2018.
Zupan's seen that decline firsthand while organizing the 24-hour race and others for the past two decades. Her and Lisieck's company, Round and Round Productions, used to organize and host numerous races regionally.
But interest has dwindled.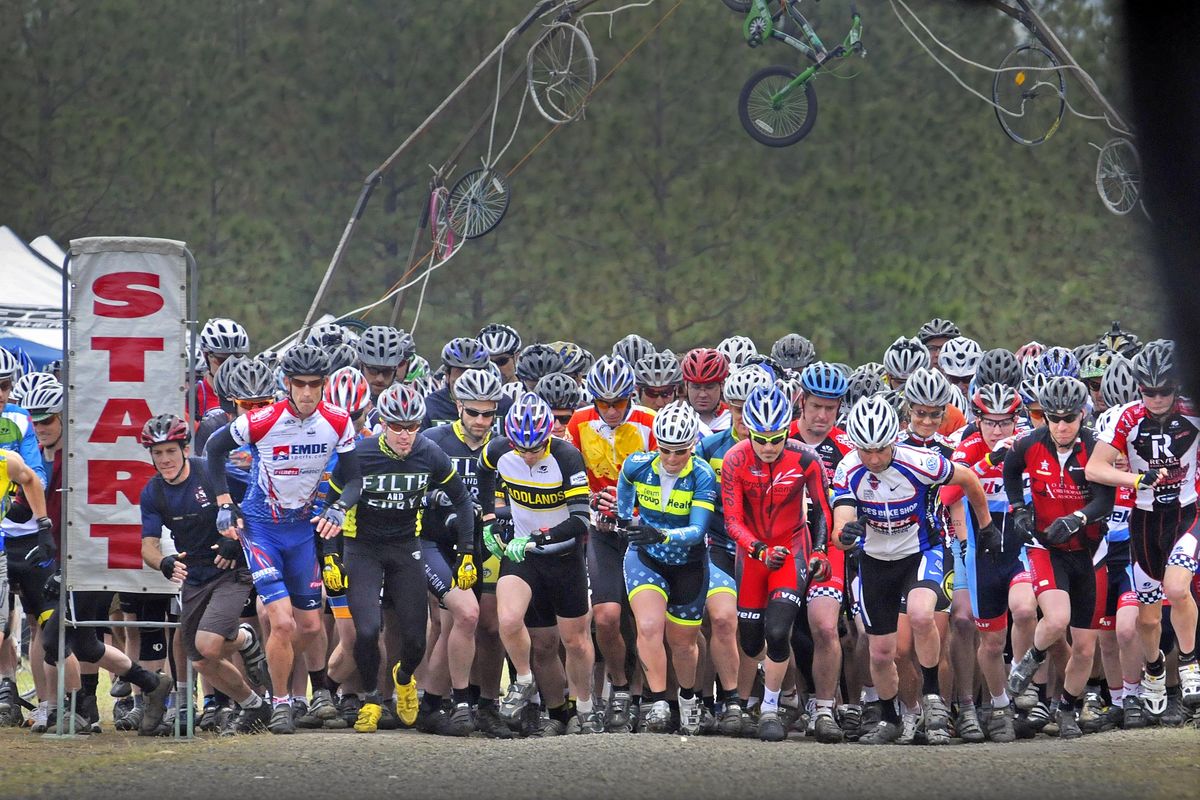 An eclectic sculpture of bike parts marks the start and finish line in the "Round The Clock" 24 hour mountain bike race at the old 7 mile airstrip in Riverside State Park over the Memorial Day weekend. Racers stash their bikes for a Le Mans stye start Saturday May 28, 2011 and then have to run a short foot course before getting on bikes for the rest of the race. CHRISTOPHER ANDERSON chrisa@spokesman.com (Christopher Anderson / The Spokesman-Review)
That can be blamed on a couple of factors, Zupan thinks. First, there are more events.
"I think it gives people a ton more choices, which is awesome," she said. "However, it diminishes some events that have been around a while."
There is also the recurrent popularity of certain sports. Cycling will go in and out of style, as do all sports.
Finally, Zupan thinks there is something different about the participants themselves.
"There is a slug factor in youth, which is contributing to kids not getting out and doing as much as they used to," she said.
The demographics of the 24-hour race support that claim, at least anecdotally. Of the 2019 participants who have registered for the race, more than 60 percent are over 40 years old.
According to a review of studies, children, on average, run a mile 90 seconds slower than kids did 30 years ago, NPR reports. Some in the U.S. military have called it a "national security crisis," as the military struggles to find physically fit recruits.
These interlinked factors all contribute to a downward spiral in interest, Zupan said. As fewer people compete, sponsors are hesitant to provide free gear or money for events. As the races offer less, participants have less reason to sign up.
"Back when we started doing mountain biking racing, our swag bags were so full of stuff you'd walk away with a shopping bag," Zupan said.
All that has translated into lower and lower participation in Spokane's 24-hour race. Last year, there were only 450 riders, a far cry from the heyday of 800 or more.
As of Friday, there were 847 riders registered, a bump Zupan attributes to it being the race's final year.
Mark Starr, the owner of David's Pizza and a member of Bloomsday's board of directors, spent most of the 20 years feeding hungry participants and spectators, around the clock.
He has his own observation about the changing demographics. Even as participation dropped year by year, food consumption has grown between 5 and 10 percent each year.
While declining interest wasn't the only reason Zupan and Lisieck decided to wrap it up, it was a major one.
"We've kind of reached our peak and passed it, probably," Zupan said.
But there are still devoted fans and racers sad to see it end.
"It's kind of a big loss to a lot of people," said Ron Thomas Jr. "We understand why, but we're all looking for what we're going to do for Memorial Day."
Thomas has participated in 18 of the 20 races. In the past, he's always competed in a team, but this year he will do the race solo.
The race course is a 12-mile loop. The goal is to complete as many loops as you can in 24 hours. Team can be as small as two people and as large as 10. The more people, the more rest between laps.
Doing it solo requires a different mindset, Starr said.
"You can't worry about who rides up on you and passes. Because you have to maintain a certain pace, knowing that you are going to go 24 hours," he said. "If you let the riders kind of get in your head … you kind of lose vision of the big picture."
Brig Seidle, a longtime participant, has always competed in a group of five. Usually, it takes his team about an hour per lap, which means each participant should have about 4 hours to rest. But after riders take their gear off, eat and clean up, there are only about 3 hours before it's go time again.
The environment makes any suffering competitors go through more than worth it.
"It's a combination of a race, a party and a picnic," he said. "It's all those things."
David's Pizza sells food and campers cook meals throughout the night. For longtime participants, it becomes an annual reunion.
But Seidle has also seen the race decline in popularity.
"It's a bit of shame," he said. "I wish more young people would race cross country so these races wouldn't go away."
"It's going to be sad to see it go," Starr said.
Local journalism is essential.
Give directly to The Spokesman-Review's Northwest Passages community forums series -- which helps to offset the costs of several reporter and editor positions at the newspaper -- by using the easy options below. Gifts processed in this system are not tax deductible, but are predominately used to help meet the local financial requirements needed to receive national matching-grant funds.
Subscribe to the sports newsletter
Get the day's top sports headlines and breaking news delivered to your inbox by subscribing here.
---