News > Spokane
Getting There: Lobbyists may have more staying power than Infrastructure Week
May 20, 2019 Updated Mon., May 20, 2019 at 9:34 a.m. Friday at 4 p.m., the news came down the pike: the Post Street Bridge near Spokane City Hall was closed.
A structural analysis had deemed the 102-year-old bridge unsafe for cars, and barricades were erected allowing just pedestrians and bicyclists to pass.
The timing couldn't be better – the news arrived at the end of Infrastructure Week as a reminder that old, broken-down infrastructure riddles the country. That's right, last week was Infrastructure Week, if you can believe it. Not the Infrastructure Week that President Trump said was taking place in June 2017, which quickly became overshadowed by fired FBI Director James Comey's testimony before the Senate Intelligence Committee.
And not the Infrastructure Week of February 2018, when the Trump administration released its first iteration of a plan to fix America's crumbling roads and bridges, itself outshone by the politics that burned bright that week after two ex-wives of a White House aide accused the aide of abuse.
And not the Infrastructure Week of earlier this month, when Trump and House Speaker Nancy Pelosi shared a box of Tic Tacs – and little else. As The Atlantic magazine recently put it, "Two years into Donald Trump's presidency, Infrastructure Week has come to promise five business days of drama and discussion about almost anything other than infrastructure."
No, last week was the real deal, the seventh annual Infrastructure Week put on by the AFL-CIO, American Society of Civil Engineers, the U.S. Chamber of Commerce, the National Association of Manufacturers and 500 other affiliate organizations. In the political world, that group of organizations would be called bipartisan.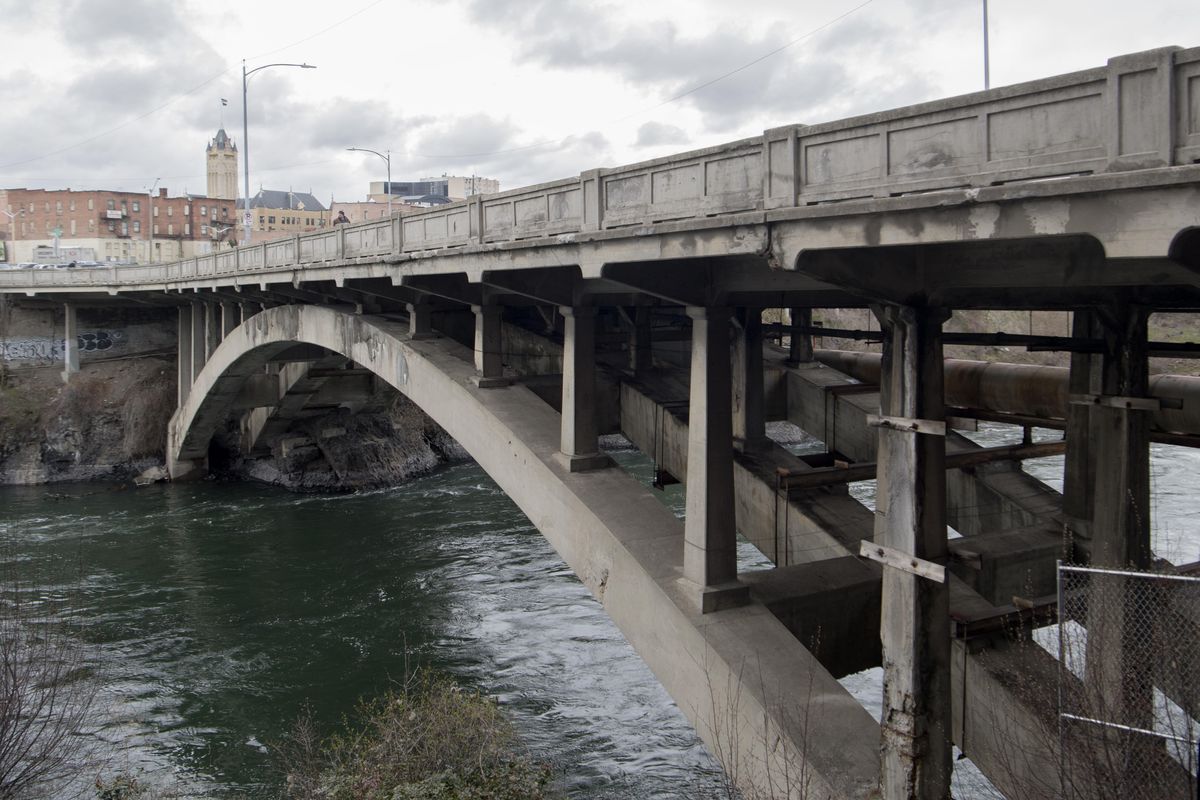 The Post Street Bridge in downtown Spokane is now reduced to a single lane of traffic and pedestrians only because of deterioration of supports and the reinforcing rod inside. Plans are being made to replace the 1937 bridge. (Jesse Tinsley / The Spokesman-Review)Buy a print of this photo
Infrastructure should be bipartisan: A rare agreement to fix what we share, and to build more. In a perfect world, every week would be infrastructure week, when the nation's elected and business leaders, workers and citizens unite to build and rebuild our country's future.
But every week is not infrastructure week. And that's why every city and county fight for the few dollars doled out, far short of the $4.6 trillion the American Society of Civil Engineers estimates it would cost to fix the nation's crumbling roads, bridges, dams, airports and water and electrical systems. For context, the 2019 federal budget is $4.4 trillion.
So it boils down to this: What makes this country work in a very concrete way is breaking down, while our nation's capital is consumed and distracted by political warfare. What's a region like Spokane to do?
Hire lobbyists.
That's where Cardinal Infrastructure comes in. The Washington, D.C.-based lobbying company was formed in 2016 by former Federal Transit Administration officials to help businesses, state transportation departments and transit agencies navigate the "complex regulations and procedures of the Federal Government," according to its website.
The company worked with STA to secure the $53.4 million federal grant last month for the Central City Line, the city's first bus rapid transit. Brandon Rapez-Betty, STA's spokesman, estimates that the transit agency has paid Cardinal Infrastructure about $300,000 since September 2016, not counting costs related to travel.
The agency works primarily with Sherry Lloyd, who co-founded the firm and worked as the deputy and acting administrator of the Federal Transit Administration under President George W. Bush, and Sev Miller, who worked as the FTA's top lawyer and helped found the firm.
Spokane County Commissioner Al French, also on the STA board of directors, said Cardinal's "involvement was critical" to STA getting the federal grant.
"The myriad different departments and approvals that you have to go through to be able to successfully navigate your way through the federal level is not only challenging, but it's not for the lighthearted," French said, adding that Lloyd's work was key. "If we hadn't had her advice and counsel, I'm confident we wouldn't be where we are today. She's been there every step of the way with us. Her input and understanding of the technical and political processes was critical."
In November, the city of Spokane Valley contracted with Cardinal for $78,000 per year, for work "researching available funding for transportation projects, gaining congressional support for grant applications and communicating the city's transportation needs with the U.S. Department of Transportation, federal agencies and trade association groups." The dollar figure doesn't account for travel costs.
Earlier this month, the Valley's elected officials finalized their list of big-ticket projects that require more funding – federal funding, in other words. The projects aren't surprising. The dollar figures still needed to complete them may be. The $29 million project to separate cars and trains on Pines Road still needs $23.9 million. The $66 million in projects on Sullivan Road between I-90 and Wellesley Avenue needs $25 million. Barker Road work needs $9 million, and Argonne $15 million.
As the Valley illustrates, there are lots of projects, big and small, and it might make sense for the many governments of Spokane to join together and fight for the dollars with a unified voice. But collaboration on federal lobbying took a step backward recently.
Beginning in 2004, the city of Spokane worked with Greater Spokane Inc., the region's chamber of commerce, for federal lobbying. The contract between the city and GSI started under Mayor Jim West, and was renewed by Mayors Dennis Hession, Mary Verner and David Condon.
This year, however, the city pulled out of the arrangement. Oddly, even though GSI hired K&L Gates to do its federal lobbying, for which the city paid $36,000 a year, the city left the GSI arrangement and hired K&L Gates to do its federal lobbying at $36,000 a year.
Spokane City Councilwoman Candace Mumm said the change came about for two reasons: a disagreement with GSI leadership and an update to the city's code.
First, the council and GSI disagreed over GSI officials' opposition to the Spokane Tribe of Indians' $400 million casino and retail development near Fairchild Air Force Base. Todd Mielke of GSI, in a news conference held at the same time as Gov. Jay Inslee announced his approval of the project in 2016, asked the governor and tribe to reconsider the casino's location, citing concerns about its effect on the base's mission. Spokane city council members pushed back and voiced support for the casino, which has since been built.
Second, Mumm said the city code relating to federal lobbying still gave the power to draft and approve lobbying agendas to the city administrator. Mumm said that language should have been changed in 2001, when the city changed its form of government to "strong mayor, strong council." With the approval of Mumm's ordinance earlier this month, the council now has control of federal lobbying.
"My expectation is you will see the council much more engaged next time around," Mumm said. The city's contract with K&L Gates runs through 2019. "This is important because we're so far away from D.C."
Unmentioned by Mumm and Cara Coon, GSI's spokeswoman, is the lack of common lobbying goals between their two organizations.
Coon – whose group still lobbies on behalf of the county, Liberty Lake, Airway Heights and Cheney – described GSI's lobbying goals as "those big community-impacting things" like passage of the U.S.-Mexico-Canada Trade Agreement, tariff relief and reauthorization of the Export-Import Bank of the United States.
"Those are the types of things we're advocating for," she said, noting that GSI also supports many other requests made by its partner organizations, including those requests being made by the Valley through Cardinal.
As evidenced by the Post Street Bridge, Spokane has some serious infrastructure needs right now, things that won't get fixed just because NAFTA is replaced. The good news is that the city has already won federal funding for the $26 million replacement bridge on Post, which will begin next spring. But there are five other bridges – with $100 million worth of work – that need maintenance.
Last week, whether or not anyone knew it was Infrastructure Week, was a good reminder of that.
In the city
Maintenance work on Maple Street and Walnut Avenue between Fourth and Ninth avenues has been rescheduled due to last week's rainstorm and flooding. Instead of September, the work will begin this Tuesday or Wednesday.
Work on the 2.2-million stormwater tank by the downtown Spokane Public Library continues to affect commutes. Beginning today through Wednesday, there will be lane closures on Spokane Falls Boulevard from Post Street to Monroe Street from 9 a.m. to 3 p.m. Lincoln Street between Main Avenue and Spokane Falls Boulevard remains closed to traffic as crews construct the flow control chamber.
The right lane of Monroe between Riverside and Second avenues, and the right lane of First Avenue from Lincoln to Madison streets, remains closed due to Avista work through Tuesday.
The minor maintenance of crack sealing will take place on Ninth Avenue from Perry to Crestline Street, and on Martin Luther King Jr. Way from Division to Sherman Street.
Work to improve pedestrian infrastructure downtown continues. The east lane of Stevens Street is closed from Main to Sprague Avenue. The west lane of parking on Washington Street is closed in the vicinity of Sprague and the north parking lane of Sprague is closed in the vicinity of Washington.
Editors note: The story was updated Monday, May 20, 2019 to reflect the timing of work on Cowley Street, which will take place late summer.
Local journalism is essential.
Give directly to The Spokesman-Review's Northwest Passages community forums series -- which helps to offset the costs of several reporter and editor positions at the newspaper -- by using the easy options below. Gifts processed in this system are not tax deductible, but are predominately used to help meet the local financial requirements needed to receive national matching-grant funds.
Subscribe now to get breaking news alerts in your email inbox
Get breaking news delivered to your inbox as it happens.
---